Eight Days of Steve: eighth blackbird
Steve Reich has graciously allowed me to share a few emails from his correspondence with eighth blackbird during the composition and preparation of his Pulitzer Prize-winning 2008 work Double Sextet. I hope these shed a little light on his creative process. You can also read an interview I did with Steve here.
Working with living composers is, hands down, the best part of my job. Young or old, famous or totally unknown, bright-eyed or curmudgeonly, supportive or critical, it is always an eventful artistic road trip.
It was with excited trepidation that I approached working with Steve. He was by far the most famous composer who'd written for eighth blackbird, and was a boyhood hero of mine. We'd been warned about his uncompromising vision, mostly via second- or third-hand rumors that were some variation of, "He's really demanding, and will freak out if he isn't happy with what you're doing."
As a successful composer, Steve is lucky in only needing to write one new piece each year, which allows for each work to have a generous, patient gestation period. Below is an email written almost 20 months before Double Sextet's world premiere, setting out some of the composer's initial ideas for the work.
From: Steve Reich
Date: Mon, 3 Jul 2006

Matt,

I did start work on your piece which I have tentatively called Double Sextet - for obvious reasons. I just got about 4 pages of it begun and need to revise those. It is quite angular and more percussive than my recent works and should be a bit of a wake up for the audience. It's also immediately involved with short motives and their retrogrades. Haven't done that before.

As for the doublings, i did assume they were what you say and am not sure which I will be using. For percussion, i am sure both the live sextet and the pre-recorded sextet will each have a vibe and "mini set" of snare and kick drum. Please tell Matt. I have started out with 2 flutes and 2 B♭ clarinets for the live and recorded sextets plus two pianos, two violins and two celli. Nice to hear there's bass clarinet and viola waiting in the wings. - We'll see.

Give my greetings to all the musicians.

And thank you once again for your e mail.

All best,

Steve
The differences between the composer's original thoughts and the finished product are interesting. Early in the process, Steve thought it will be "angular and more percussive" than other works, something that's clearly related to the "mini set of snare and kick drum" he originally envisaged for the score. These instruments don't appear in the final version, and as a result, the work isn't more percussive than any of Steve's other recent pieces. (In fact, the variations movement that provides the beating heart of Double Sextet signals a move for the composer into uncharacteristically lyrical territory). He also says that it's "involved with short motives and their retrogrades." Double Sextet, like all of Steve's compositions, is constructed almost entirely of short motives, but there is no evidence at all of "retrogrades" (in which the tune would be played backwards).
Steve's interactions with eighth blackbird were different from what we were used to. Once we received a finished composition we typically have very limited contact with the work's composer before a pre-premiere rehearsal, at which time they offer comments on our performance. This "alone time" for the ensemble enables us to put the piece together into a well-drilled, dramatic, convincing, fully-committed interpretation, without feeling an intimidating warm breath over our collective shoulder.
What set Steve apart was his desire to work with the ensemble throughout the rehearsal process. Although he wasn't ever actually in the room with us until the day of the premiere, we sent him recordings of ourselves at every step in the process of preparation, from the day of our first rehearsal until the day of the premiere, on which he would offer his comments in detailed, often illuminating emails.
A short note about the piece: For most performances of Double Sextet, eighth blackbird plays live with a recording of ourselves. So in order to perform the work for the first time, we recorded one sextet part, then practice playing the other live sextet with our recording.
Below are two emails, written after he heard our initial pre-recorded sextet rehearsal recordings. This first email deals with the first movement, and all of the numbers are measure numbers in the score.
From: Steve Reich
Date: Wed, 16 Jan 2008

Lisa,

First off: BRAVO! You got it and its going to be great. This based on opening to 122. Now for the details:

At 122 first chord is too short and too loud on second chord. Don't forget the dash on first chord here and two bars later. Try and even the two chords off. Very good after that until 203 when same sort of thing happens. Too much accent on second chord which is naturally heavier because of bass so give full length to (put in a dash on) first chord. Similarly to 208.

Vibes at 315 - 323 practice by himself and make sure upper voice-melody is heard. Maybe one mallet in right hand two in left or slightly harder mallet on top - whatever. Vibes again at 368. I can hear strings fine but vibes are lost. Its a bit hard playing the clusters, so work on by yourself and then get closer to mic or slightly harder mallets. Vibes at 381 that chord is F, B♭, A♭. (its a rough passage...)

Winds, strings and vibes from 409 - 432 are a bit "blocky." Try to always have the music "leaning forward" vis a vis the beat and not right on top of it, hammering it. Light and always moving ahead (not rushing) wins the day.

And from there to the end is excellent. For a first rehearsal this is really wonderful!

Best - and BIG thanks,

Steve
Why does Steve get so involved in this process? For much of the composer's early maturity, the Steve Reich Ensemble (including Steve himself as percussionist) was the only group performing his music. They evolved a distinctive-sounding "house style" with its own unique energy. Rather than worshipping at the altar of the score as an exact set of Google Map directions, pieces like Drumming and Music for 18 Musicians were taught, learned, and developed without much recourse to the printed page. In some ways Steve must feel that this intense, collaborative process, and also the energy of the Ensemble's particular style of playing, have become inseparable from his music, and should be passed down to all ensembles that are encountering a new work for the first time. Interestingly, this can ensure a sort of "legacy" for performances of his music during Steve's lifetime, but what about well into the future?
The email above contains a typical entreaty to trust the markings on the printed page, but early in the process this sort of comment was difficult to decipher, especially as we didn't yet speak fluent Steve Reich. How does one accurately perform a "dash" in Steve's music? Play longer? Give it a stress that isn't quite an accent? It would take several dances around the Maypole until we found what that meant in practice.
In trying to develop our understanding of Steve's "house style," I found his comment about the "blocky"-ness of our playing – where he cajoles the ensemble to giving him more "lightness" and a sense of "leaning forward" – particularly useful.
From: Steve Reich
Date: Wed, 16 Jan 2008

Lisa,

Here we go on mvmnt two.

Opening in piano and vibes ok - a little more flowing maybe. When strings and winds come in at 537 its a bit too "espressivo" - just a bit cooler will do it. Held notes have no crescendo - just evenly held. Think baroque. Also really need more vibes here which will keep one foot in Africa (as well as baroque.) Either closer to mic, play a bit stronger or harder mallets.

At 597 strings & winds please keep that first eighth separate and similarly throughout - don't run it into following longer note. Single eighths are the punctuation throughout movement and we need them.

664 vibes needs the notes. In general there is a tentative feeling in vibes when it should be an equal partner to piano in volume and feel.

You are all way ahead and should have no problem making dynamite performances.

I'll send this and take a break before i go through 3rd mvmnt.

Many thanks to all!

Steve
This email created heated arguments among the "front row" of eighth blackbird (flute, clarinet, violin, cello). What did Steve mean by comments entreating us to play "a bit cooler" and to "[t]hink baroque"? We liked the aria-like quality of the tune, and really wanted to bring it into the 19th century a little, giving it a little Puccini-esque character. Should we do it with less vibrato? More sustained and straight-tone? Held notes with "no crescendo"? Also, the comment about separated eighth notes took us by surprise, and our first attempts at it sounded very strange to our ears. Shouldn't those notes be part of the phrase rather than cast adrift?
And those rumors of Steve as an unreasonably hard task-master? Hugely exaggerated. After such an exhaustive, intense process of preparation we were all a little jittery about what the composer might say when he heard us play the piece live. So you can imagine our relief when, at the end of the first complete run of Double Sextet for the composer, his only reaction was, "Wow, fantastic. I really have nothing to say."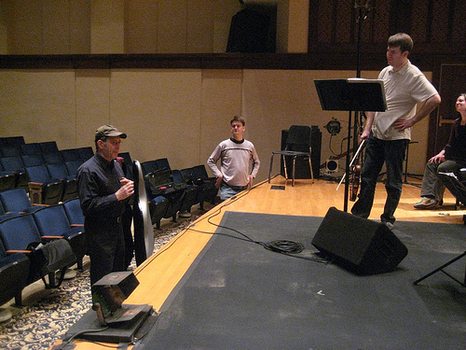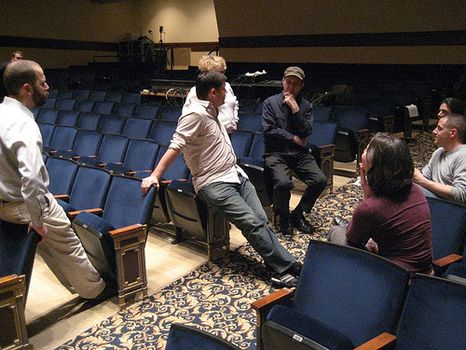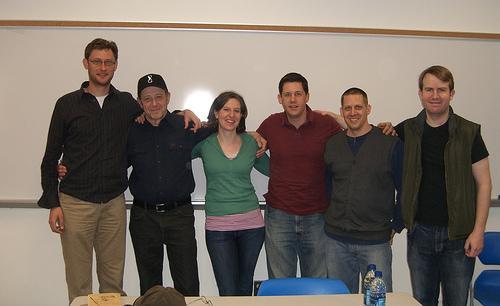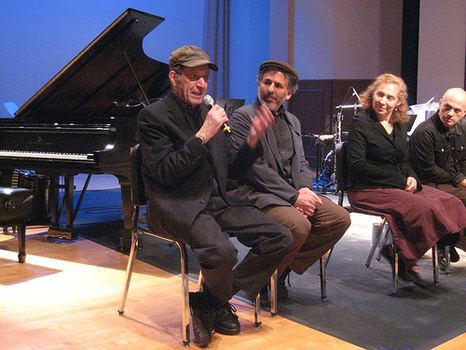 of