Opera for the Pleasure Activist
Since my very first post for WQXR, I have often discussed how we use our senses to perceive opera but also how those senses are used in every aspect of life.  I believe in something called Pleasure Activism which, as I see it, is the use of the senses to the greatest extent possible to more fully understand all the pleasures the world has to offer. This is not mindless hedonism but, rather, the use of those gifts that are our senses in ways we seldom do.
People often ask me variations on the question, "How do you know that?" as they wonder why I am able to summon all sorts of information. There are a few answers to this question. First, if you know how to develop your senses more fully, you will perceive and not just see, listen rather than simply hear, savor rather simply taste and smell, and sense rather than just feel when you touch something. Simply put, when the senses are firing on all burners, you take in more information.
Another part of this answer is that I believe that it is important to fully experience things in the moment rather than analyze them as I experience them. This is how I behave at the opera. In most ways we are trained to be analytical at the same time we take information in, whether it is reading words, hearing music, smelling flowers, tasting food or petting a dog. If we are not experiencing fully but instead are filtering experience through simultaneous analysis, we are not taking everything in. 
In addition to those answers, I think there is something else happening that is generational. For the record, I was born in 1956 and use some technology with great pleasure while not feeling that I must get every device once it hits the market. I certainly am not a Luddite, but I profoundly believe that electronic mediation changes how we perceive things. For example, opera heard on the radio is a different experience from hearing it live. Both are great, but they are not the same. Even the best audio system changes the textures of music, bringing forth some elements and minimizing others. But opera on the radio has much to recommend it and I have loved it for all my life.
Sense/Memory
Part of what is so compelling about people who make music, whether as composers or as performers, is that they must use their memories, their brains, their bodies and their emotions to do their work. The greatest of these musicians are alive to what they are doing but, I would venture to say, they are not actively analyzing while they work. Part of the magic of Luciano Pavarotti, apart from his voice and charisma, was that he always was so deeply connected to the music and words that you felt connected to them as well. I defy anyone who heard Pavarotti live to say that they were not wholly engaged by his singing as he did it.
Let's try something. I have selected a piece of music sung by Pavarotti that is less than two and one-half minutes long. As you listen to it, close your eyes so you do not watch him sing. Do all you can to not analyze as you listen, but let the music enter your ears, your pores and the depth of your being. Once it is over, do not open your eyes right away. Let the music and Pavarotti's singing resonate within you, much as if you had a small bite of excellent chocolate and the waves of flavor continue to crest in your mouth, nose, throat and elsewhere. Now, shut your eyes and listen actively but without analysis.
What you just did is akin to how I behave when I attend an opera. I don't necessarily shut my eyes because opera is theater too and there is a lot to take in while watching. I am not an active reader of projected titles as I prefer to prepare ahead of time and focus on what is happening onstage and in the orchestra pit rather than read. Part of why I "consult" titles rather then read them assiduously is that the translated language puts the brain in a more analytical, less perceptive mode. During a performance, apart from the stage, I love watching conductors at work and occasionally get a seat on the side of the pit so I focus on the conductor rather than the singers.
Opera Seen Differently
One of the inspirations for this dispatch came from the fact that, in my many years of operagoing, I have observed and met audience members who are blind or deaf yet are as passionate about the art form as I am. When I was performance manager at the Met in the era before the Americans With Disabilities Act became law in 1990 (reinforced last year), it often fell to me to provide assistance to ticketholders who might be blind, deaf or have other challenges. It was a pleasure to welcome them because they clearly went to considerable effort to get to the opera house.
Their presence also sensitized me to depictions of characters with disabilities, such as La Cieca, the blind mother of La Gioconda (below) or Frantz, whose hearing loss is used for comedy in Les Contes d'Hoffmann. The Met did not do Menotti's The Medium during my time there but I did think of the character of Toby, who is mute. For that matter, there was also Dvorak's Rusalka, who is silent for the opera's second act, and Richard Strauss's Die Schweigsame Frau (The Silent Woman).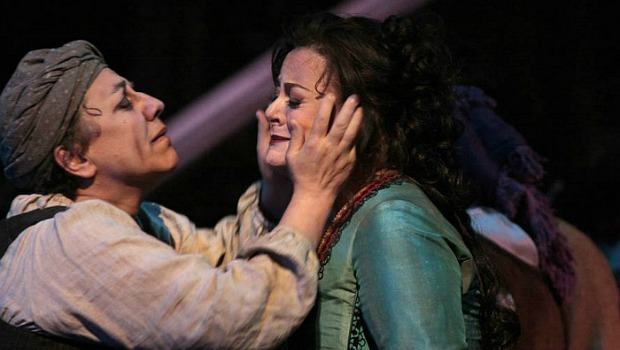 Photo: Ewa Podles as La Cieca and Deborah Voigt in the title role of 'La Gioconda' (Beatriz Schiller/Metropolitan Opera)
How would people who might have an impairment of one or more senses react to depictions of characters like themselves? I think that opera encompasses all of humanity and it would be too sanitized and beholden to "political correctness" to expunge or minimize the presence of all types of people in the audience and on the stage. When I was at the Met, many blind people bought cheap seats because, obviously, they were not there to view the performance and the acoustics all the way upstairs are excellent. It was perilous and I often deputized employees to make sure that our blind guests did not get too close to staircases or the edges of tiers. 
There was one blind woman of considerable means who attended for many years, accompanied by a succession of remarkable dogs who curled under her feet and did not flinch even during the Anvil Chorus of Il Trovatore or the recognition scene in Elektra. This lady sat very close to the orchestra and the stage in an aisle seat. I made a point of speaking with her and asked, in a polite way, why she chose to sit so close when it would be hard to get in and out of the auditorium at intermission and after the show. She told me that the way she perceived opera was through the vibrations of sound she felt on her face and in her feet. She was able to give very detailed descriptions of stage actions. Because she was blind from birth, she did not have any visual reference for colors, but had her ideas of them created by music. Sitting so close put her right in the action, both from the stage and the orchestra pit.
It reminded me of the way I first fell in love with opera. As a toddler, I would sit with my grandmother listening to the Met broadcasts as she narrated to me the action ("Her name is Mimi, his name is Rodolfo. Oh my, her candle went out!"). I had a head-full of visual images of standard repertory operas long before I saw them. The Bohéme or Carmen in my head was not very unlike the ones I encountered on the stage.
I can understand how a blind person could find much to engage with at the opera because the musical narrative is so extraordinary, but there were quite a few deaf people who attended as well. There were no simultaneous translations in sign language and no projected titles. The deaf ticketholders would read the stories ahead of time and create mental imagery just as blind people do in the theater and I did with the radio. The deaf people I met told me that the visual aspect of opera was so powerful that the internal music they "hear" is richly satisfying because they feel that they are composing the music that accompanies the stage pictures they see. This music might in no way resemble the Mozart or Debussy on the stage, but that did not matter. Some deaf people also sat close because they too were inspired by the vibrations and sound waves.
I am eager to see a new documentary film called Lost and Sound that explores hearing loss and its relationship to music. In the mean time, I count my senses and my blessings and I encourage you to do the same.
Weigh in: How do you use your senses when listening to music? Do taste, touch or smell ever impact how you approach a performance?