Faded Virtuoso Tangles with Stubborn Violin Maker in 'The Morini Strad'
Willy Holzman's one-act play "The Morini Strad" is the portrait of a forgotten violin virtuoso, living as a recluse in her rambling Fifth Avenue apartment, playing her old recordings, pondering the life decisions she's made. But it's also a meditation on what it means to be an artist, and the sacrifices needed to become a world-class musician or craftsman.
The actress Mary Beth Peil brings to life the true story of Erica Morini, considered to be the greatest female violin soloist of the early- and mid-20th century. Relatively unknown in the years leading up to her death in 1995, she nonetheless retained a diva-like presence, both iron-willed and operatic. 
Michael Laurence inhabits the tricky role of Brian Skarstad, a younger violinmaker whom Morini hires to repair and then sell her beloved and valuable Stradivarius violin. The play traces the uneasy friendship that develops between the two.
"The Morini Strad," directed by Casey Childs, opens at Primary Stages on Tuesday, following regional productions in Pittsburgh and Portland, ME.
Holzman wrote the play with direct input from Skarstad himself, a friend since the two were classmates at Wesleyan University. "When Brian encountered Erica Morini in 1995 he called me immediately and said, 'I walked into this woman's apartment and it could have been Sunset Boulevard,'" he said. "It hadn't changed in 50 years and she hadn't changed and then he described the astonishing Stradivarius that she owned."
The plot follows the outlines of actual events. Skarstad comes to Morini's apartment to evaluate and repair her precious violin, a 1727 Stradivarius called the Davidoff, then valued at $3.5 million. High-end makers tend to be fairly jaded about instruments, but this one was in exquisite condition, said Skarstad.
"I was unprepared for the violin I saw," he said in a phone interview. "To open the case and see this violin with its color, which had a lot of red varnish still on it -- it hadn't been over-polished, it hadn't been overworked, as many violins get to be in this country."
In the play, Morini insists on sitting with Skarstad at the workshop in his suburban home while he makes a relatively minor repair (she accidentally damaged it while trying to demonstrate a passage to a young student). He reluctantly agrees. It is a typical domestic scene: his son plays electric guitar in the background, his dog barks incessantly.
"That kind of world was completely alien to her," Skarstad recalled, noting that Morini would have been forced to give up her career if she had children of her own. "She started to ruminate about having kids and what would have happened and how her career would have changed."
As Morini ponders her life decisions, the story explores the parallels between craftsmanship and artistry.
By most all accounts, Morini's career was extraordinary. Born in 1904 in Vienna, she entered the Vienna Conservatory at age seven and made her debuts with the Leipzig Gewandhaus and Berlin Philharmonic orchestras at age 12. She toured the U.S. in 1921 and made her Carnegie Hall debut (portrayed in one of the play's several performance interludes by the violinist Hanah Stuart, below). Morini settled in New York in 1938, toured regularly, and recorded the concertos of Mozart, Beethoven, Brahms and Tchaikovsky. She gave her final concert in 1976.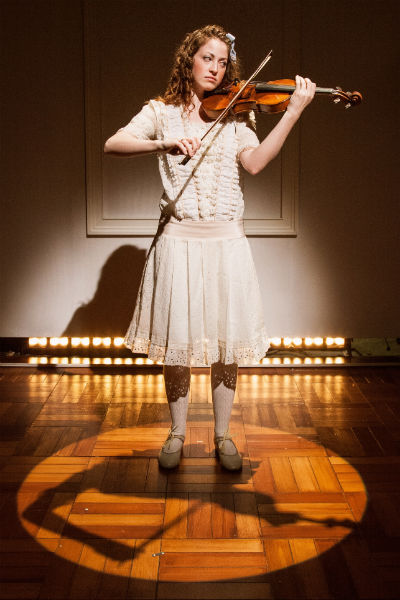 Harold Schonberg, the former chief music critic of The New York Times, once described Morini as "probably the greatest woman violinist who ever lived," though the notion was not one that pleased her. "A violinist is a violinist," she said, "and I am to be judged as one--not as a female musician."
Holzman's portrait of Morini was based partly on detailed notes that Skarstad made of his conversations with the violinist. The play reveals her gossipy side, dishing about Arturo Toscanini and Leonard Bernstein, and also her principled nature: when she ultimately decides to sell her Strad she turns away a flashy young virtuoso whom she deemed too vulgar for the instrument.
There are other elements to the plot, including one compelling mystery that presents itself towards the finale. But for Holtzman, the play was foremost a character study of two different artists who develop a mutual respect.
"For [Skarstad] to encounter this Viennese-born woman who had been a great diva of classical music and loved to regale him with stories, I thought, 'that's the beginning of drama,'" said Holtzman. "You have two characters from very different worlds. Those two worlds collide and they find some common ground."
Photos: 1) Erica Morini in an undated publicity shot; 2) Hanah Stuart in 'The Morini Strad' (James Leynse)
Brian Skarstad describes being portrayed on stage and knowing Erica Morini: