The South Goes Global at Savannah Music Festival
Cross pollinating between musical genres is a concept that is becoming more accepted among mainstream concert presenters. Georgia's Savannah Music Festival is a wonderful example of the kind of event that can be created when musical borders are blurred and exceptional musicians of all kinds come together to make great music.
The Savannah Music Festival was founded in 1988 as an effort by community leaders to increase cultural tourism to one of the largest and most charming national historic landmark districts in the U.S. The festival is the brainchild of executive and artistic director Rob Gibson, who creates a magical experience by tapping into the wisdom – and connections – he gained after spending ten years as founding director of Jazz at Lincoln Center with jazz legend (and longtime classical crossover artist) Wynton Marsalis. The trumpeter continues to support Gibson's work and even squeezes in a festival performance of his own from time to time.
I arrived in Savannah on day 9 of 17. I was sorry to have missed Pink Martini the night before. My husband was sorry to have missed Lyle Lovett on the previous Saturday. In between, a lot had happened including a performance by the Takacs Quartet of Shostakovich's G minor Piano Quintet with legendary pianist Menahem Pressler – now 88 years old. The buzz was already happening – big time!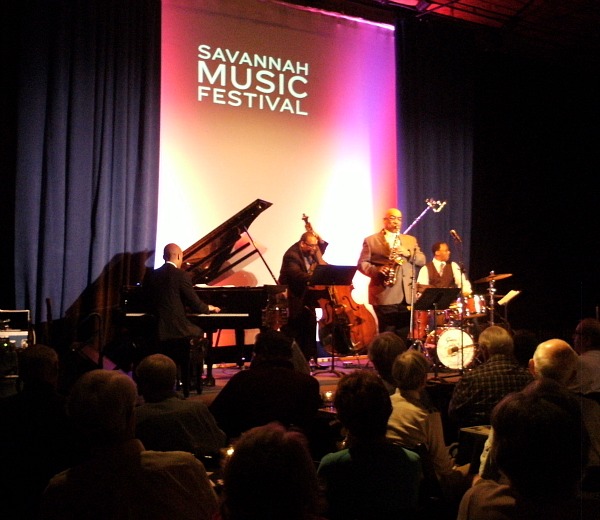 But there were a remarkable 11 performances from which to choose on day nine – everything from the Swing Central Jazz Competition featuring 12 of the nation's most talented high school big bands to South African fortepianist Kristian Bezuidenhout playing Haydn and Beethoven with the new young Italian concertmaster of the Chamber Orchestra of Europe – Lorenza Borrani – and British cellist Jonathan Cohen. The day would end with some fast and furious Creole Zydeco courtesy of accordion virtuoso Nathan Williams.
First up for us: some exceptional jazz, courtesy of the Jeff Clayton Quartet with Aaron Diehl, Rodney Jordan and Herlin Riley (above). Clayton has played with some of the best in the business – Frank Sinatra, Ella Fitzgerald and Lena Horne to name a few.
In the afternoon we toured the Davenport House built by Isaiah Davenport circa 1820. The preservation of this home was the first act of the Historic Savannah Foundation which has gone on to save hundreds of buildings in the city.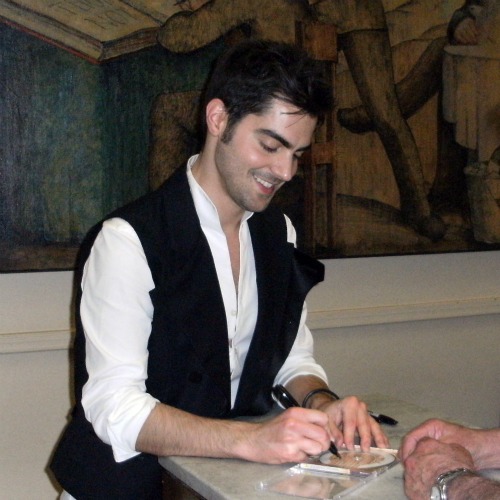 That evening, classical guitar soloist and WQXR favorite Milos (left) played a sold-out concert in the Telfair Academy of Arts and Sciences – aka the historic Telfair Mansion – which is part of the Telfair Museum. Milos said he was pleased to make his festival debut in such a beautiful room with wonderful acoustics surrounded by gorgeous artwork.
We ate dinner that night in Savannah's Olde Pink House, named for the "pink" stucco which covers the old brick. The apricot and shallot glaze on the flounder was memorable.
The next day, Bezuidenhout and Cohen played violin and keyboard works by Bach and Beethoven in the Methodist Church next door to the Telfair mansion. After the concert Fred Child of NPR's Performance Today hosted a fascinating discussion with the musicians about the differences between historical and modern instruments.
That afternoon we strolled along Bay Street (below) in the historic district of Savannah and were reminded of Savannah's role as an important Atlantic seaport.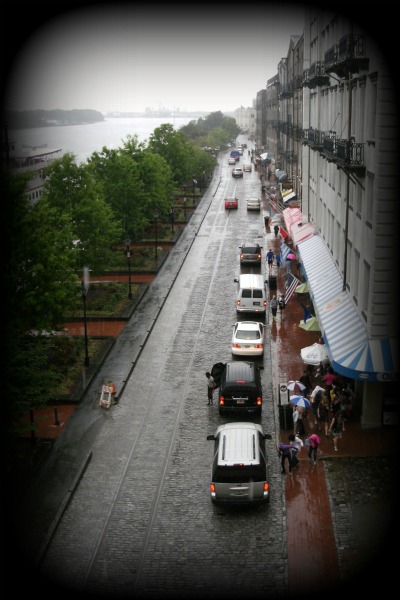 In the evening we returned to the Telfair Mansion for a program of German String Masterpieces performed by Daniel Hope and Friends. As associate artistic director, Hope brings established professionals together with emerging young artists in a variety of programs throughout the festival.
Our stay in Savannah was much too short. The performances that continued without us included bassist Edgar Meyer, pianist Wu Han and with cellist David Finckel, the Emerson String Quartet and Sylvia McNair singing Gershwin. Still to come are mandolinist Chris Thile, jazz pianist Brad Meldau, banjo virtuoso Tony Trischka and the Atlanta Symphony Orchestra with pianist Yefim Bronfman.
The Savannah Music Festival continues through Saturday, April 7.
Photos by John Leonti.