The 20 Essential Bach Recordings
Monday, March 20, 2017 - 12:00 AM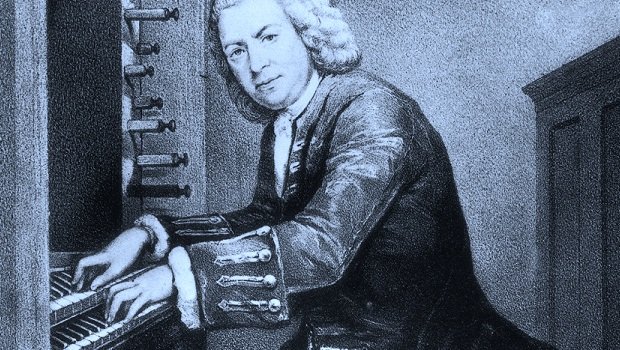 (N/A)
With thousands of Bach music performances committed to recordings, it's hard to know where to begin. Here's our list of essential Bach Recordings.  
20. Amsterdam Baroque Orchestra
Ton Koopman, conductor
Available at Arkivmusic.com

If Handel's Messiah is the quarterback of holiday music, Bach's Christmas Oratorio remains the second-string walk-on. But this underplayed, sprawling work, showcases the German composer at his best, with intimate arias, colorful instrumental pieces and uplifting choruses. Comprised of six cantatas meant to be performed from Christmas to Epiphany, the whole runs some two-and-a-half hours, significantly longer than Messiah. This 1996 version remains one of the finest on record, with vivid choruses, uniformly excellent vocal soloists and warm orchestrations.
19. The English Suites
Andras Schiff, piano
Sony
Available at Arkivmusic.com

Like the French Suites or the Partitas, the English Suites come in a set of six, based on baroque dance and sometimes showing Bach at his most openhearted. Andras Schiff recorded these works in 1988, just six years after the death of another pivotal Bach interpreter, Glenn Gould. His version is strikingly different, emphasizing flexibility and a golden warmth more than drive and angularity. With ornaments in the repeats, Schiff also nicely underscores the music's dance origins.
18. Sinfonias
Academia Bizantia
Ottavio Dantone, conductor
Decca
Available at Arkivmusic.com
The Accademia Bizantina, founded in 1983 in Ravenna, Italy, has cherry-picked the most colorful orchestral introductions to Bach's Cantatas. Led by harpsichordist and organist Ottavio Danton, the group offers up colorful music that, while not being among Bach's most famous, has plenty of charms on its own.
 17. Magnificat from Cantata 51: Jauchzet Gott in Allen Landen
English Baroque Soloists, Monteverdi Choir
John Eliot Gardiner, conductor
Emma Kirkby, soprano, other soloists
Available at Arkivmusic.com
Bach's Magnificat is one of the most beautiful, large scale settings of the Song of Mary. The Monteverdi Choir and the English Baroque Soloists, led by John Eliot Gardiner, made their name with this album, which also includes Bach's solo cantata, Jauchzet Gott in allen Landen, BWV 51. This was the first cantata recording by Emma Kirkby, who went on to become a major figure in Baroque performances. Get a free download from this performance in our My Daily Bach podcast.
 16. Bach Arrangements
Angela Hewitt, piano
Hyperion
Available at Arkivmusic.com
The Canadian-born pianist Angela Hewitt offers this wildly diverse assortment of Bach arrangements, nearly all of which are taken from organ or cantata movements. She has chosen from a range of transcribers, forming a who's who of early 20th century (mostly British) musicians, including Myra Hess, William Walton, John Ireland and Herbert Howells. She also includes three modest transcriptions of her own, plus five transcriptions from long-lived German pianist Wilhelm Kempff. Many of the selections are in the popular vein (Wachet auf, the opening Sinfonia in D from Cantata No. 29) while others are more obscure. Regardless, Hewitt plays them with a touch of rubato and nicely shaded dynamics.
15. Bach Organ Works
Simon Preston
Deutsche Grammophon
Available at Arkivmusic.com
British organ virtuoso Simon Preston made his U.S. debut in 1965, and his long career has included stints at Westminster Abbey and Christ Church, Oxford. For many years the organist had a contract with Deutsche Grammophon – imagine that in 2014! This recording, from 1989, features a half-dozen of Bach's solo organ pieces including the famous Toccata and Fugue in D minor, the Fantasia in G minor, Variations on "Vom Himmel hoch da komm ich her" and the Prelude And Fugue In D Major, BWV 532. The set was recorded at the Kreuzberg Church in Bonn, Germany.
14. Sonatas and Partitas for solo violin
Arthur Grumiaux, violin
Philips
Available at Arkivmusic.com

Bach wrote his three sonatas and three partitas over a span of some 17 years in the early 18th century, and while they were probably never performed in public in his lifetime, they're a cornerstone of the contemporary violin repertoire. Violinists including Julia Fischer, Jennifer Koh, Gidon Kremer and Christian Tetzlaff have made distinctive recordings of these pieces in recent years. But one that remains a benchmark is Arthur Grumiaux's version, recorded in 1961. While a bit more rough and ready technically than some modern accounts, it features a plush tone as well as drive and intensity.
13. My Favorite Bach: Six Favorite Cantatas BWV 147, 80, 140, 8, 51, 78
Bach Ensemble
Joshua Rifkin, conductor
L'Oiseau Lyre
Available at Arkivmusic.com
During the 1980s and '90s, the Bach scholar Joshua Rifkin advanced the now popular theory that Bach's choral works were meant to be sung with only one singer on a part. In performances with the Bach Ensemble (an authoritative name if there ever was), Rifkin refuted the grand, pumped-up choral performances of decades' past. This collection, from 1997, includes six of Bach's most beloved cantatas, including Cantata 140, "Wachet auf, ruft uns die Stimme" ("Sleepers Awake").
12. Brandenburg Concertos
The English Concert
Trevor Pinnock, conductor
Available at Arkivmusic.com
The Brandenburg Concertos are played so much that they rival Vivaldi's Four Seasons as emblems of the Baroque orchestral esthetic. But when Trevor Pinnock recorded the six concertos with the period-instrument English Concert, the landscape was much different. It was 1982 and he had to prove that that original instruments could play in tune with as much finesse as any modern rival. Most listeners and critics gave the group its due, and for years, their recording of the Brandenburgs was the standard recommendation. In 2007, Pinnock led a new rendition with the ad hoc European Brandenburg Ensemble. Some liked it even better. Still, that first traversal is hard to beat, and it's now conveniently packaged along with the four Orchestral Suites.
 11. Well-Tempered Clavier, Book I
Till Fellner, piano
ECM 1853/54
Available at Arkivmusic.com

Book One of Bach's "48" – the 24 pairs of preludes and fugues in all major and minor keys – have been recorded on many instruments (harpsichord, clavichord, organ, piano and fortepiano) and in many styles. In this 2004 recording, the Austrian pianist Till Fellner strikes a middle ground that's strikes a satisfying middle ground that is neither cerebral and cold nor flashy and mannered. He plays with a rich, full sound doesn't skimp on refinement and rhythmic energy. While the WTC has been recorded many times since – including a fine new rendition by Pierre-Laurent Aimard – this remains one of the high points in modern Bach performance.
10. St. Matthew Passion
Monteverdi Choir and English Baroque Soloists
Barbara Bonney (Soprano), Ann Monoyios (Soprano), Anne Sofie von Otter (Mezzo Soprano), Howard Crook (Tenor), Michael Chance (Countertenor), Olaf Bär (Baritone), Cornelius Hauptmann (Bass), Andreas Schmidt (Baritone), Anthony Rolfe Johnson (Tenor)
DG Archiv
Available at Arkivmusic.com

Premiered on Good Friday, 1736, the St. Matthew Passion was the work Bach regarded as his greatest. Bach scholar and conductor John Eliot Gardiner has compared it to a great altarpiece by Veronese or Tintoretto. Gardiner's 1988 account of the piece with the Monteverdi Choir, English Baroque Soloists and a top-notch solo team comes with a particularly feeling for drama and passion in every sense of the word. Anthony Rolfe Johnson is an admirable Evangelist and countertenor Michael Chance sings a warm and subtle "Erbarme dich."
 9. Bach: Double and Triple Concertos
Rachel Podger, violin
Brecon Baroque
Channel Classics
Available at Arkivmusic.com
The Concerto for Two Violins, Strings and Continuo in D Minor, BWV 1043, also known as the "Bach Double," is one of the composer's most famous works and therefore it can be tempting to treat it as a star vehicle (celebrity violinist A + celebrity violinist B = marketing gold). But for this 2013 release, the English Baroque violinist Rachel Podger assembles a modestly-sized chamber orchestra gathers friends and students to play the solo parts – and it works. Podger, who plays with the Orchestra of the Age of Enlightenment, brings persuasive accounts of the Double (with violinist Bojan Cicic), the Triple (also with Cicic and Johannes Pramsohler) and lesser-known concertos for oboe and violin; and flute, violin and harpsichord.
 8. 'Bach Hits Back, A Cappella Amadeus'
Swingle Singers
Virgin Classics
Available at Arkivmusic.com
The Swingle Singers were formed 50 years ago in Paris by the American vocalist and jazz musician Ward Swingle. Their first album, "Jazz Sébastien Bach," was a major Grammy-winning success and, as Guardian music critic Nicholas Kenyon wrote in 2011, it "seemed to symbolize a moment of openness in the 1960s, a coming-together of pop and classical music, that held out much hope for the future." There have been more than 80 different members over the years, but the current line-up has maintained their particular brand of a cappella scat singing. This recording, from 1998, features no fewer than three-dozen arrangements of Bach and Mozart. Among the highlights: the Badinerie from Suite No. 2, "Es ist genug," and the Little Fugue in G Minor.
 7. Cello Suites
Mstislav Rostropovich
Warner Classics
Available at Arkivmusic.com
In 1995, at age 68, Rostropovich made his first complete recording of the Bach Cello Suites. They were pieces with which he had a career-long association, but never got around to recording in full. While the performances contain much that would inflame purists – and those who insist on technical perfection – they are intense, richly detailed and larger than life. Warner Classics has just reissued them as a budget 2-CD set.
• Related: Watch Rostropovich perform the Cello Suite No. 5 at the Fall of the Berlin Wall

6. Mass in B Minor
Massaka Suzuki, conductor
Bach Collegium Japan
Available at Arkivmusic.com
If you're at all familiar with the buzz that surrounds classical music in China these days, it's worth remembering that similar excitement enveloped Japan a generation or so ago. And it extended to early music. In 1990, Masaaki Suzuki founded the Bach Collegium Japan, a group that almost singlehandedly pioneered early-music playing in Asia. It made Suzuki an international Bach authority, with tours and more than 50 recordings for the BIS label. Among the most notable releases was the Mass in B Minor, a massive work in 27 sections – corresponding to the ordinary of the Latin mass. Bach Collegium Japan perform the piece with trim forces – with one voice per part, or 18 singers and 11 strings – but grandeur is never sacrificed. With the right sound engineering and spacious tempos, it all gives the impression of a massive musical edifice.
 5. Murray Perahia, keyboard and conductor
Academy of St. Martin in the Fields
Sony Classical
Available at Arkivmusic.com
Bach's Keyboard Concertos are performed on a variety of equipment – harpsichords, modern grands and everything in between. Pianist Murray Perahia staked his claim firmly in the modern-instrument camp, teaming up with the Academy of St. Martin-in-the-Fields to record the seven concertos, plus the Brandenburg Concerto No. 5; the Concerto for Flute, Violin and Harpsichord; and the solo "Italian" Concerto. In 2011, Sony re-released these on a 3-CD set, which was a WQXR Album of the Week. There's a sharp rhythmic profile and textural clarity in much of Perahia's Bach playing, from the subtle variations of articulation in the D major concerto to the breathtakingly clean trills and runs in the F major. Never shy when it comes to embellishment, Perahia seizes every opportunity.
4. Stokowski Orchestral Transcriptions
Jose Serebrier, conductor
Bournemouth Symphony
Available at Arkivmusic.com

Nobody today could mistake Leopold Stokowski's sensuous and colorful arrangements of Bach's airs, fugues and passacaglias for the genuine articles. The conductor of the Philadelphia Orchestra was the ultimate over-the-top arranger, applying his famously lush sound on compositions written for organ, harpsichord or voices. Today, they're making somewhat of a comeback, especially among musicians who feel less constrained by the innovations of the period-instrument movement. Jose Serebrier, a former assistant to Stokowski during the 1960s, recorded this collection of Stoki's Bach transcriptions with the Bournemouth Symphony in 2006. Included is the mighty Passacaglia and Fugue in C minor and lush favorites like Sheep May Safely Graze.
3. Easter Oratorio & Ascension Oratorio
Philippe Herreweghe/Collegium Vocale Ghent
Harmonia Mundi
Available at Arkivmusic.com
With 200 cantatas or so in the repertoire, there's no real obvious starting place for the listener faced with Bach's vast choral output. One starting-point is the choral music he wrote for the Easter season: not only did he write a glorious Easter Oratorio, but also several cantatas and an Ascension Oratorio, among other pieces. This collection containing the three "Trinity" cantatas and the two big oratorios, works of theatrical force and wide textural variety (though being reflective in nature, they don't tell a direct story). In this 1993 recording, Belgian conductor Philippe Herreweghe conducts his Belgian forces including several fine soloists. Most of all, they recognize that clarity is key to allowing Bach's arias, chorales and recitatives speak with potency and inspiration and every section carries the music's message with zeal.
2. Motets

Academy of Ancient Music Berlin, RIAS Chamber Choir
Rene Jacobs, conductor
Harmonia Mundi
Available at Arkivmusic.com

Although not nearly as well-known as the Passions and the oratorios, Bach's six motets held a unique place in the composer's output. They were commissioned for specific public and private occasions such as Der Geist bilft unser Schwacchheit auf, for the "Funeral of the late Prof. and Rector Ernesti." Written for four, five, and eight voices, they are intricate, demanding works and feature a range of rhetorical and text-setting devices: Descending chromatic lines match the soul's lament; unruly bass lines "rage . . . and riot" along with the world. Although some scholars have said that the motets should be sung without orchestral accompaniment, current assumptions are that Bach used continuo instruments at the very least. The Academy of Ancient Music Berlin together with the RIAS Chamber Choir recorded these very effectively in the 1990s with conductor Rene Jacobs.

 1. Glenn Gould: A State of Wonder - Goldberg Variations (1955 & 1981)
Sony
Available at Arkivmusic.com
Gould's recording debut in 1955 of the Goldberg Variations took the world by storm – it was reported to have sold 40,000 copies by 1960, and had sold more than 100,000 by the time of Gould's death in 1982. His decidedly un-Romantic and highly personal approach presented Bach's keyboard music in a startling new way. Then in 1981 – reportedly at the urging of his record label – Gould revisited the Goldbergs and delivered a new interpretation far more introspective, with more deliberate phrasing and ornamentation. Both versions have their considerable merits, as you told us in our poll:
In 1968, Gould spoke with record producer John McClure about dropping out of concert life and focusing on the studio.
Listen to the interview here:
Note: This article was original published November 1, 2014.
More in:
The WQXR e-newsletter. Show highlights, links to music news, on-demand concerts, events from The Greene Space and more.