20 Great Music Compositions Inspired by Shakespeare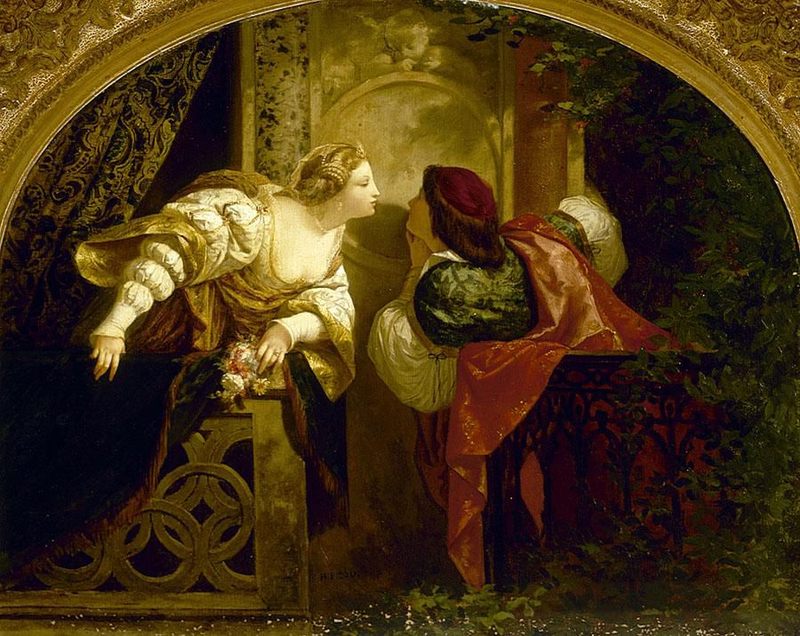 Sunday is Shakespeare's 453rd birthday and 401st deathday (yeah, thems the breaks). He might not be around to celebrate those anniversaries, but you sure are. In addition to any parties or dramatic readings you may be throwing for the occasion, join WQXR's celebration with a Shakespeare Weekend. We'll be filling the air with music inspired by the influential playwright — keep reading for a small taste of what you can expect to hear during the on-air celebration. And all weekend, don't miss your chance to enter to win a box set of Shakespeare's complete works read by some of the world's great actors. 
Tchaikovsky: Romeo and Juliet Fantasy-Overture (1869, revised 1880)
The Romeo and Juliet Fantasy-Overture is tied with Mendelssohn's A Midsummer Night's Dream for this list's hardest pop culture representatives. In 1869, at the not-so-subtle urging of Mily Balakirev Tchaikovsky wrote the score in a matter of weeks (six, to be exact). Balakirev, Romeo and Juliet's dedicatee, sent some friendly criticism Tchaikovsky's way and ten years later the composer presented a revised score — the version you're most likely to hear. Listen for Tchaikovsky's representation of inter-familial conflict, drama and isolation. And of course, expect to hear the swelling "love theme" that has been used countless times in cartoons, live action sitcoms and awkward video game romance á la The Sims.
Mendelssohn: Incidental Music for A Midsummer Night's Dream (1842)
Child prodigies, captivate the public imagination. In classical music, Mozart often gets held up as the finest example of one, but next time, throw Felix Mendelssohn some love. A gifted musical talent, Mendelssohn wrote the first version of the overture to A Midsummer Night's Dream before he was 18 years old. As an adult, he came back to the piece, and from it came incidental music for the entire play. Baltimore Symphony Orchestra conductor Marin Alsop wrote that Mendelssohn's music "captures the spirit and essence of Shakespeare" from the jump, saying of the opening chords: "[they] capture the essence, even the moral of A Midsummer Night's Dream, a play about unexpected turns in love and life." It is perhaps best known for it's "Wedding March" — immortalized after Queen Victoria used it for her wedding in 1858. Funny that a ubiquitous wedding recessional was born from the incidental music for one of Shakespeare's best-known comedies.
Walton: Score for the film Henry V (1944)
It's fitting that a film adaptation of the Shakespeare play about Henry V featured super English music by an incredibly English guy. In all seriousness, the score is a fantastic companion to Laurence Olivier's borderline meta film adaptation. It has earned a coveted spot in the company of scores that can stand completely independent from their films, and was so beloved that it was condensed into an orchestral suite by Muir Mathieson. While the suite makes for a top-notch musical adventure, embrace its full dramatic effect by listening to a recording of Walton's score punctuated by monologues from the play. Or you could just listen for the death of Falstaff. No one would blame you.
Erich Korngold: Incidental Music for Much Ado About Nothing (1916)
Over the course of his career, Korngold achieved the Platonic form of a Hollywood film composer. He fled Europe to escape Nazi persecution, eventually settling down in Southern California. But before he gave musical life to Tinseltown talkies, he was a child prodigy impressing the cultural elite of Vienna. As a young man, he was tasked with the composition of incidental music for a production of Much Ado About Nothing; the music was first premiered when he was 21 years old.
Prokofiev: Romeo and Juliet (1935)
It's difficult to compare Prokofiev's Romeo and Juliet with Tchaikovsky's in part because the former is written for a ballet. The L.A. Philharmonic's program notes call the piece "nothing short of miraculous," and that's not at all a stretch. Prokofiev was able to color the contrasting moods of blood lust and ... regular lust, explore the emotional depth of each major player and bring several of the play's most notable scenes to life. One of its most familiar moments occurs in the first act: "The Dance of the Knights," with its dramatic bluster giving way to a serene sensuality, has become a pop culture staple in its own right.
Matthew Locke: Incidental Music for The Tempest (1674)
For this Shakespeare work, the English composer wrote big music to match his big hair. His score includes the performance instructions "soft by degrees" and "louder by degrees," the first known English language indicators of diminuendo and crescendo (the gradual lowering and raising of volume). We imagine that would be pretty dramatic for the late 17th century English audience.
Sibelius: Incidental Music for The Tempest (1926)
Have you ever been told to "just listen for how the composer paints pictures with the music" and been left scratching your head? Then this Tempest is just for you — Sibelius doesn't leave much to the imagination. A good 250 years after Locke's incidental music, the proud Finn unleashed his own version, making the sounds of the orchestra match violent storms, the pitch of the ships and calming winds.
Schubert: Who Is Sylvia? (1828)
Dude loved writing songs, and in his massive catalog of 600 Lieder — a form of German art song that sets poetry to music — it's no surprise that Shakespeare inspired at least one. "An, Sylvia," while not a setting of a Shakespeare play, is inspired by a scene from The Two Gentlemen of Verona.
Verdi: Macbeth (1847), Otello (1887) and Falstaff (1893)
These three operas comprise the Verdi starter pack and remain some of the most performed in the repertoire. Macbeth, written in 1847, saw extensive revisions two decades after its premiere; Otello has remained a crowd pleaser despite its performance controversies; and the comedic Falstaff, Verdi's penultimate opera, still sees regular performance despite its (relatively) diminished stature compared to its Shakespearean cousins.
Vaughan Williams: Serenade to Music (1938)
The Merchant of Venice contains a pretty poetic discussion on the nature of music, making it ripe for a composer to come along and work some magic. Ralph Vaughan Williams did just that in 1938. In a tribute to Sir Henry Wood, Vaughan Williams set the (slightly altered text) for 16 leading English vocal soloists and orchestra. A later version is written for a dedicated chorus, and yet another features a solo violin with orchestra.
Thomas Morley: "It Was a Lover and His Lass" (circa late 16th–early 17th century)
Shakespeare music by a Shakespeare contemporary. Morely (and his well-groomed mustache) roamed England around the same time that the Bard was hard at work. "It was a Lover and His Lass" is a song that sets some text from the comedy As You Like It.
Gerald Finzi: Let Us Garlands Bring, Op. 18: "Fear no More, the heat o' the sun" (Premiered 1942)
Finzi got an entire Shakespeare song cycle into his oeuvre, which includes his own adaptation of "Who is Sylvia?" The third song in the cycle, "Fear no more, the heat o' the sun," is taken from the text of Cymbeline.
Berlioz: Beatrice and Benedict (1862) and Roméo et Juliette (1839)
Two contrasting works from the Frenchman. Beatrice and Benedict is a comic opera based on Much Ado About Nothing. It should go without saying that it is much more of a mood-booster than his massive choral symphony Roméo et Juliette that follows the tragedy of Shakespeare's play of the same name.
Purcell: The Fairy Queen (1692)
This adaptation of A Midsummer Night's Dream holds a pretty important position in this history of opera. Purcell changed the game with The Fairy Queen, defying the expectations of his English audiences. What was different about it? Put simply, Purcell made the music the focus of the work, relegating the segments spoken dialogue to vehicles for huge musical moments. The premiere was so expensive — and popular — that performances had to be added to the schedule to cover the costs.
Wagner: Das Liebesverbot (1834)
Richard Wagner was a huge Shakespeare fan, and when he was a determined and confident 21 year old he spun one of his plays, Measure for Measure, into an opera. When considering all of Wagner's work, it doesn't sit among his best creative pursuits — but it is nice to know that you weren't the only one sending up an homage to your creative idol in your 20s.
Cole Porter: "Brush Up Your Shakespeare" from Kiss Me, Kate (1948)
This particular number from the musical about a production of The Taming of the Shrew isn't based on any Shakespearean work in particular, but it's full enough of puns and references to make the cut. The overarching message here: you won't succeed in romance if you don't know anything about The Bard of Stratford-upon-Avon.
Bernstein: West Side Story
We should have conducted a poll to find out what the most recognizable Shakespeare adaptation was. But we can't imagine it would be too presumptuous to declare West Side Story the winner. It's a staple of musical theater, enjoyed countless productions and parodies and contains at least one song that's a standard in your shower-time set list.