CONTACT! and the Blogging Community
Hear the New York Philharmonic's inaugural CONTACT! concert this week on Q2, and read what the blogosphere is saying right now.
CONTACT! has already generated quite a bit of buzz. Read what's been written so far. Q2 will be updating this page as more reactions and insights are posted. Were you at the concert? Have an opinion? Tell Q2 what you think and be a part of our new music community.
Miss the concert? Hear the CONTACT! performance this Tuesday, December 22 at 7PM with an encore presentation Sunday, December 27 at 2PM. More from Q2's coverage of CONTACT! including full-length composer interviews here.

Just click on the name to read from CONTACT! bloggers such as:
Timothy Andres, from Andres.com
Broadway World
ClassicalTV
Feast of Music
Andrew Frisicano, from BrooklynVegan.com
Olivia Giovetti, from Time Out New York blog, "The Volume"
George Grella, from The Big City
Bruce Hodges, from Monotonous Forest
John Leiser, from JohnLeiser.wordpress.com
Lucid Culture
Sugar Vendil, from Classical Music is Dead*
Gigi Yellen, from The Gathering Note

Timothy Andres, composer and pianist, from Andres.com
Dalbavie's Melodia was also my favorite piece on the bill. It began as a measured series of seemingly unconnected gestures, which gradually morphed into longer ideas, based on pentatonic Gregorian chant. Each gesture was incredibly "perfect", in that inimitable way of French composers; fresh harmonies, beautifully inventive orchestration, just the right number of repetitions. It couldn't have made a more stark contrast to the piece that followed (and I'm using the term "piece" in its loosest sense here), Arthur Kampela's Macunaíma. Everyone always brings up Ives when there's a piece with lots of activity, marching band music, funny quotes, grinding dissonance, etc. Oh, he's a "Brazilian Charles Ives". Actually, Macunaíma was more of a "party piece", like Rzewski's Les Moutons de Panurge, though without any of the interest provided by having an audible process (or, you know, any coherent structure whatsoever). It provided exactly the sensation when you throw a party, and it reaches a certain point in the evening, and you wish everyone would leave your house so you can go to bed, but you get this sinking feeling that they actually have another few hours left in them. Just like that.
Nonetheless, it was kind of fun to see the NY Phil let loose for awhile (I almost forgot I was watching the NY Phil) because the first half of the program didn't really afford them the chance. Glenn Dicterow looked downright skittish during Arlene Sierra's Game of Attrition; I doubt if he ever had to work so hard simply to hold his section together during the entire Maazel era. It gave the proceedings that all-too-familiar air of a student new-music concert, where everyone's half-learned their part in dress rehearsal. Symphony Space's unforgiving acoustic did them no favors here; the violins sounded as if they were playing in the next room. Lei Liang's Verge faired better; he'd arranged his string orchestra as a series of stereophonic quartets, Bartók-style. This helped with sound distribution a great deal, though the opening would have sounded beautiful with a little reverb.
It's too bad about the acoustics, because Symphony Space is a nice-sized venue for this sort of concert, and it's informal and comfortable. They even served up a cough syrup-like booze potion afterwards. These guys are really working hard, I thought. As well they should. And though the concert was a mixed success, it's gratifying to see the Philharmonic taking risks that would have seemed unthinkable a year ago.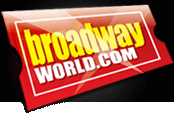 The debut concert of CONTACT!, the New York Philharmonic's new-music series, to be broadcast on Q2, Classical 105.9 FM WQXR's contemporary classical music stream, on Tuesday, December 22 at 7:00 p.m. and Sunday, December 27 at 2:00 p.m. Listeners may access the broadcasts by visiting www.wqxr.org/Q2 or iTunes.
The first CONTACT! program took place on Thursday, December 17, 2009, at Peter Norton Symphony Space, and featured works by Marc-André Dalbavie, Arthur Kampela, Lei Liang, and Arlene Sierra, performed by New York Philharmonic musicians and conducted by host Magnus Lindberg, The Marie-Josée Kravis Composer-in-Residence at the New York Philharmonic.
The broadcast will include introductions by the composers, in discussion with Mr. Lindberg, which took place that evening prior to complete performance of their works.
The compositions - all New York Philharmonic commissions - are Marc-André Dalbavie's Melodia, a piece where noise evolves into melody; Arthur Kampela's MACUNAÍMA, based on a book about a Brazilian mythic hero; Lei Liang's Verge, inspired by the birth of his son; and Arlene Sierra's Game of Attrition, inspired by Charles Darwin's theory of evolution, natural selection, and power struggles. The instrumentation varies from work to work. Mr. Dalbavie's piece, for example, utilizes 13 players that include winds, horns, percussion, and strings. Mr. Kampela's piece is for 20 players, with five off-stage led by an assisting conductor. Mr. Liang employs 18 strings, and Ms. Sierra uses 20 instruments, including winds, brass, percussion, harp, keyboard, and strings.
Read more from BroadwayWorld.com »

Classical Diversions: New Music On Fire In New York!
New York's new music scene, always aglow with the fervor of ongoing cultural metamorphosis, suddenly seems fully on fire. In recent weeks, sensational concerts including new works have been given by Lincoln Center's New Visions series, the American Composers Orchestra, and the New York Philharmonic's new CONTACT! series, among others. And it no longer feels as though these concerts are attended only by new music cognoscenti. Lots of generally curious music lovers pile in, too (many of these concerts were buzzed up and sold out!), the result, in part, of indefatigable work done over the years by Bang on a Can and other institutions that have helped open new ears to new music.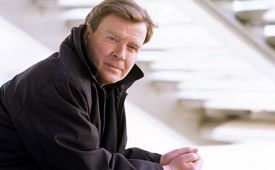 The Philharmonic's CONTACT! Series is an especially welcome newcomer. Part of the new energy that has seized the orchestra since dynamic Alan Gilbert stepped onto the podium as Music Director a few months ago, CONTACT! made an auspicious debut last week in concerts at Symphony Space and the Metropolitan Museum of Art. The program for both concerts featured four new works that, mirabile dictu, one hopes to hear again; they were introduced by the orchestra's engaging composer-in-residence, Magnus Lindberg: Arlene Sierra's Game of Attrition, for chamber orchestra; Lei Liang's Verge, for eighteen strings; Marc-André Dalbavie's Melodia, for instrumental ensemble; and Arthur Kampela's Macunaíma, for an ensemble heavy on percussion, including a complement of spring drum thingies meant to evoke the Brazilian forest.
If you wish you could have been there at Symphony Space or the Metropolitan Museum, or you were there and want to hear the program again, here's your chance: this debut CONTACT! concert will be broadcast on Sunday, December 27 at 2 p.m. on Q2, WQXR's contemporary online classical music stream.
And may we put another event on your radar? The CONTACT! Series returns on Saturday, April 17, when Alan Gilbert will be conducting members of the Philharmonic, with baritone Thomas Hampson, at the Metropolitan Museum. On the bill will be three world premiers: Sean Shepherd's These Particular Circumstances, Matthias Pintscher's Songs from Solomon's Garden, and a new work by young superstar composer Nico Muhly.
Read more from ClassicalTV.com »

Flying Carpets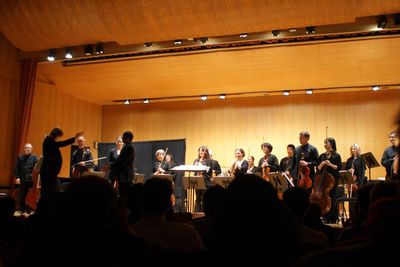 I braved the snow on Saturday to make my way up to the Metropolitan Museum of Art, where the NY Philharmonic was holding the second of its two debut performances as CONTACT!, the Phil's new, new music series. There is precedent for this sort of thing elsewhere: the LA Phil's Green Umbrella concerts have been around for nearly 20 years, and the Birmingham Contemporary Music Group - made up of players from the City of Birmingham Symphony Orchestra - has been performing since 1987. But, for an orchestra that has been living far on the conservative end of the spectrum for the past three decades, this was a welcome add-on. (Pierre Boulez, the Phil's director from 1971-77, used to conduct contemporary music all the time, though he alienated audience and players alike by all-but-abandoning older music.)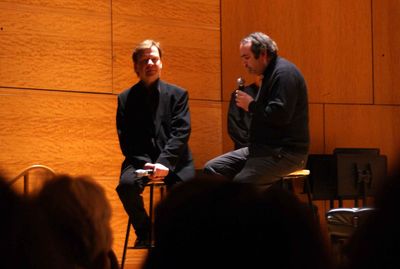 Curated and conducted by the Phil's composer-in-residence, Magnus Lindberg, CONTACT! commissioned small ensemble works from four composers, all in their 30s and 40s. The Philharmonic seemed to be trying really hard to appeal to a younger audience, pricing tickets at $20 and marketing the event under the banner: "Prepare to go where no audience has gone before." (Ugh: what is this, a Star Trek convention?) They even hosted a "Blogger Night" at Symphony Space on Thursday, complete with open bar and a chance to chat with the composers afterward. (I was invited, but had to decline due to a preexisting date with my office holiday party. Oh well, at least I still managed to find an open bar...)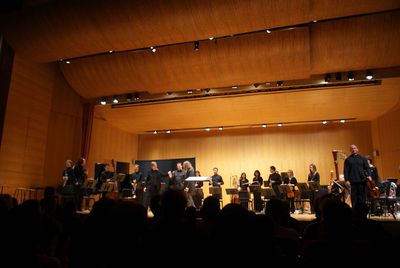 It was also a conscious decision to hold the event outside of Lincoln Center, in what the Phil referred to as a "less formal, more intimate setting." (Presumably, this was less labor intensive than ripping out all of Avery Fisher's seats and replacing them with carpets, which Boulez did for his famous "Rug" concerts.) Although I wouldn't exactly call the Grace Rainey Rogers Auditorium an informal space, it was nice to hear the Philharmonic play a smaller room for a change, with good light and forgiving acoustics.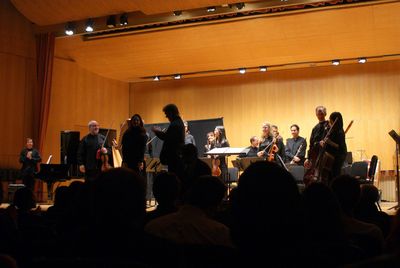 There were definitely some hiccups that need to be worked out. Lindberg, who spoke with each of the composers before their piece, was awkward and strange with his thick Finnish accent and nervous, almost inappropriate laughter. Lindberg is a formidable composer, but his baton technique could...well, use some work. And, while the Philharmonic men all wore black Chinese shirts in place of their usual penguin suits (cool!), the women mostly wore their usual concert dress (not cool!) 
As opposed to Friday night's Galapagos show, CONTACT! was all about formal music, written from an academic point of view. London-based Arlene Sierra's Game of Attrition had something to do with Darwinism, pitting instruments against each other. It sounded like standard spiky modernism to me, with a brutal finish in the percussion and winds.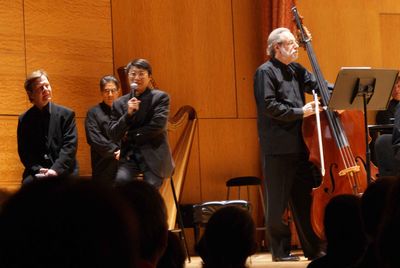 Chinese-born, California-based Lei Liang's Verge proved to be the highlight of the night, using four string quartets and two double basses to create an incredibly tense atmosphere that built to a fever pitch. Lei imbued his music with a distinctive Chinese sound, full of bending notes and hand slaps that ebbed and flowed like the Mongolian long chant he grew up listening to. An absolutely fresh and vital voice I hope we hear more of in these parts. (You can listen to a clip of Verge below.)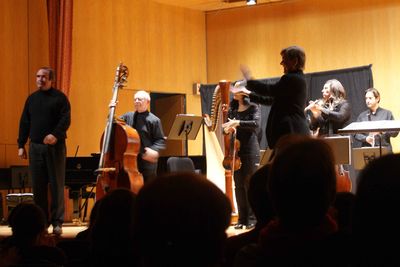 French composer Marc-André Dalbavie worked with Lindberg at IRCAM in the 80's, where he was an early exponent of Spectral music: the movement which sought to break music down into its molecular elements. Dalbavie claims to have moved on to more melodic writing - reflected in his piece's title, Melodia - though to my ears, his music sounded mostly disjointed, at least until the slow, soft fade at the end.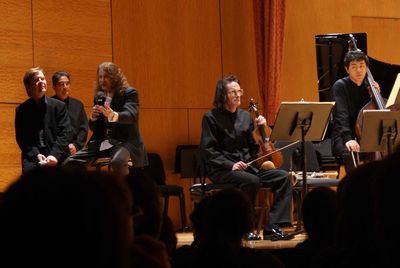 The concert ended with Brazilian-born Arthur Kampela's Macunaíma, which Kampela claimed - in a manic, rambling introduction - was his attempt to "deconstruct" the instruments of the orchestra and, by so doing, "teach the Philharmonic players a new way of playing." After a 20 minute circus of harsh, ugly sounds that had the musicians mumbling to themselves, walking up and down the aisles and, at one point, playing behind a curtain, I can only hope this particular lesson didn't settle in too deeply. Is it too much to expect the Phil to have a filter that would keep them from staging the musical equivalent of a fart joke? 
CONTACT! will be back at the Met Museum on April 17, featuring world premieres by Sean Shepherd, Matthias Pintscher and Nico, who kidded with me about a possible NY Phil commission during my chat with him last year. Let's hope the Phil works out some of their kinks by then.
Read more from FeastofMusic.com »

Andrew Frisicano, from BrooklynVegan.com
the New York Philharmonic CONTACT! series - first show, pics, video & broadcasts online tonight & Sunday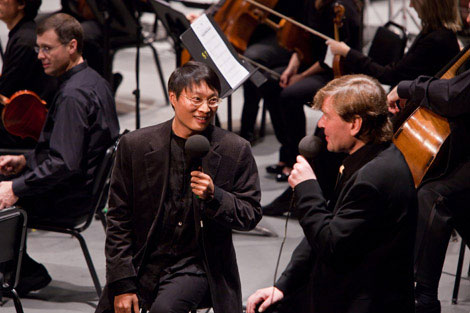 The New York Philharmonic's CONTACT! new music series kicked off its first installment on Thursday, December 17th at Symphony Space with four pieces written for the occasion by four very different composers (and repeated two days later at the Metropolitan Museum of Art). Conductor and NYP composer-in-residence Magnus Lindberg guided the audience in with a brief onstage conversation with each piece's composer. The personal and distinct voices that came out helped immensely in absorbing their sometimes abstract work. Arlene Sierra noted the Darwinian inspiration for her Game of Attrition, which politely pits similarly voiced instrument against one another (imagine a busy garden full of competing life). Lei Liang labeled the sources for his piece - his new son (literally, picking notes from his name, Albert) and the sounds of his Chinese roots - but those gave little warning for what came next. The piece's otherworldly, almost-electronic introduction expanded into an awesome burst of melody and abrasion. A clip of the piece, Verge, is above. The New York Times described is as such...
The opening, an atmospheric haze of sounds laced with soft bow scrapes and cosmic high harmonics, seems not very pitch-oriented. Soon, however, melodic fragments and thick, piercing chords emerge, along with a plaintive theme meant to evoke Mongolian chant.

At one point the music breaks into a grimly urgent episode, as the instruments dispatch perpetual-motion riffs. Verge ends in spiritual calm, though the sustained chords are still pierced with ethereal scratching sounds.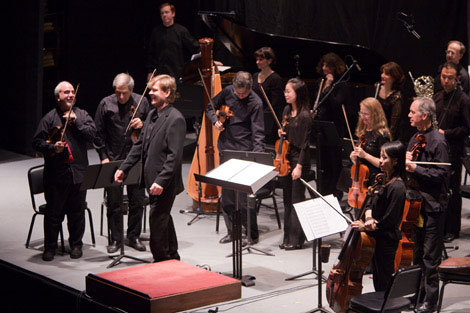 French composer Marc-André Dalbavie struck up a friendly chat with Lindberg as they reminisced about old times. And last up, Arthur Kampela absolutely bound off the stage with excitement and ideas about his piece, based on the fantastical Brazilian novel Macunaíma (from his summary, well worth checking out). It was more physically experimental than the others, with orchestra members entering and exiting through the aisles and hiding offstage for a portion of performance (to hold what sounded like a party behind a black curtain). The music resembled his verbal retelling - intriguing and quixotic - leaving a strong impression.
Hear it for yourself: The performance is bring broadcast on WQXR's Q2, the classical station's classical online stream, Tuesday, December 22 at 7pm (now) and Sunday, December 27 at 2pm. You'll have to wait until April for the next event of the series, which focuses on three composers - Nico Muhly, Matthias Pintscher and Sean Sheperd.
Listen to Lei Lang's Verge below.
[photos by Chris Lee]
Read more from BrooklynVegan.com »

Olivia Giovetti, from Time Out New York blog, "The Volume"
Live Blogging CONTACT!: Arlene Sierra Wins the Game of Attrition
Posted in The Volume by Olivia Giovetti on December 17th, 2009 at 8:33 pm
When Alan Gilbert (known now in the TONY office Alan Motherflipping Gilbert) took over the New York Philharmonic, he brought with him a vibrant energy that he has, in part, channeled into the development of new works. And if David Byrne's recent complaint that American arts funding is being primarily channeled into the glorification of "dead guys" is any indication of how desperately we need these new works, CONTACT! has come just in time.
As this is being typed, at the Phil's ingenious invitation to live bloggers and Tweeters, we are sitting in Symphony Space listening to the first of four pieces (all written this year) by a quartet of intrepid 21st century composers with a nod to the past and an eye to the future. The new age of classical music in New York couldn't be more aptly heralded than with Arlene Sierra's Game of Attrition. Florida native Sierra, who now lives in London, has spent the better part of this year mired in the festivities of the Charles Darwin bicentennial. Natural selection's originator is, in Sierra's words, "a national hero" who is so ubiquitous his face appears on British currency. And, as Sierra also points out, attrition plays a major part in natural selection with creatures competing for the same environment and resources (a familiar concept to anyone seeking arts funding nowadays). At turns spry, savage, sly and seductive, Game of Attrition is a Stravinskian play between brass and strings, piano and percussion that is so enrapturing, it seems criminal to be typing while it plays.
Live Blogging CONTACT!: Lei Liang On the Verge of a Glorious Breakthrough
Posted in The Volume by Olivia Giovetti on December 17th, 2009 at 8:51 pm
Lei Lang begins Verge, a piece for two double-basses and four string quartets written in the months leading up to the birth of his son, not with the assertive arrival of Sierra's piece, but with echoes and waves, possibly the way we heard sounds from inside the womb. Yet this is no nativity piece. A far cry from The Creation or El Nino, Verge is more a meditation on identity. Quite literally, the recurring A, B and E notes are found in Liang's son's name, Albert. Surviving Tiananmen Square and shortly thereafter emigrating to the States, Liang blends his two cultural identities in song, drawing on traditional Mongolian music and both Western and Eastern idioms (especially a pulsating Italianate sound from double bass and cello and a higher, Mongolian echo in violin and viola). Like his son and Liang himself, this piece is a combination and celebration of the two.
There's an aura of emergence, the sense of a birth that very much permeates the auditorium. We can't help but feel like surrogates to this delivery, waiting for the first glimpse of the head, listening for the first cries. There are the pushes, the breaths, the slaps, the contractions and on the podium Mangus Lindberg is, at this moment, the best doctor in New York. Possibly the country. Possibly the world.
By the end we're beaming with parental pride.
Live Blogging CONTACT!: Marc-André Dalbavie Devolves Into Evolution
Posted in The Volume by Olivia Giovetti on December 17th, 2009 at 9:36 pm
Marc-André Dalbavie defines the main training of a French musician as "to work on color, to work on harmony, to work on [a] complex evolution from one color to another." Even if his name weren't so obviously (and thrillingly) Gallic, his Parisian training would shine through in Melodia. Working almost backward from a minimalist opening to a Les Six-tinted middle to a Romantic-era gallop into the meat of the piece (which, in turn is based on a Gregorian line), Dalbavie manages to create an evolution while simultaneously creating a devolution.
For all its compelling moments (and a rainbow of colors), Melodia begs for a second listen. With what we originally assume to be a pretty simple piece of music in a 9th century melody (if those Gregorians only knew what would happen twelve centuries later…), there is an inherent complexity. By the end it's coaxed out, however we want to retrace the line to fully understand the journey of that line. Knowing how the story ends would, for once, be beneficial to appreciating the story on the whole.
Live-blogging CONTACT!: Arthur Kampela Delivers a Jungle Boogie
Posted in The Volume by Olivia Giovetti on December 17th, 2009 at 10:12 pm
In Mário de Andrade's rhapsodic 1928 novel, Macunaíma, the title character transcends race, culture and even the human body in a metamorphosis allegorical to the pan-culturalism of Brazil. With this as the basis for Arthur Kampela's piece of the same name, it's hard not to think of another recent percussion-centric piece that was inspired by a novel. Yet where So Percussion's Imaginary City has very few direct parallels between Italo Calvino's Invisible Cities, Kampela seems to take de Andrade's book very much to heart.
Sound comes from another part of the theatre as a sextet of musicians march down the theatre's aisles with textures and instruments from the murky reaches of the Brazilian jungle. It's all-enveloping and all-encompassing. It's also really freaking cool. As brass, strings and woodwinds join, they play in the same vein as their percussive counterparts. Taken on their own, some of the elements could be vaguely ridiculous in the way that that modern music was send-up in the indie flick (Untitled). Yet the atonal chromatics of a violin, the ascending scales of a clarinet and the seemingly sporadic slams on a piano all converge rather harmoniously (if not necessarily harmonically). Not to be outdone, the echoes of a roaring '20s-era samba join in, the portrait of a country at once modern and ancient. Clearly there's a method to Kampela's madness. And if these four pieces (which will be encored at the Metropolitan Museum of Art on Saturday) are in any way indicative of what's to come from the Phil, we can only repeat the last line of our overall grade of 2009: Alan Motherflipping Gilbert. We rest our case.
Read more from Time Out New York's "The Volume" »
George Grella, from The Big City
New Music New York
I saw the New York Philharmonic's CONTACT! concert Saturday night at the Metropolitan Museum and will have a review of it soon at MusicWeb International's Seen and Heard (the holidays do slow down the publication process a bit), but can say in brief that it was impressive all around, and you can hear it for yourself at Q2, which will be streaming a recording of it at 7PM on Tuesday, 12/22 and at 2PM Sunday, 12/27. Unfortunately you will be missing the theatrical element of Arthur Kampela's piece, but you'll still hear a lot of good music. It's incredibly important and exciting that the orchestra of New York City is promoting new music again, in what is arguably the capital of new music and creative experimentation.
Bruce Hodges, from the blog Monotonous Forest
Last night at Symphony Space the New York Philharmonic inaugurated CONTACT!, the orchestra's contemporary music series, and the exuberant result bodes well for the future. Composer-in-residence Magnus Lindberg made his Philharmonic conducting debut in four world premieres for a capacity audience -- and not only from the new music universe, either. (Although make no mistake: if a bomb had dropped on the building, a significant portion of New York's compositional talent would have been wiped out.)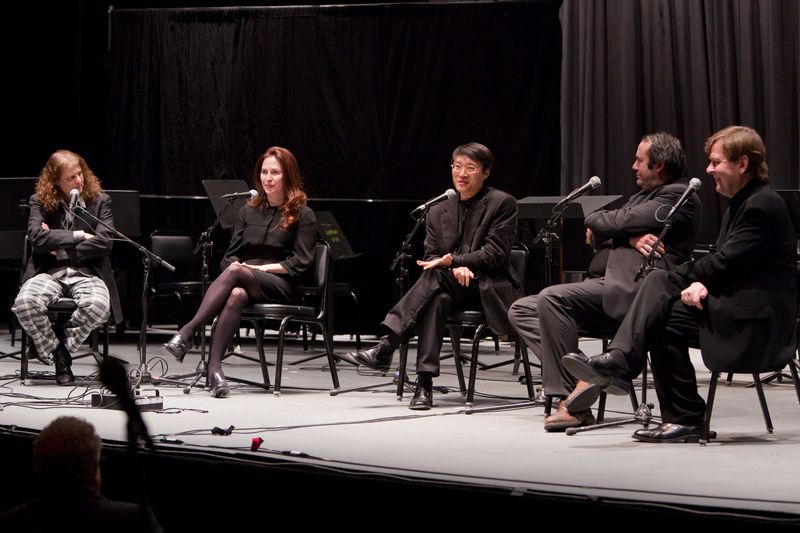 Introducing her Game of Attrition with a reference to Darwin, Arlene Sierra described instruments competing with each other for prominence. Small cells (e.g., pairs of sixteenth notes) scurry about in restless, constant motion, like some oddly ticking clock. Chinese-born Lei Liang offered Verge, a tribute to his newborn son, for 18 strings divided into four quartets plus two double basses. His gimmick, well-realized, was to use only notes derived from "A-L-B-E-R-T," his son's name. The result is filled with rapid tremolos and melodies that sound like Mongolian folk tunes.
Marc-André Dalbavie acknowledged his spectral roots but described his gradual transition to more "horizontal" music, and in Melodia drew on a 9th century melody, which gradually materializes from a microtonal cloud. In between the ensemble makes voluptuous flourishes -- repeated appearances of a sort of arpeggiated chord -- showing Dalbavie's masterful use of color. I can only echo a friend's comment afterward, who thought it a treat to hear the Philharmonic play this score with such utter mastery.  
For the finale, Macunaíma, Arthur Kampela used six percussionists walking up from the back of the theater wielding spring drums: small cylinders, each with a slender spring sprouting from the bottom, which create a gentle whirring sound when shaken. When they reached reached the stage, the other musicians gradually joined in, but with surprises: bassoonist Judith LeClair brushed a metal washboard, Liang Wang (oboe) appeared to have a ratchet, and Nancy Allen's upper harp strings were basted with masking tape to give her an array of clicking sounds. At one point some musicians wander offstage, creating what sounds like a dance band and the faint sounds of conversational chatter.
Lindberg made an affable host, eliciting concise, illuminating comments from the composers and excellent work from the Philharmonic, many of whom were smiling ear to ear. Afterward, more than a few people lingered to hear Lindberg interview the composers onstage, while in the back of the hall, others indulged in cocktails in his honor, made with Finnish vodka, of course.
The concert will be repeated on Saturday, Dec. 19, at 7:00 PM at the Metropolitan Museum of Art. Concerts on April 16 and 17 will feature premieres by Nico Muhly, Sean Shepherd and Matthias Pintscher (the latter with Thomas Hampson), all conducted by Alan Gilbert.  
[Above, left to right: Kampela, Sierra, Liang, Dalbavie and Lindberg.  Photo: Chris Lee for the New York Philharmonic]
Read more from Montonous Forest »

John Leiser, from JohnLeiser.wordpress.com
CONTACT! at Symphony Space 12/17 Lindberg
The new director of the NY Philharmonic, Alan Gilbert, has promised to have more newly composed music and the first of these concerts was at Symphony Space. Magnus Lindberg, the composer in residence, conducted and chatted with the composers before each piece . The place was full of enthusiastic listeners for four world premiers by four composers. Arlene Sierra spoke about her interest in game theory and then we heard her aural conception of it in an interesting piece that moved the players into different groups for sounds. Then Lei Liang spoke about his new son Albert and how he assigned notes to Albert's name and composed within that restriction and came up with a spacey soundinga piece called Verge; like on the verge of this and that, great stuff. Marc-André Dalbavie said that he was moving towards a more linear type of composing and his piece, Melodia, was odd and charming at the same time. Arthur Kampela spoke of an Amazon legend, Macunaíma, and was a percussive holiday with the players moving down the aisles with noise makers and pulling strange sounds from the "real" instruments, pretty wild stuff.
I just hope that the new music isn't delegated to odd venues, Not that Symphony Space is odd, but some how Mr. Gilbert finds a way to bring it to the Avery Fischer bunch too. I hate to say this, but take a peek at what Salonen did in L.A.
Read more at JohnLeiser.wordpress.com »

The debut concert of CONTACT!, the New York Philharmonic's new-music series proved auspiciously to be a lot more than just a PR opportunity, a brazen attempt to court a younger audience: these people mean business. The NY Phil has commissioned works for decades, but the fact that they selected Arlene Sierra, Lei Liang, Marc-André Dalbavie and Arthur Kampela to create an inaugural program of world premieres for a series devoted exclusively to the avant-garde underscores the seriousness of their commitment. Under the direction of composer-in-residence Magnus Lindberg – making his NY Phil debut as a conductor – players from the Orchestra demonstrated a versatility and an unabashed enthusiasm for a program that was challenging and often highly unorthodox (and thus a welcome break from the familiar canon – it probably couldn't have been timed better for the musicians).
Sierra's Game of Attrition was described beforehand in a brief dialogue between composer and conductor as essentially math-rock for orchestra, a Darwinian competition for space between instruments of similar timbres. Composers have been sending motifs on a journey around the orchestra, or from one rank of the organ to another, since before Bach. But with a playfulness and an understated deliberation, Sierra's simple ideas grew as she said they would into larger, more expressive figures: evolution on display, the warmth of the lows contrasting with the ominous portents of the highs and what sounded like a deliberate quote from The Eton Rifles by 70s mod punk rockers the Jam. The tension was most appealingly apparent toward the end in a detente-breaking conversation between marimba and piano. And then it was over.
Lei Liang's Verge, for 18 Strings was another successful attempt to put new spin on an old idea, in this case using the notes of the scale to spell out a name. It's been done scores of times – you assign a note to the first twelve letters of the alphabet, and then you start over. Google Prelude and Fugue on B.A.C.H., for example and see what you get. Liang dedicated this one to his infant son: he'd started the piece before the child was born, hence the title. With the strings arranged T.S. Eliot style in four quartets with a bassist at each end of the stage, it was a hypnotic, ambient, oscillating tone poem replete with quadrophonic effects that built to a dramatic, windswept crescendo of Mongolian tonalities on the second movement, evocative of throat singers Huun Huur Tu's most recent work. It was the high point of the evening.
Marc-André Dalbavie and Lindberg met in Paris in the 80s and bonded over their passion for spectral music. Dalbavie told the audience that he was moving further and further toward a horizontality in his composition, and his Melodia, for Instrumental Ensemble cleverly blended in the well-known Dies Irae theme from Gregorian chant, an effective update on what Rachmaninoff did with Isle of the Dead. While the tonalities would shift ever so slightly, the dynamics bubbled and lept, often in considerable contrast with the stillness of the melody, such that there was.
Arthur Kampela's Macunaíma takes its title from a seminal Brazilian magic-realist novel from the 1920s. To be fair to the composer, it seemed from the point of view of one unfamiliar with the book to be a narrative, and for that matter, it might have been spot-on. But for those in the crowd who hadn't read it, it sounded – as one cynic put it - "like the four-year-olds in my morning class when you pass out the instruments." It actually wasn't that bad, percussive and carnivalesque, but like the kind of carnival that takes place on the far side of a Stop and Shop parking lot in northern New England, where it seems that the carnival guys have left all the best rides back in Massachusetts, and the sounds that make their way across to the folks on the other end aren't exactly enticing enough to lure the eight-year-olds who make up their target audience. It was impossible to tell whether the ensemble were enjoying themselves or just counting time until the end, which they did perfectly: the composition didn't afford them the opportunity to do much of anything else.
Don't just take our word for all this: the entire concert will be rebroadcast in its entirety on Q2, WQXR's contemporary online classical music stream this Sunday, December 27 at 2 PM. And even more auspiciously, CONTACT! continues on April 16 at 8 PM at Symphony Space, Alan Gilbert conducting world premieres by Sean Shepherd, Nico Muhly and Matthias Pintscher.
Read more at LuridCulture.wordpress.com »

Sugar Vendil, from Classical Music is Dead*
The Nouveau Classical Project
Live Blogging- CONTACT! at Symphony Space
12/17/2009
This is hard! Note: post will change throughout evening.
Just finished hearing Arlene Sierra's Game of Attrition. Lindberg interviewing Lei Liang, he made his piece based on his son's name, Albert. His piece, Verge, has ideas of converge and diverge. Inspired by Mongolian tradition. Anyway you can read all the educational stuff online.
Listening to Verge now. Guess it's not about his son, as there seems to be an uneasy feeling prevalent, and at times anxious feeling. Liang has created some unique effects with the strings.
Sierra: indifferent. Liang: strong like, not love.
intermission…I can chill now thank goodness.
Concert about to start again
Lindberg discussing spectral music with Marc-André Dalbavie. D. said something about color and the music being autobiographical in Melodia, upcoming piece.
Dalbavie isn't afraid of having some tonal elements in his music. Yes there are enough unique harmonies and non-diatonic melodies (man I NEED to brush up on theory if I'm gonna keep doing this live stuff) that make it sound "new" enough. But Dalbavie conveys cohesive musical thoughts… I should probably go into depth, but like I said about my theory skills… anyway it's clear there are some established compositional elements he uses that do not take away from the originality of his voice.
Artur Kampela wearing funky black and white plaid pants talking about Macunaíma. Talking about how idea of listening is philosophical, linked to the imagination, how we only hear and mostly see. He talks really fast and is enthusiastic about listening! Applause and amusement from the audience.
Electronic sounds start off the piece–church bells, wind. Pretty stark. People walking down the aisles making sounds with what seem to be home made can instruments. Basically sound effects to set up atmosphere–sounds like the wild, nature, even frogs. Kampela creates a picture, relates back to what he was saying about listening and imagination. I'm wondering though, do I have a certain picture in my head because I associate these sounds with what I've heard in movies? Disney cartoon is coming to my head. Running through the forest. Cheshire Cat. I was expecting something else after that talk. Tuba and viola, I believe, just walked off stage.
Now it sounds like we're back at the fair! As if we had fallen asleep and had a weird dream. People who walked off are playing different music backstage… the musicians who are on stage have a sound effect type of deal going on. The two orchestras create the feeling that we're in two places at once–body in one place, mind in another. Musicians are coming back now…
Now it comes full circle, the music continually transitions almost as if rewinding, back to the atmosphere of the opening, closing with the people who had walked on at the beginning exiting with equal starkness.
I am hungry and I can't wait to have a drink at the post-show reception.
Read more from Classical Music is Dead* »
Gigi Yellen, from The Gathering Note
Writing from New York, where an exemplary innovation in music programming launched tonight in a hall you might know as the home of that radio show Selected Shorts. The Peter Norton Symphony Space holds about 750 people; looked like at least 600 came out for the launch of CONTACT! a new-music series conceived by New York Philharmonic Music Director Alan Gilbert and curated by the Philharmonic's composer-in-residence, Magnus Lindberg.
The composers Arlene Sierra, Lei Liang, Marc-André Dalbavie and Arthur Kampela received the commissions for this first pair of concerts in the series. (The concert repeats Dec. 20 at the Metropolitan Museum of Art.) Dressed in casual black like the musicians (and all but one of the composers -- hang on), Lindberg addressed the audience, introducing each piece by doing a short interview with its composer: a couple of hand-held microphones, a couple of stools stage left, a couple of comfortable minutes.
Sierra's cerebral explanation of her Game of Attrition, for Chamber Orchestra, which opened the evening, met Lindberg's insistence that the composer talk about rhythmic textures. Rhythm -- a persistent dactyl -- is the glue in this exploration of conflict among matching pairs of instruments (bass drum and string bass against, say, oboe and bassoon, or piano and harp). Janacek's Sinfonietta came to mind, and at one point Villa-Lobos (more about him later). The American-born composer (Miami, Florida, 1970), who lives in London (and teaches in Cardiff), spoke of the big British celebration of this Darwin centennial year as an inspiration for the piece.
The Sierra work and Kampela's Macunaíma called for the biggest ensembles of the evening, 21 and 22 players. The Philharmonic's hardworking harpist, Nancy Allen, performed in three out of the four pieces, but neither she nor anyone other than bowed strings played in the evening's second work, Verge by Lei Liang.
Born in Tianjin, China, in 1972, Liang came to the U.S. when he was 17, following the Tiananmen Square protests (he now teaches at UC San Diego). He described his new composition as a gift for his newborn son—written on the verge of his birth, working with three letters of the boy's name (Albert) and the rhythms of the fetal heartbeat. "Verge," "converge" and "diverge" figured prominently in the composer's comments. He cited a Mongolian chanter as the primary inspiration for the melodic material.
Verge uses four grouped string quartets, plus two string basses, for a tender texture merging Asian and western influences. The viola gets the first solo, and plays a prominent role throughout the piece, often in its high registers, as a meditative introduction featuring sweeping glissandi and percussive bass gives way to a fugal rush at the center of the work.
After intermission, a jovial Lindberg introduced the composer Marc-André Dalbavie, his friend and colleague from 25 years ago at IRCAM, the Paris-based Institute for Acoustic/Music Research, Pierre Boulez's old stomping ground. They spoke of spectral music, of vertical music, and of how Dalbavie's work has returned to his first love, Gregorian chant, becoming more horizontal, as evidenced by the breathtaking Melodia, composed for this concert.
This work used the smallest ensemble on the program, just 13 players. A 9th century requiem melody, stated in the opening bars, anchors this hymn-like work, which luxuriates in all its French color. Papa Debussy and his Jeux des Vagues have not been forgotten. Percussion included gentle gongs. There was drama in frequent sforzandi, and in the Bach-like crescendo that returned to plaintive horns over ominous strings, a prayerful conclusion. The composer was born in Neuilly-sur-Seine in 1961 and lives in St. Cyprien.
Rearranging the stage for the final work took a while: 22 musicians in a semicircle, and some offstage arrangements too. Macunaíma by the Rio de Janeiro-born, New York-based Arthur Kampela, provided whimsy, intensity, and challenge, starting with the presence of the composer himself.
The 49-year-old Kampela bounced onstage, a head full of auburn curls cascading to mid-chest, wearing a checkered collared shirt topped with black leather buckled vest and a sport jacket, over black and white plaid pajama-style pants. All effusive energy, Kampela called the title character of his new piece The Till Eulenspiegel of Brazil, an adventurous prankster, its literary source "one of the early attempts at magic realism." Before Lindberg tapped him on the shoulder (otherwise, he might have gone on for an hour), the composer was emphasizing the difference between just hearing and really listening. "If we hear a sound from the other room, is it what we think it is?" he asked. Sound trite? Ah, not in light of what followed.
Lindberg took the podium, then looked out into the house: first right, then left, a serious look, headed all the way to the back wall. Was the look part of the performance? I wondered. In fact, it was a cue: from somewhere outside the hall, a bell chimed; then there emerged long, low sounds like impending thunder. These came from six players, three proceeding down each aisle from back to front, banging a spring drum as they walked.
Remember that reference to Villa-Lobos? Here is that great Brazilian's shadow, not overpowering (as Beethoven's was to Brahms) but inspiring: sounds of the rain forest are everywhere in this piece. The players of the spring drums included harpist Allen, percussionists, and other ensemble performers who took up their usual instruments when they arrived onstage. But Allen's harp featured a paper insert through an octave or more of its strings, and that was hardly the only modification.
"The word musician is not limited to a person who plays a particular instrument," stated Kampela, whose approach to creating is to ask what sounds any instrument can make without breaking. Springs and chopsticks took the place of bows; the piano was modified. Musicians left and returned (indeed, the ensemble includes a "conductor of offstage band," Daniel Boico in this performance, inserting an Ivesian interlude of offstage laughter, cocktail-party chatter, and cafe tunes a Brazilian band might play).
In short, this was a well-programmed evening, traversing a multitude of aesthetics and influences, and encouraging audience engagement in the living work of music. An "ask the composer" Q&A session after the show enticed a handful of audience members to the thoughtfully-placed microphones, but the majority just helped themselves to the festive opening-night reception. I caught up with bassist Satoshi Okamoto, fresh from playing in Macunaíma, and asked him about preparation. He got the score in November. They had three rehearsals, including talk time with the composer. The score looks like a diagram. You can see a bit of that score in this video of Kampela produced as part of the NY Philharmonic's support for this concert.
The Dec. 17 concert repeats Sunday night at the Metropolitan Museum of Art. And it will be broadcast—and webcast—twice: Tuesday Dec. 22, 7pm EST and Sunday Dec. 27, 2pm EST on the new WQXR stream dedicated to contemporary music, Q2.
See what's happening with classical music listening? You can hear this concert anywhere in the world, as you can read this anywhere in the world. But it'll come to you from the town where it was performed. Expensive? No doubt. Alive? Absolutely.
Like so many other cultural centers, Seattle is grappling with contemporary challenges to the classical music performance and broadcast models that have served it so well for so long. Here's an example from New York of a best effort at keeping the music both local and accessible, alive and rooted in the great traditions.
The CONTACT! series continues in April with world premieres by Sean Shepherd, Nico Muhly, and Mattias Pintscher to be conducted by New York Philharmonic Music Director Alan Gilbert.
Read more from The Gathering Note »