Top Five Musically-Inspired Paintings Displayed in New York
American artist Stanton-MacDonald-Wright once said, "Whenever man had a desire for heavenly intoxication he turned to music, yet color is just as capable as music with providing us with ecstasies and delights." Paintings like MacDonald-Wright's "Oriental"; Synchromy in Blue-Green attempted to link color and form with music, but he was not the first artist to seek inspiration in music. We've picked our top five musically inspired works of art hanging in New York museums.
1. Picasso's Three Musicians
No trio in New York is as famous at Picasso's Three Musicians, hanging in the Museum of Modern Art (11 W 53rd St.). The 1921 masterpiece sets three comedia dell'arte figures (including Pierrot on clarinet – a stand-in for the poet Guillaume Apollinaire and Harlequin – with whom Picasso identified, on guitar) in a late cubist-style scene. The composition, as well as a similar one at the Philadelphia Museum of Art,  was influenced by Picasso's original costume and set designs on the Ballets Russes production of Stravinsky's Pulcinella.
2. Kandinsky's Composition 8
Like MacDonald-Wright, Wassily Kandinsky wanted to archive the visual equivalent of writing a symphony with his paintings. Inspired by a performance of Wagner's Lohengrin, the artist used colors and shapes to evoke sounds and named his paintings as if they were musical pieces, such as Composition 8, in the Solomon R. Guggenheim Museum's permanent collection (1071 Fifth Ave.).
3. Whistler at The Frick Collection
Like many composers, James McNeill Whistler went through musical periods in his painting career. In the 1860s he started working on what he called harmonies, then experimented with nocturnes in the early 70s and eventually moved on to symphonies. (Vanity Fair even lampooned him for his title choices.) Two such works, Harmony in Pink and Grey: Portrait of Lady Meux, and Symphony in Flesh Colour and Pink: Portrait of Mrs France  hang as bookends in The Frick Collection (1 E 70th St.).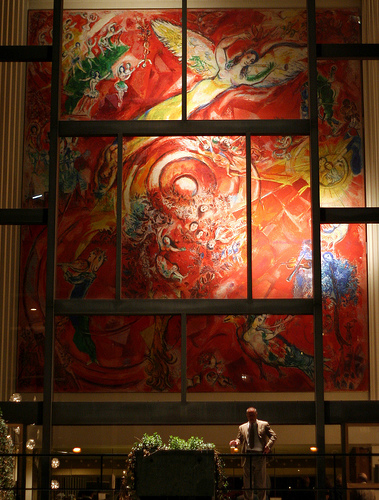 4. Chagall's The Triumph of Music and The Source of Music
Perhaps no artist spent as much time working with musicians and performers than Marc Chagall. His whimsical style came partially from years of creating sets and costumes for Diaghilev's Ballets Russes. He later designed ballet productions in New York for Leonide Massine and operas in NYC and Paris. His love for music in all forms manifests in two large murals framing the Metropolitan Opera (Lincoln Center Plaza, Broadway at 64th St.): The Triumph of Music and The Source of Music. Though the Opera house used the paintings as collateral for a loan, general manager Peter Gelb said the organization has no intention of giving up the masterpieces.
5. O'Keefe's Music, Pink and Blue No. 2
Georgia O'Keefe is best known for her cattle skulls and flower buds, but earlier in her career, she painted a series of abstract paintings using "the idea that music could be translated into something for the eye," she once said. The title alone of her 1918 painting, Music, Pink and Blue No. 2, at the Whitney Museum of Art (945 Madison Ave.), references her belief.
Weigh in: What is your favorite painting about music? Leave your thoughts below:

Chagall photo: Flickr/niallkennedy