Hugo Fiorato, Founder of WQXR String Quartet, Dies at 97
The conductor and violinist Hugo Fiorato, a founding member of the WQXR String Quartet and a fixture with the New York City Ballet, died April 23 at the age of 97, The New York Times reports.
In 1947, Fiorato organized the WQXR String Quartet, an ensemble that performed regularly for WQXR broadcasts. While there was a station string quartet as early as 1940, this iteration of the group was the best known. Comprised of Fiorato and Harry Glickman on violin, violist Jack Braunstein and cellist Harvey Shapiro, it performed regularly for 16 years. By 1963, however, the station could no longer afford to underwrite the group and it disbanded.
The WQXR String Quartet recorded two commercial albums for Polymusic Records. The first included Mihaud's String Quartet and Turina's La Oración del Torero. The second album had César Franck's String Quartet. The New York Times music critic Harold C. Schoenberg wrote, "The ensemble of the WQXR Quartet is something to admire, as is the perfection of their intonation."
Hugo Fiorato was born on Aug. 28, 1914, in Manhattan. He began violin studies at age four, and later attended Juilliard, before studying with teachers in Italy. He was with the City Ballet for 56 years, starting as concertmaster in 1948 before working his way up the ranks to principal conductor, a post he held for his last 15 years with the company (ages 75 to 90). He retired in 2004.
In addition to his work at WQXR and City Ballet, Fiorato was also chief conductor and musical director of the Boston Ballet, the Houston Ballet and the National Ballet in Washington.
Listen to a 1961 performance of the finale of Dvorak's "American" Quartet, played by the WQXR String Quartet, above.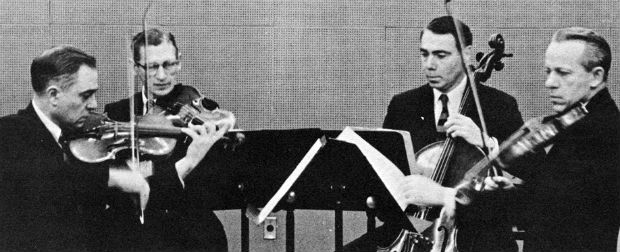 WQXR String Quartet (L-R): Harry Glickman, violinist; Jack Braunstein, violist; Harvey Shapiro, cellist; and Hugo Fiorato, violinist)