Van Cliburn Talks Fame, Audiences and Self-Doubt at NYPL
In advance of the auction of some of his possessions at Christie's on Thursday, Van Cliburn was the guest of honor for a talk on Tuesday night at the New York Public Library. 
The 77-year-old Texas-born piano legend is downscaling at the moment, preparing to sell 166 objects, including the Russian silver, English furniture and personal accessories that he gathered from his world travels. The process has evidently put him in a more reflective mood, eager to part with his memories as well as his mementos.
The 90-minute interview began as NYPL director of programs Paul Holdengräber asked Cliburn about his childhood and especially his piano teacher mother, Rildia Bee O'Bryan (the 1912 Steinway piano he inherited from her is to be included in Thursday's auction). 
The pianist talked about how his mother encouraged him from an early age to listen to recordings of opera singers. "It's amazing how to make a percussion instrument like the piano, a lyrical instrument, and that's the thrust of what my mother used to tell me." He remembered attending a performance of Carmen at age four and later hearing the American pianist William Kapell at Lewisohn Stadium in New York, which stoked his passion for the piano.
The audience was shown video footage from Cliburn's winning performance at the Tchaikovsky International Piano Competition in Moscow in 1958, after which Cold War America embraced the 23-year-old like a rock star. Cliburn recalled being paid equally in rubles and dollars, half of which he donated to the City of New York upon receiving a ticker tape parade.
Cliburn remembered the Moscow audiences, who were "very educated" about classical music, though he knew better than to discuss politics with them.
A charming conversationalist, Cliburn is known to reveal few secrets about what it felt like to be a folk hero or the immense pressure he shouldered during his glory years. Indeed, he deflected some of Holdengräber's more probing questions with the meandering tales of a practiced raconteur.
But the evening also contained some unexpectedly candid moments. After about 30 minutes, the pianist Joyce Yang, a silver medalist at the 2005 Van Cliburn Competition, came on stage to perform some Chopin and Rachmaninoff.
Suddenly, Cliburn choked up and was unable to continue talking, apparently overcome by Yang's performance. A few minutes later Cliburn laughed and apologized, clarifying his response. "With great music, it's so beyond any of us and you feel like you've been transported and somehow redeemed," he said. "It's just so overwhelming."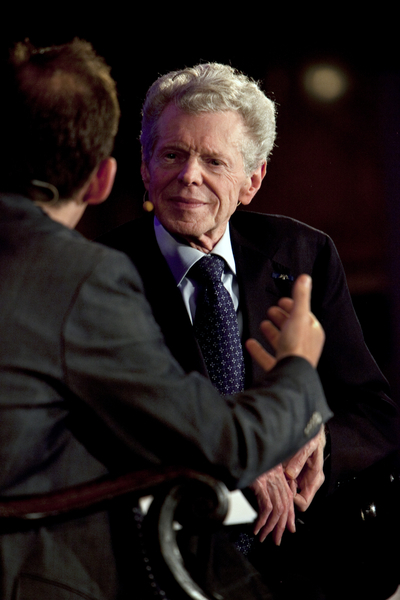 There were also moments of levity. Cliburn remembered playing a concert in Kansas City and having a backstage visitor at intermission: Harry Truman, the former president. "He sat down and said 'I'm so thrilled that you're going to be playing the Chopin sonata,'" said Cliburn. "I didn't know it that well and said, 'Sir, it's not the sonata with the funeral march.'"
"He said, 'I know very well what it is. It's the sonata in B minor, Op. 58 — I had a terrible time in the development section of the first movement," continued Cliburn. "I thought, I should just leave and go out and call a taxi. I have to go out in front of Mr. Truman and play this in front him who knows every note."
While Cliburn electrified the classical music world during the late 1950s and much of the 60s, his success was hard-won and some critics believe the stress took his toll on his playing. By the late 1970s he mostly withdrew from the concert stage. In recent decades he has been active with his foundation and on the social circuit in his hometown of Fort Worth.
At one point in the interview Cliburn opened up about the pressures of fame. "I was on the stage and taking another curtain call and thinking 'oh I should have done this in the second movement, and this in the third movement,'" he recalled, of one performance in the 1960s. "It's terrible. It's really awful. You're wanting it to be so perfect."
Cliburn was ultimately philosophical about his many career turns. Referring to the surrounding library, but also the personal art objects that will be being auctioned off he said, "All of us are only the caretakers for this. They will live for longer than any of us will."

Photo by Jori Klein