A Princely Encounter with Dietrich Fischer-Dieskau
"The person who achieves the most can also be forgotten most," said Dietrich Fischer-Dieskau in 2005. Since his recent death, the German baritone who was most admired for his Lieder singing is also being remembered for his artistry and humanity. I had the honor to experience those aspects of this special man but also saw a side of him—a sort of rustic cheeky humor—that one would not always associate with a person of such elegant sophistication and deep introspection.
So permit me a small Rückblick, a backward glance, to a day—October 3, 1976—that lives in my mind as if it were yesterday. When I was a kid in the 1960s, there were various Lieder gods in my household, including Fischer-Dieskau, Hermann Prey and Aksel Schøtz. There were Lieder goddesses at home too, but much of the listening was centered on the aforementioned men. For whatever reason, Hans Hotter was not in that pantheon but I now know that he should have been.
Because my parents worked in the classical music business, all three singers visited our home and all were kind, took interest in what I said and encouraged me to pursue my love for music. Each also discussed singing and interpretation and would sometimes sit at the piano to show what they meant. This is how musicians spread the community of love that sustains their art form and it is more impactful than any marketing campaigns could ever achieve. I realized that I was hardly unique in this and they must have had contact with eager children wherever they went.
So it surprised me when, at the Bavarian State Opera House in Munich on that indelible day in 1976, my path crossed with Fischer-Dieskau in the most amusing way.
A bit of background: in those years I was living and studying in Bologna. I liked to travel to other opera houses and one night went to Milan, where I was to hear Aïda with Montserrat Caballé (who cancelled and was replaced by Elena Mauti-Nunziata) and the Amneris of Grace Bumbry, who was absolutely on fire that night. Somehow I wound up in a rather posh box whose ticket price was well beyond my student budget (and still would be today). The only other person in the box was a stately woman with remarkable jewels, a gown and a coat made of real jaguar. I wore my best clothes: a blue corduroy blazer, grey wool pants, a clean shirt, a dotted silk tie and nice Italian shoes. I realized that binoculars were trained on us as a rather odd pair in such an important box.
The woman, whose first name was Maria, was a descendent of one of the noble families of southern Germany. She was friendly, though quite grand, and as we left she was impressed that I offered to help her on with her coat, which she called a "Yogg-Vahr." She then handed me her card and said that I should visit her in Munich and come to her home for lunch. Which I did, on October 1, 1976. She lived a small palace in the Englischer Garten, which would be like having a home in New York's Central Park.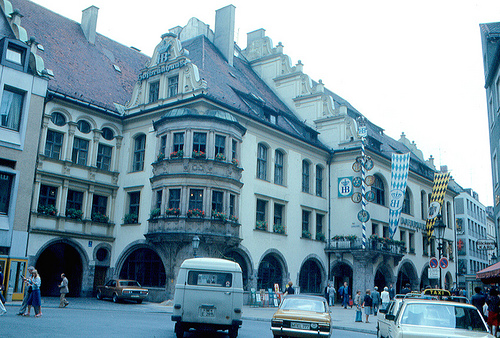 Munich (right) in those days was jumping. It was Oktoberfest and the crowds surged from one beer hall to the next. There was a national election going on between chancellor Helmut Schmidt on the left and Franz-Josef Strauss, the head of the state of Bavaria, on the right. The election was October 3 and there were big rallies for both parties, even though Strauss was the hometown favorite.
Maria clearly favored Strauss and was hopeful that he would prevail, which seemed a strong possibility. On Election day, she was scheduled to attend Strauss's Die Frau ohne Schatten at the Bavarian State Opera. She would attend with a man she referred to only as Der Prinz and they would be sitting in what would be a sort of royal box, which had a separate place for dining. Would I care to join them? Would I! The only complication was that I had a train ticket for some time after midnight to head home to Bologna.
Black Ties Meet Blue Corduroy
I arrived at the State Opera wearing the same clothes I had worn in Milan, though cleaned and pressed for the occasion, while Maria looked like an empress and Der Prinz was courtly in black tie and a sash. He walked with difficulty but was very warm. Maria said to me, "Der Prinz is a kind man but his politics are terrible." Der Prinz murmured in my ear, "Maria is very good to me but her politics are horrible." Before the performance, half the audience trained their sights on the box and its two illustrious occupants, plus an unknown youth in blue corduroy. 
Munich audiences roar with approval and let out a huge sound when they are enthused. This was a sound that reverberated in the theater throughout the evening. I had never even seen, nor even heard of, Die Frau ohne Schatten, and it was fascinating and confusing to someone still largely oriented to Italian opera. I seem to recall, but don't quote me, that Karl Böhm conducted, but I was thrilled to discover that the role of Barak, the Dyer, was to be sung by Dietrich Fischer-Dieskau, and his wife by Birgit Nilsson.
The music was stupendous, the atmosphere electric, and the tension was compounded by news that filtered in about electoral results. No one wanted to talk about it, but everyone had it in the back of their minds. And there I was, sitting with these two rather splendid individuals at one of the most amazing opera performances I would ever witness (and I would feel the same even if I had been in standing room) and feeling the theater rock and shake as the audience knew they were watching and hearing something extraordinary.
This was the first time I had heard Fischer-Dieskau in opera and the second time with the great Nilsson, whose Isolde I had heard in 1974. The character of the Dyer is warm, complex, tormented and, though I did not know this work at all, the baritone was riveting even though it was Nilsson who was setting off vocal fireworks. Here is a clip of the two of them in a performance of the opera:
During the intermissions, there was a small buffet with Champagne laid on in a suite near the box. Maria, Der Prinz and I discussed the opera, Strauss (Richard, not Franz-Josef) and I observed that part of the opera made me think of Die Zauberflöte in terms of content if not music. Maria turned her nose up at that but Der Prinz said he would like to think about it.  
They invited me to stay for a small meal after the performance that included a huge platter of seafood, more wine and Bavarian cakes. Der Prinz said there were friends coming he wanted me to meet. The performance ended and there were what seemed like a half-hour of curtain calls. I decided that if I missed the train to Bologna and had to sleep in the streets with drunken Oktoberfest revelers or navigate political celebrations, it would be worth it to attend this meal. 
The friends who attended the party turned out to be the cast of the opera! Nilsson charged toward the seafood and gorged with hearty pleasure. I stood near Maria and Der Prinz as they greeted everyone and then introduced me. One of the last to arrive was Fischer-Dieskau, whom I had not seen in person since I was ten years old. He walked up to greet his hosts but, spotting me, went right past them and gave me a big hug. "Freddy," he said, "You still like music!"
Maria and Der Prinz looked at one another with startled expressions, then at Fischer-Dieskau, and then Maria looked at me and said in imperious tones, "Who are you?" For a woman for whom social status was important, this mattered a great deal. Fischer-Dieskau said to her, "this boy has loved music for as long as I have known him, and that is a long time." He put his arms around me as if he had found a long-lost friend. Der Prinz smiled. Nilsson pinched my cheek and said, "nice boy." 
I ate a slice of magnificent cake and realized that midnight was approaching. I apologized for having to leave and Der Prinz deputized his chauffeur to drive me to the railway station. Maria gave me a small kiss and told me she was sad. I did not know why but, as I left, I discovered that Franz-Josef Strauss had indeed lost the election. Is that why she was sad? I will always wonder.
Fischer-Dieskau again clasped me warmly and told me how honored he was that I attended his performance. This was a man so immersed in sharing his love for music that it took all precedence over the formality and political tension that were part of that evening. When I see pictures now of his face, in all of the tribute articles, and listen to him sing, I think that he is one of those musicians who shared music not only with his talents but on the ways he found to love it.
By the time I reached the Hauptbanhof, I somehow had transformed back to the college student with his overnight bag taking the train home. Cinderella went to the ball, met royalty but also saw musical gods in their natural habitat. This was the night, I now realize, that I completely, irrevocably fell in love with opera and knew that it would not just be an interest but central to my life.
Yes, Dietrich Fischer-Dieskau, I still like music, especially when it is performed by the likes of you.
Here are two Fischer-Dieskau performances to cherish:
As Mandryka, opposite Lisa della Casa as Arabella (He enters at 38:20):
Singing all of Schubert's Winterreise: