Top Five Classical Music Fests for Foodies
Along with independent movie theaters and sports stadiums, music festivals are no longer a culinary wasteland littered with funnel cakes and soft pretzels. At some events, edible treats (including Prospect Park's Great GoogaMooga last weekend) haven stolen the spotlight from aural ones.
A number of this summer's classical festivals have adopted this trend and we've collected our top five that sate an appetite for music and good food.
1. Festival del Sole (July 12-22, Napa Valley, CA)

Food shares equal billing with the artists at the Festival del Sole in Napa Valley. The brainchild of an artist manager and a member of the Mondavi family, the annual series stages 20 concerts, as well as wine tastings, gourmet dinners and bounteous after-concert receptions in area vineyards. Artists include Susan Graham, Danielle de Niese, Hélène Grimaud, Joshua Bell and some of the West Coast's best chefs.
2. Grant Park Music Festival (June 12-Aug. 18, Chicago, IL)

The self-proclaimed largest food festival in the world, Taste of Chicago arrives at the city's Grant Park with its own lineup of pop stars (Jennifer Hudson and Death Cab for Cutie are this year's headliners). But while this culinary spectacle is happening, another more modest event will be running in the same municipal park: the Grant Park Music Festival. This year the Grant Park Orchestra (an ensemble filled with players from Chicago's Lyric Opera and other regional ensembles) will perform music of Frank Loesser during the annual bacchanal.
3. International Festival of Arts and Ideas (June 16-30, New Haven, CT)

New Haven's International Festival of Arts and Ideas, spanning avant-garde music, theater, dance, visual art, lectures, politics and science, is certainly broad in scope. This season festival offers plenty of contemporary musical works courtesy of Asphalt Orchestra and the Yale International Choral Festival, as well as a number of foodie tours and experiences. For example you can sample Chinese culture at a performance by the country's Central Conservatory Choir or a tasting of both Sichuan and a tasting of Sichuan and Cantonese specialties.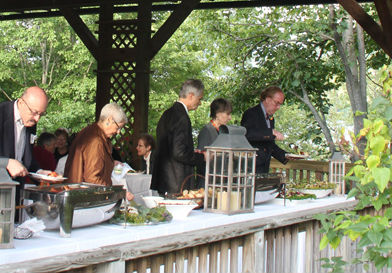 4. Glimmerglass Opera (July 7-Aug. 25, Cooperstown, NY)

Practically every festival comes with a requisite number of gala dinners and wine-and-cheese receptions, however, the Glimmerglass Opera in Cooperstown, NY takes these fund-raising events farther than most. This season the organization will host themed meals celebrating Egyptian cuisine (pegged to the production of Aida), a Francophile Dinner at Versailles (coinciding with Jean-Baptiste Lully's Armide), and a Hometown Picnic lunch filled with Cooperstown specialties to honor native son Dwayne Croft.
5. Olympic Music Festival (June 30-Sept. 2, Quilcene, WA)
A century-old dairy barn provides a bucolic locale for Washington State's Olympic Music Festival. The summer series, run by former Philadelphia String Quartet founder Alan Iglitzin, takes place on a working farm. Festival employees can snag fruit from the orchards, while visitors can prepare a picnic lunch by stopping at one of the many specialty stores along the Olympic Culinary Loop.    
Weigh in: Share your festival recommendations below: