Variations on a Theme of Protest: Where are the Great Political Pieces?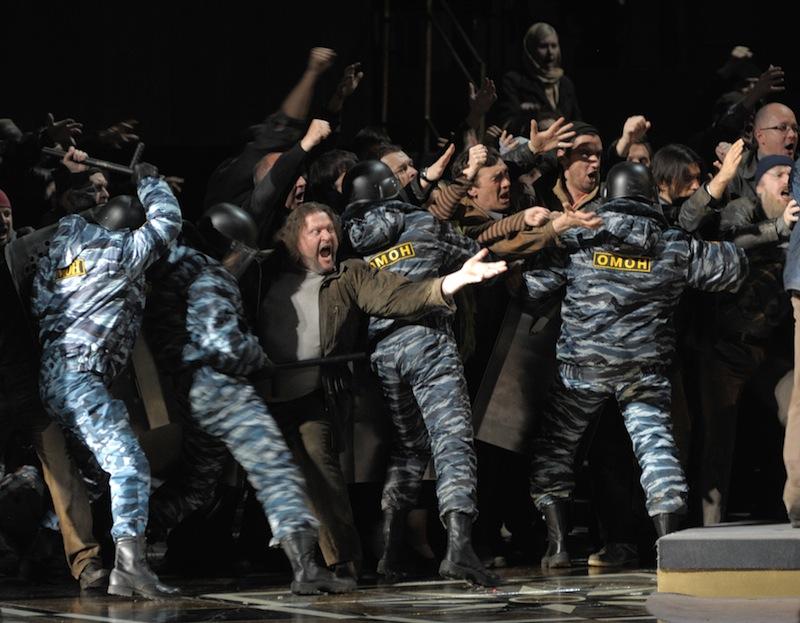 A new production of Mussorgsky's Boris Godunov, directed by Graham Vick, just opened at the Mariinsky Theater in Vladimir Putin's hometown of St. Petersburg, Russia. It shocked audiences by drawing parallels between the title character – a ruthless 16th-century Tsar – and Putin. It's a rare case of political protest finding its way into classical music.
Normally when we think of classic protest music, names like Pete Seeger, Bob Dylan or Marvin Gaye come to mind. And certainly, Mozart's Marriage of Figaro, Verdi's Nabucco and Britten's War Requiem are works that made political statements in their day, but whose messages are often lost on contemporary audiences.
So in this podcast we ask: can symphonies or operas support political messages? And can they affect change? Or does such music preach to the choir?
To explore these questions we're joined by three guests:
David T. Little, an American composer whose works include the cantata Soldier Songs and the song cycle sweet light crude.  The latter piece will be performed at the Bang on a Can marathon on June 17 in New York.
Barry Seldes, a professor of political science at Rider University, who wrote the book Leonard Bernstein: The Political Life of an American Musician.
Ken Smith, a music critic who writes for the Financial Times, Gramophone and MusicalAmerica.com, and other outlets. He recently attended the Mariinsky performance of Boris Godunov.
What is your favorite piece of political music? Please share your thoughts below: