Kicking Off Summer From Great Barrington to Bed-Stuy
The Summer Concert Showcase airs on Tuesdays at 9 pm on WQXR
Tuesday, June 05, 2012
WQXR highlights the summer festival season on-air and online.

More
On this inaugural episode of WQXR's Summer Concert Showcase, join host Bill McGlaughlin for a preview of Aston Magna Music Festival's 40th anniversary gala, with music from Handel's oratorio The Triumph of Time and Truth. Afterwards, we head to New Lebanon, NY, to the tranquil setting of Tannery Pond. The calm and picturesque setting is the perfect stage for Stephen Hough's rendition of six of Edvard Grieg's Lyric Pieces.
The hour ends with a ride on the C train to Brooklyn for a taste of what you can hear this weekend when conductor Alan Pierson and the Brooklyn Philharmonic capture the culture of Brooklyn's Bed-Stuy neighborhood.
Event details:
Aston Magna Music Festival
Throughout Massachusetts and New York (June 8-July 7)
Details>>

A three-hour drive north of the city, Great Barrington, Mass., is home to the Aston Magna Music Festival, now celebrating its 40th anniversary. Most of the rehearsals take place in Great Barrington, but throughout the month of June and into July, it'll caravan to several stages in Massachusetts and New York.The musicians of Aston Magna will bring you the core of the baroque and classical periods with sprinklings of modern gems, all with a twist -- they're performed on period instruments. In fact, Aston Magna is the oldest American summer festival that performs solely on period instruments.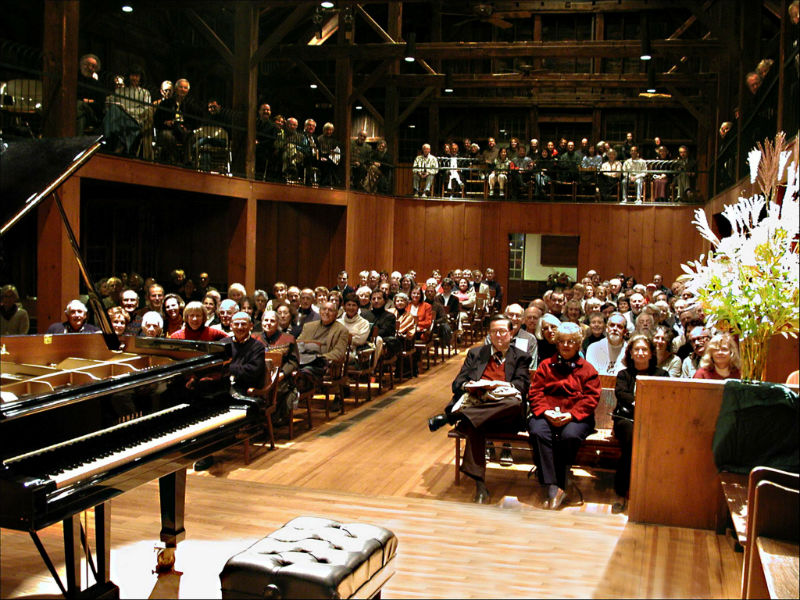 Tannery Pond Concerts
New Lebanon, NY (May 27-Sept. 22)
Details>> 
Concerts at this festival take place in a 300-seat, wood-lined room (pictured) that was a former Shaker tannery. The series of seven events keeps going well into September with an intriguing recital of Schubert and Ricky Ian Gordon by clarinetist Todd Palmer, soprano Elizabeth Futral and pianist Ran Dank (Sept. 1); and the Brentano String Quartet (Sept. 22). The latter features Beethoven's Op. 130 Quartet.
Brooklyn Philharmonic
Bedford-Stuyvesant Restoration Plaza (June 9)
Details>> 
This coming Saturday the Brooklyn Philharmonic gives its final concert of its first season back after a year of no concerts. If you take the A/C train to Brooklyn and get off at the Nostrand Avenue stop, you'll hear hip-hop artist Yasiin Bey, formerly known as Mos Def. He joins Artistic Director Alan Pierson and the Brooklyn Philharmonic in bringing together American hip-hop, the classic ballads of legendary Bed-Stuy singer and activist Lena Horne, and the music of Beethoven, remixed.
→ More about this program
Music heard on this week's program:

Aston Magna
George Frideric Handel: The Triumph of Time and Truth:
Sonata
Lascia la spina
Musicians from Aston Magna Music Festival
Dominique LaBelle, soprano
Centaur 2431/32
Tannery Pond
Edvard Grieg: Selections from Lyric Pieces.
1. Op. 68, No. 3 "At Your Feet"
2. Op. 43, No. 6 "To the Spring"
3. Op. 57, No. 6 "Homesickness"
4. Op. 47, No. 3 "Melody"
5. Op. 43 No. 1 "Butterfly"; Op. 54, No. 4 "Notturno"
Stephen Hough, piano
Tannery Pond 10th Anniversary CD
Brooklyn Philharmonic
Lou Harrison: Seven Pastorales
Brooklyn Philharmonic Orchestra
Dennis Russell Davies, conductor
Music Masters 67089
The WQXR e-newsletter. Show highlights, links to music news, on-demand concerts, events from The Greene Space and more.