Top Five Chips off the Block in Classical Music
In honor of Father's Day we've gathered five musical dads and their supremely talented kids who are currently making pops proud across international stages. (This feature originally ran in 2012.)
1. The Weilersteins
Donald Weilerstein spent 20 years as the Cleveland Quartet's first violinist. Now, when he's not teaching, he often performs with the Weilerstein Trio alongside his wife Vivian Hornik Weilerstein (a pianist) and his daughter, the renowned cellist—and recent MacArthur Genius Grant recipient—Alisa Weilerstein.
2. The Masurs
The apple does not fall far from the tree in the Masur family. Former New York Philharmonic music director Kurt's son Ken-David Masur is the assistant conductor with the San Diego Symphony and founded the Chelsea Music Festival. The father-son duo jointly led the Orquestra Sinfônica Brasileira last year in a program about love.
3. The Glasses
When Philip Glass celebrated his 75th birthday this winter the venerable composer was able to celebrate with his son, Zack, a singer-songwriter who incorporates Latin and African influences into his music. The son performed in tributes to his father at both the Le Poisson Rouge and the Tune-In Festival at the Park Avenue Armory.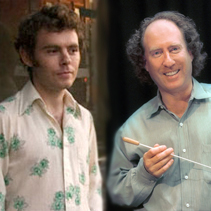 4. The Kahanes
The conductor and pianist Jeffrey Kahane said he was careful to avoid any charges of nepotism toward his son Gabriel, as the younger singer-songwriter was making a name for himself. But now that Gabriel has found success within the indie rock, contemporary classical and the musical theater scenes, the father and son have been performing together and collaborating on projects. In 2009, Jeffrey premiered a new work by Gabriel called Django: Tiny Variations on a Big Dog.
5. The Zuckermans
When violinist Pinchas Zuckerman married the flutist Eugenia, the union of classical stars attracted attention of mainstream media, including People magazine. Since then the family has only produced more musical talent in the form of two musically inclined daughters: Arianna is an up-and-coming soprano, while Natalia has combined her classical influences with bluegrass, country and jazz.
Weigh in: What's your favorite musical family?