His father played oud, a pear-shaped stringed instrument, and his first music teachers were all in the Egyptian tradition, but horn player Amr Selim says that "music is music." For this special live Young Artists Showcase studio session, Selim and pianist Seba Ali (who is also his wife), perform selections spanning hundreds of years and traditions from Baroque France to modern Egypt.
This session features the radio premiere of a piece by Egyptian composer Gamal Abdel-Rahim, which includes a taqsim, or improvised section. Longtime WQXR host and Cairo native Nimet Habachy joins host Bob Sherman, along with a live studio audience.
Program details:
Marin Marais: Le Basque for Horn and Piano
Gamal Abdel-Rahim: Darabukka Dance for Horn and Piano (with improvisation)
Robert Schumann: Kinderszenen "Scenes from Childhood" for Solo Piano
Reinhold Gliere: Concerto for Soprano & Orchestra (transcribed for Horn and Piano)
Scott Joplin: Rag Time Dance for Horn and Piano
-- Amr Selim, horn; Seba Ali, piano.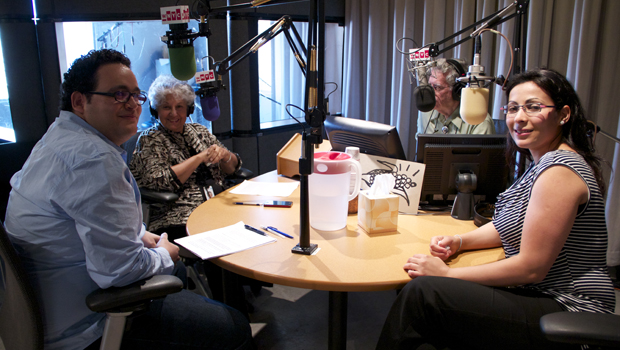 In the studio with horn player Amr Selim (left to right), WQXR host Nimet Habachy, Young Artists Showcase host Bob Sherman and pianist Seba Ali.