In August of 1936, the Boston Symphony Orchestra performed its first concert in the Berkshires. The orchestra, along with conductor Serge Koussevitzky, gathered under a tent and gave three concerts to an audience of more than 15,000 people. The audience's response was so overwhelming that one family decided to offer the Boston Symphony Orchestra their estate: Tanglewood.
A year later, the Boston Symphony Orchestra gave its first concert at Tanglewood. It was an all-Beethoven program and has been known since as one of the world's most prominent music festivals.
On this week's Summer Concert Showcase, host Bill McGlaughlin previews the opening of Tanglewood's 75th season, then takes a look at the final concerts of Aston Magna's 40th season, the opening of the Glimmerglass Festival and makes a pit stop in Woodstock.
Event details:
Aston Magna Music Festival
Annandale-on-Hudson, N.Y. (July 6) and Great Barrington, Mass. (July 7)
Details>>
At the Aston Magna Music Festival the musicians perform exclusively on period instruments. They're committed to true period performance. On July 6 and July 7, the Aston Magna Music Festival wraps up its 40th season with a program entitled "Violin Extravaganza." It includes music by Vivaldi and Bach.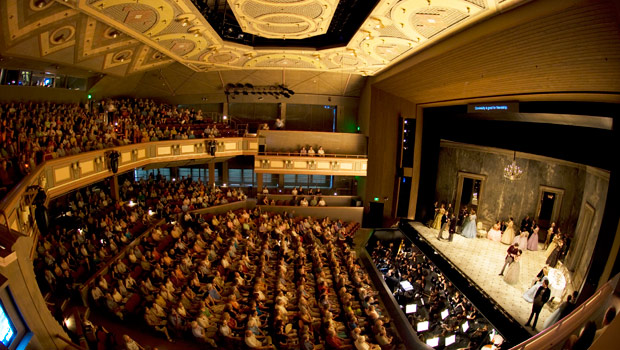 Glimmerglass Festival
Cooperstown, N.Y. (July 7-Aug. 25)
Details>>
As some festivals begin to wrap up, others are just getting started. The Glimmerglass Festival opens its season with Verdi's Aida. But this is going to be different than the elaborate productions of big opera houses. While the large-scale theatrics don't work at Glimmerglass, what its Alice Busch Opera Theater does offer is intimacy. You'll never be more than 70 feet from the stage. You're right there with the performers, who are Michelle Johnson is Aida; Noah Stewart is Radames; Eric Owens is Amonasro; and Daveda Karanas is Ameneris.
Maverick Concerts
Woodstock, N.Y. (July 8-Sept. 16)
Details>>
The Shanghai Quartet performs Ravel's String Quartet on July 8 as part of the Maverick Concerts held in a hand-hewn "music chapel" built in 1916 in Woodstock. Also on the program is Mozart's "The Hunt" String Quartet and Schumann's Piano Quintet in E-flat Major with pianist Pedja Muzijevic. Maverick Concerts continue through September.
Tanglewood
Lenox, Mass. (July 6-Aug. 26)
Details>>
For 75 years Tanglewood has been known as one of the country's most prestigious music festivals and venues. It's the summer home for the Boston Symphony Orchestra, the Boston Pops, world class conductors and some of the most talented young musicians. Tanglewood opens its 75th season on July 6 with an all-Beethoven concert, exactly the same way it did 75 years ago, featuring Beethoven's Leonore Overture No.3, the Pastoral Symphony and iconic Fifth Symphony Christoph von Dohnanyi will conduct. And if the Finale of the Fifth Symphony isn't enough, there will be fireworks show following the concert.
Music heard on this week's program:
Aston Magna Music Festival
Wolfgang Amadeus Mozart: Allegro in B-flat Major, K. anh. 91 (516c), for basset clarinet and string quartet
Musicians from Aston Magna Music Festival
Centaur 2561
Glimmerglass Festival
Giuseppe Verdi: Aida: Ballet Music from Acts I and II
Bournemouth Symphony Orchestra
Jose Serebrier, conductor
Naxos 8572818
Maverick Concerts
Maurice Ravel: String Quartet in F: II. Assez vif - Tres rythme
Shanghai String Quartet
Delos 3223
Tanglewood
Ludwig van Beethoven: Symphony No. 5 in C Minor, Op. 67
Boston Symphony Orchestra
Seiji Ozawa, conductor
Telarc 80060
Photo: Inside the Glimmerglass's Alice Busch Opera Theater. (Peyton Lea/Glimmerglass Opera)
We want to hear about and see all your favorite summer music experiences. Tag your Tweets and Instagram photos with #WQXRsummer and also add to our Flickr pool. We'll share your photos throughout the summer.