Think about the last time you saw a string quartet play. For just a moment, try to remember what it looked like. How many chairs on stage were there? Most likely there we four.
In 2003, the Artis Quartet did an experiment: The violist and both violinists decided to nix their chairs for a few concerts to see how it felt. Instead of sitting they stood and the quartet found that the pros way outweighed the cons. To this day, they're on a very short list of string quartets that perform standing. (Well, everyone is standing except for the cellist.)
On this week's Summer Concert Showcase, we hear from the Artis Quartet, which performs at the Norfolk Chamber Music Festival, as well as from soprano Martina Arroyo, and host Bill McGlaughlin previews the International Keyboard Institute and Festival and Lincoln Center Festival.
Event details: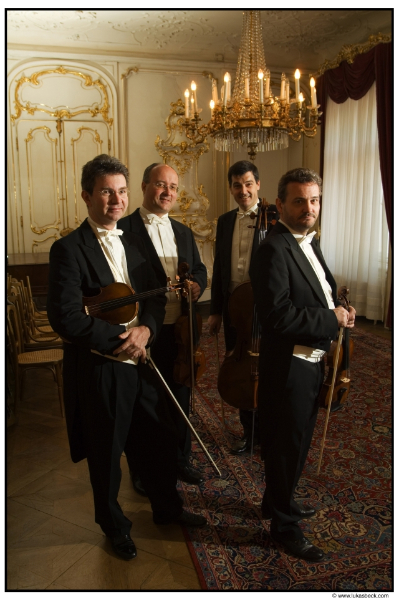 Artis Quartet at the Norfolk Chamber Music Festival
Norfolk, Conn. (July 14)
Details>>
The Artis Quartet (pictured) performs string quartets by Beethoven and Berg. The concert takes place at the Music Shed on the grounds of the Ellen Battell Stoeckel Estate in Norfolk, Conn. The Norfolk Chamber Music Festival runs through Aug. 18.
The Martina Arroyo Foundation's Prelude to Performance
Hunter College Kaye Playhouse, New York City, N.Y. (July 13-15)
Details>>
In 2003, soprano Martina Arroyo launched the Martina Arroyo Foundation to nurture the skills of aspiring young artist. Hundreds of singers from around the world audition for the foundation's Prelude to Performance. It's an intensive six-week program that culminates in four fully staged opera performances. This year, the performances take place at Hunter College's Kaye Playhouse. There will be two productions of Verdi's Falstaff and two productions of Mozart's Cosi fan tutte.
International Keyboard Institute and Festival
Mannes College The New School For Music, New York City, N.Y. (July 15-29)
Details>>
The International Keyboard Institute and Festival's 14th season opens July 15. The festival is divided into two series: The Prestige Series, featuring young pianists whose careers are just beginning, and the Masters Series with world renowned faculty members and other prominent guest artists. This year the list includes Marc-Andre Hamelin, Cyprien Katsaris, Akiko Ebi and Denis Kozhukhin. And the festival will honor the 150th anniversary of Claude Debussy. Debussy's music will appear in recitals throughout the festival and Paul Roberts – a Debussy scholar – will give a lecture.
Lincoln Center Festival
Lincoln Center for the Performing Arts, New York City, N.Y. (Through Aug. 5)
Details>>
In 1996, the Lincoln Center Festival began with the idea of expanding the possibilities presented at Lincoln Center. The festival offers the classics, contemporary performances, interdisciplinary works and world music. One of my must-sees for this year's Lincoln Center Festival is the Paris Opera Ballet's production of Giselle, described by many as the "quintessential" romantic ballet, with a score by Adolphe Adam and choreography for this production by Jean Coralli and Jules Perrot. It runs July 13-19.
Music heard on this week's program:
Norfolk Chamber Music Festival
Franz Joseph Haydn: String Quartet in D Major, Op. 20, No. 4
Artis Quartet
Prelude to Performance
Wolfgang Amadeus Mozart: Don Giovanni K. 527: In quali eccessi, o Numi...Mi tradi quell'alma ingrata
Martina Arroyo, soprano
Orchestra of the Prague National Theater
Karl Bohm, conductor
Deutsche Grammophon 429870
International Keyboard Institute and Festival
Robert Schumann: Davidsbundlertanze, Op. 6: Selections from Book 1
Jerome Rose, piano
VOX 7515
Lincoln Festival
Adolphe Adam: Giselle: Selections
Vienna Philharmonic Orchestra
Herbert von Karajan, conductor
Decca 4757507
We want to hear about and see all your favorite summer music experiences. Tag your Tweets and Instagram photos with #WQXRsummer and also add to our Flickr pool. We'll share your photos throughout the summer.
Photo credits: The Artis Quartet (Lukas Beck);The Paris Opera Ballet's production of Giselle as part of the Lincoln Center Festival (Sebastien Mathe).