Why Beethoven's Fidelio Speaks to Us Now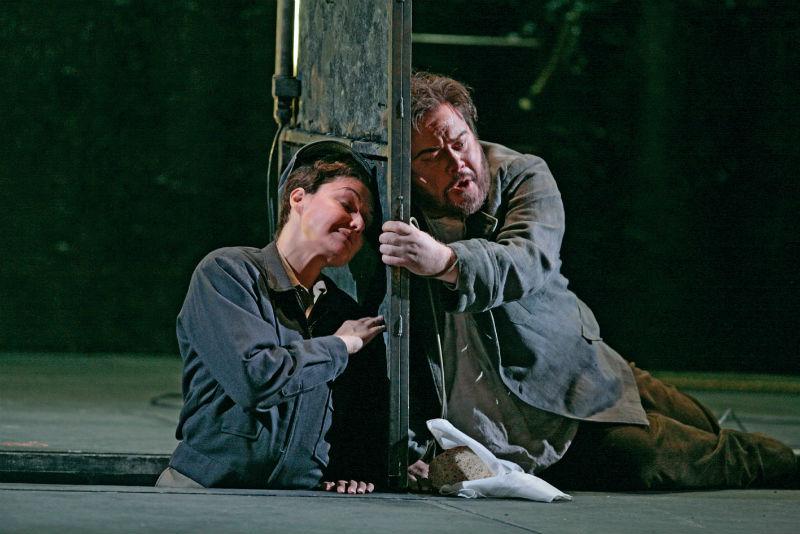 When Beethoven sat down to begin writing his only opera, Fidelio, he was a man who was swimming upstream. Severe hearing loss had set in ten years earlier, and this had a significant effect on his ability to work with others. "Anyone who writes for the theater, whether it's an opera, a musical comedy or a play," said F. Paul Driscoll, editor in chief of Opera News, "is perforce involved in the act of collaboration. And, it was difficult for Beethoven." Simply put, he was more comfortable working on his own.
Beethoven's first Leonore, Anna Milder, told him that she thought the music was "unsingable." His first Pizarro, Sebastian Mayer, said to Beethoven, "My brother-in-law would never have written music this foolish!" The brother-in-law in question was Mozart.
Anna Milder made peace with Beethoven and went on to sing Fidelio several more times. Sebastian Mayer did not.
"Beethoven was not really a musical dramatist in the conventional sense," said Driscoll. The French composer Paul Dukas said "there is much more drama in the music than there is on stage." Beethoven was a man who existed on an intellectual plane that most humans can't fathom. And, yes, he was difficult. Beethoven himself said that Fidelio would "earn him a martyr's crown." And, the music is still considered to be some of the most vocally taxing in the operatic repertoire.
But, in spite of his myriad social and physical challenges, Beethoven created a masterpiece in Fidelio and the opera remains a staple in the repertoire today. His uniquely powerful gifts are displayed throughout. And his music majestically embraces a compelling message that has resonated throughout the centuries.
"This was an opera that was enormously influential in Europe leading up to the Second World War, and it was a huge symbol for the renewal of freedom when the war was over," Driscoll says. Fidelio was also the opera that was chosen when soprano Elizabeth Connell returned to her homeland in South Africa to sing Leonore in the prison courtyard where Nelson Mandela had been kept captive.
"What has given Fidelio its life...is that it deals with the politics of tyrants in a way that's very, very powerful," Driscoll said. The story of how Leonore, disguised as a young man named "Fidelio," frees her husband from wrongful imprisonment and imminent death "exists in the realm of hope that somehow individuals are going to be able to come together in a significant way and face off and win is a very appealing message. I hope we always have this opera around to inspire us."
F. Paul Driscoll on Fidelio
F. Paul Driscoll on finding the right overture for Fidelio
F. Paul Driscoll on the Act I 'Canon Quartet'
• Listen to the Canon Quartet from Fidelio, Act I
F. Paul Driscoll on the character Pizarro
Watch "George Clooney look-alike" Walter Berry as Pizarro
F. Paul Driscoll on the character Leonore
• Listen to Karita Mattila as Leonore
F. Paul Driscoll on the famous Prisoners' chorus
F. Paul Driscoll on the character of Florestan
Watch Jon Vickers as Florestan: