Classical Music Resolutions for 2010
New Year's resolutions offer the promise of a thinner, debt-free, highly sociable and more organized you. But all too often, our pledges never make it past that first January thaw. Consider a different action plan: one involving classical music. Here are five ways you can become a better classical music fan--and participant.
1. Take a music appreciation course
The New Year allows a chance to improve your listening skills or investigate a particular musical style or historical era. The Juilliard School's Evening Division offers 50 to 60 courses that cover music theory, ear-training, performance and composition. History survey courses focus on everything from Purcell to Mahler to 20th-century opera. Similar programs are offered at the Brooklyn-Queens Conservatory of Music and the Music Conservatory of Westchester, among other schools.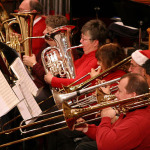 2. Join an amateur band or orchestra
As featured in a previous Top 5, the New York area abounds in amateur choruses. Instrumentalists can take advantage of similar opportunities. The New York Symphonic Arts Ensemble, the Greenwich Village Orchestra, the Centre City Symphony Orchestra and New York Repertory Orchestra let non-pros sink their teeth into blockbuster orchestral repertoire (Shostakovich, Mahler, Brahms) in social settings. For adults, there's New Horizons (pictured), a national association of concert bands and other ensembles with a New York chapter based at the Third Street Music School Settlement.
3. Learn an instrument
The winter months are an ideal time to learn (or re-learn) an instrument. Many major schools offer private instruction. Or consider takelessons.com, a resource for finding convenient private teachers in your 'hood. If it's a practice space that you need, the 92nd Street Y offers practice room rentals as well as private instruction on virtually every major instrument.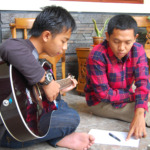 4. Tap your inner do-gooder
Volunteers are often needed at music schools, community centers, concert venues and other arts institutions. Organizations range from the Turtle Bay Music School to Symphony Space to the granddaddy of them all, Carnegie Hall, whose Music Ambassadors program includes opportunities for tour guides, gift shop support, community outreach and more. For these and other opportunities, check out Volunteermatch.org.
5. Donate
So you don't have the time to learn an instrument, take a class or volunteer, but still want to do your part for the arts in 2010? Consider a contribution to your favorite arts organization. Check out Charitynavigator.org to decide what's best for you.
What are your classical music resolutions for the coming year? Please share!