Operatic Sounds of Silence
Whoever said that silence is golden probably did not have opera in mind. In this art form all kinds of sounds are prized, whether from the orchestra, chorus or soloists singing alone or with colleagues in duets, trios, quartets and more. Not too many operagoers would pay good money to hear silence. Yes, I said "hear" silence which, I believe, is not the absence of sound but the presence of a different kind of sound that we discern in different ways.
The idea for this article emerged when Audra McDonald, the award-winning star of Porgy and Bess on Broadway, had been put on vocal rest by her doctor in an effort to help heal a voice strained by performing this tough role many times a week. She has since returned to the show.
Opera librettists and composers have created roles that call for silence. Some of these characters never utter a word or sound and yet are important to the story. There is Toby, a Gypsy boy in The Medium, a tragedy with music and libretto by Gian Carlo Menotti, that premiered at Columbia University in New York on May 8, 1946. The title role is Madame Flora, a phony medium known as Baba who uses Toby as some of the apparitions in her seances but becomes suspicious of him. Without him Madame Flora would be useless and yet, because this is opera, there is a problem.... Watch the whole opera and you will learn what it is.
Then there is Tadzio, the object of Aschenbach's infatuation in Britten's Death in Venice, based on the Thomas Mann novella. Though he does not make a sound, in the best performances he is a compelling presence. Here is a video of the entire opera:

Other operas have silent characters whose roles are small but essential. We all know Dolore, whose name means pain but in English usually is given as Trouble. He is the three-year-old son of Cio-Cio-San and Lt. Benjamin Franklin Pinkerton in Madama Butterfly. In most productions he is played by a little child who can become trouble for Butterfly if he or she becomes nervous on the stage. That is part of why some productions use wooden puppets or other surrogates for a real child.
When Berlioz's glorious Les Troyens next comes your way, you will see that in it there is what the British sometimes call a "dumb-show" in which Hector's widow Andromache and their son Astyanax are silently acted. 
In Mozart's La Clemenza di Tito, Berenice, daughter of Agrippa I of Judea, is the beloved of Tito. As the opera begins, she is being dispatched back to her homeland because Tito is convinced he must put duty over love and marry a Roman. It is a very moving scene and requires an actress of considerable force and charisma to silently convey her sadness.
Much of the same is required for the woman who plays Catherine the Great in Tchaikovsky's Queen of Spades. She appears only briefly, but to gloriously triumphant music, during a grand ball and all the other characters, from the humble to the high-born, must bow before her. In Elijah Moshinsky's Met production in 1999, Inga Rappaport, who was a volunteer at the house who liked to appear as an extra in some productions, got the role of Catherine and was transformed from a brassy New York woman to a frail but powerful Russian Empress.
Silent Stars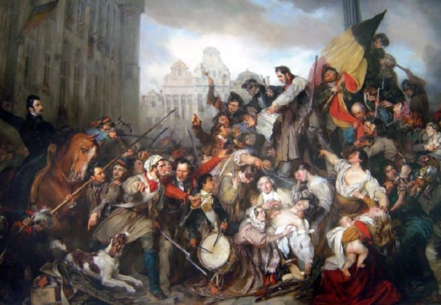 There are three title characters in opera in which silence is essential. One is La Muette de Portici (The Mute Girl of Portici), by Daniel-Françios-Esprit Auber (1782-1871). It is mostly now a footnote in history as the opera which, on August 25, 1830, provoked a riot in Brussels that ultimately led to Belgian independence.
The story is what is euphemistically called "operatic." A callous aristocrat, Alphonse, seduces Fenella, the mute girl of the title. Her brother, Masaniello, a simple fisherman, is moved to overthrow the Viceroy when he learns of this. In the end, Fenella kills herself by jumping off a terrace. Although everyone else sings, the story is really about Fenella.
La Muette de Portici had its premiere in Paris on February 29, 1828 (Rossini's 36th birthday) at a time when Rossini was the most acclaimed composer in Paris and others were trying to forge a new style called grande opéra. La Muette, with five acts, ballet, an historic plot, massive choruses and huge scenic elements, is often called the first grand opera. Actually, much of the cast and many of the same production people worked on Rossini's Le Siège de Corinth, presented in Paris in 1826. Rossini would soon produce his greatest grande opéra, Guillaume Tell and then retire.
La Muette de Portici is not the only opera whose title tells us that its heroine does not speak. I asked many knowledgeable people if they could name an opera by a very famous composer whose title character is a silent woman. To my surprise, no one came up with Richard Strauss's Die Schweigsame Frau (The Silent Woman), a three-act comic opera. It is one of those works that has not been neglected due to lack of merit but the consequences of history and fate.
It has a libretto by Stefan Zweig, based on the play Epicoene, or The Silent Woman, by Ben Jonson. The opera premiered at the Staatsoper in Dresden on June 24, 1935. It was the only collaboration between Strauss and Zweig, though others were attempted. The librettist was Jewish and the Nazis did all they could to impede his work. Strauss, whose political sympathies have often been questioned, did want to work with Zweig. At the premiere, despite the quality of the opera, it was greeted with jeers and whistles for the simple reason that Zweig was a Jew and, by then, Nazism was deeply entrenched in Germany.
The story is complicated, with many comic twists and turns. Even though it draws from an English comedy, it has many elements of Don Pasquale and Il Barbiere di Siviglia. Sir Morosus, is a rich, retired admiral who hates noise. His housekeeper is endlessly chatty and his barber recommends that she be replaced by a quiet young wife. Morosus says that no quiet women exist. His nephew arrives seeking an inheritance.
With him is his wife, Aminta, an opera singer. The last thing Morosus wants to hear is opera! Henry is disinherited and the barber, as in Rossini's version, gets involved in working for the interests of the young couple. He presents three possible brides (all from the opera company) to Morosus. One is an awkward peasant girl, Carlotta. The second is too fancy (her name is Isotta, or Isolde). The third one is a silent woman named Timidia (actually Aminta in disguise).
In many ways the plot proceeds as in Donizetti's Don Pasquale, in which Norina pretends to be winsome and timid until her wedding contract with Don Pasquale has been signed. Then she is a terror. But all ends happily in this case and Morosus declares "A rare delight is to find a silent, beautiful girl, but it is more delightful when she belongs to another man."
Die Schweigsame Frau is unjustifiably neglected and is ripe for a revival. Here is a charming 1972 performance of the whole opera, done at the Bavarian State Opera in Munich and conducted by Wolfgang Sawallisch: 
And finally, there is Rusalka, the heroine of Dvorak's 1901 masterpiece. She is a water nymph who loves a prince but cannot marry him. She seeks help from Jezibaba, an old witch, but first sings the Song to the Moon, one of the most beautiful arias in all of opera. So it is even more frustrating for audiences when Jezibaba tells Rusalka that she can be transformed into a human but will become mute. This means she will not sing for more than an entire act. And yet the opera is so wondrous, that Renée Fleming and many other fine sopranos have always loved to appear in it. 
Weigh in: Who is your favorite silent character in opera?