Have you ever wondered how classical composers pick names for their pieces? Most pieces have pretty generic names that denote the work's form – symphony, sonata, string quartet, piano trio. And many of the works that have subtitles weren't given by the composer – they're added posthumously. Those that do have specific titles are often accompanied by an interesting story.
On this week's Summer Concert Showcase, we head to the Caramoor Festival to hear the story of how Aaron Copland's Appalachian Spring got its name. Host Bill McGlaughlin will also preview the Harlem Quartet's upcoming concert at Tannery Pond in New Lebanon, N.Y., and check in on what's going on in the final weekend at Meadowmount School of Music.
Event details:
Meadowmount School of Music
Westport, N.Y. (Through Aug. 8)
Details>>
Since 1944, Meadowmount School of Music has been the summer home to young string players from all corners of the globe. Distinguished faculty and aspiring young musicians gather in Westport, N.Y., for a fun and very intense summer of practice, chamber music, private lessons, masterclasses and recitals given by students, faculty and distinguished alumni.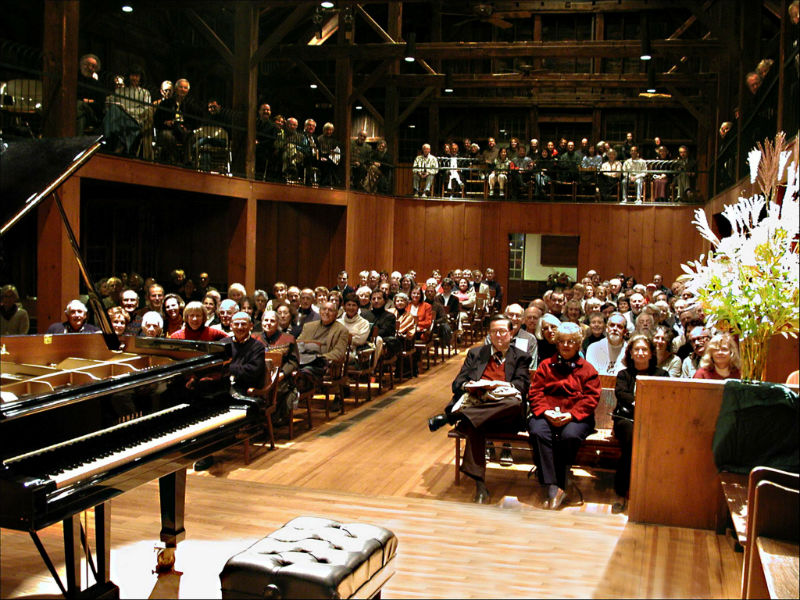 Tannery Pond Concerts
New Lebanon, N.Y. (Through Sept. 22)
Details>> 
Concerts at this festival take place in a 300-seat, wood-lined room (pictured) that was a former Shaker tannery. On Aug. 4, the Harlem Quartet returns to Tannery Pond and performs music by Beethoven, Ravel, Turina and Chick Corea.
Caramoor International Music Festival
Katonah, N.Y. (Through Aug. 8)
Details>>
The Caramoor International Music Festival is in Katonah, N.Y., but once you're there you'll have to keep reminding yourself that you're not in Italy. When you drive up to the Caramoor Estate you'll lay eyes on an Italian-inspired garden complete with rows of cedar trees to imitate the cypresses of Italy. Make sure to get there early and explore the grounds. The festival comes to a close with wide range of artists, including Trio Cavatina, Bela Fleck and the Marcus Roberts Trio and the Harlem Gospel Choir.
Music heard on this week's program:
Meadowmount School of Music
Moritz Moszkowski: Pieces for Piano and Cello, Op. 45: No. 2 "Guitarre"
Richard Narroway, cello; Tomoko Kashiwagi, piano
Hector Berlioz: Reverie et Caprice
James Ehnes, violin
Orchestre symphonique de Quebec
Yoav Talmi, conductor
Analekta 3151
Tannery Pond Concerts
Wolfgang Amadeus Mozart: String Quartet No. 15 in D Minor, K. 421: Menuetto; Allegretto ma non troppo - Piu allegro
Harlem String Quartet
Caramoor International Music Festival
Aaron Copland: Appalachian Spring
Musicians from the Caramoor International Music Festival
We want to hear about and see all your favorite summer music experiences. Tag your Tweets and Instagram photos with #WQXRsummer and also add to our Flickr pool. We'll share your photos throughout the summer.