London Symphony, Mr. Bean Star in Olympics Ceremony
Fans of British humor and classical music received a double surprise during Friday's Opening Ceremony to the 2012 London Olympics.
About 20 minutes into the event, the London Symphony Orchestra, led by Simon Rattle, took center stage to perform a rendition of Chariots of Fire. Joining in on the electric keyboard was comedian Rowan Atkinson, as his fumbling Mr. Bean character. He quickly became so bored from playing his one note that he comically pulled out his phone, took some pictures, looked at his watch, sneezed, then day-dreamed his part in the beach-running scene from the 1981 film.
If the Chariots theme has become the ultimate sports music cliché, Atkinson's clowning was perhaps intended to undercut its pomposity. 
The segment began trending on Twitter in the U.S., with many commenters enthusing about its quintessential British humor. Others criticized the blatant product placement in the sequence (Atkinson's phone was clearly identifiable as a Samsung model, an Olympic sponsor).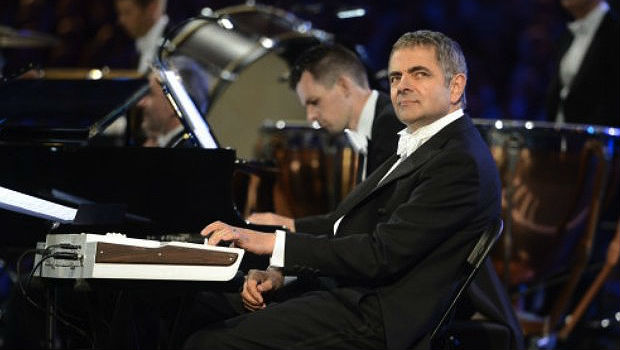 Roger Sedres/Gallo Images/Getty Images
This was just one part of the quirky, odd, cheeky and very British opening ceremony directed by the Oscar-winning director Danny Boyle. 
The three-and-a-half-hour pageant – edited by NBC for American television viewers – got underway with the English anthem, "Jerusalem," sung by a boy soloist, and moved on to traditional Scottish, Northern Irish and Welsh songs. Soon came the stirring strains of Elgar's Nimrod, from his Enigma Variations, performed by the London Symphony mainly off-camera.
Scottish percussionist Evelyn Glennie led a team of 1,000 drummers in a tribute to the British role in the Industrial Revolution.
The LSO was mostly unseen in the telecast, possibly in deference to the fact that the orchestra was asked to perform to a recorded track of itself, taped six weeks before the ceremony. Members of the LSO complained to a British tabloid at the time, calling the "pretend performance" a waste of money. Nevertheless, the controversy died off, Rattle waved his arms in a pantomime, and a major classical institution was heard by more than a billion people around the globe.