Top Five Utterly Fearless Classical Performers
New York Times theater critic Ben Brantley recently came up with a selection of actors he considers the most courageous performers on the stage. We don't think that the list should just limited to thespians. These five current performers stand out for taking risks on stage with energy and daring.
1. Kronos Quartet
Fearless exploration is part of the Kronos Quartet's founding mission, and the foursome has delved into the 20th and 21st century musical cannon with an intrepid spirit and commissioned new works that continually surprise. Though David Harrington, John Sherba, Hank Dutt and Jeffrey Zeigler form a conventional foursome on paper—two violins, a viola and cello—they're game to turn just about anything into an instrument, including glass bowls, water, stones, power tools and stringed fences.
2. Meredith Monk
Meredith Monk's performances seamlessly weave together movement and music into her multidisciplinary works. Though she sings no words, her "extended vocal technique" taps into an almost elemental emotional plane. Her commitment as a performer also makes her pieces so convincing. With her trademark braids and high-fashion-meets-Buddhist monk robes, she completes both physical and vocal feats.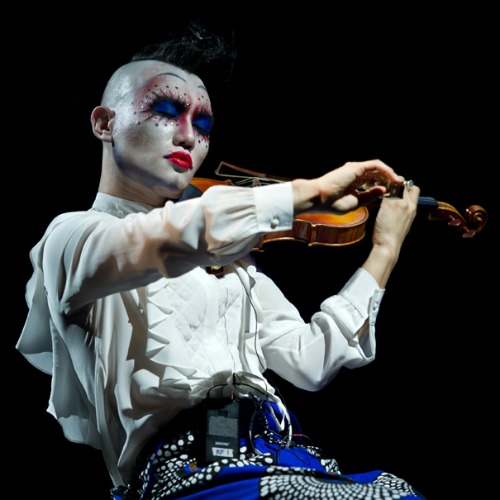 3. The Artist Formerly Known as Hahn-Bin
For his last performance in New York, the outrageous violinist Hahn-Bin (who now goes by the name Amadeus Leopold) played the conventional Tchaikovsky Violin Concerto for a show that was anything but run-of-the-mill. Walking onstage wearing painted-on denim cutoffs, a red-stained white wife-beater and draped in an American flag that he would later cast aside in favor of a rainbow one, the young violinist tossed off an impassioned performance that was as much a statement on homosexuality as it was on music.
4. Cameron Carpenter
When Cameron Carpenter plays the organ, you feel transported anywhere but church. Calling himself an "avenging angel" of the instrument, he brings a glam rock aesthetic to his virtuoso performances. Often dressed in his own designs that can be anything from a crystal encrusted all-white jumpsuit to a CBGB tank with black eyeliner, Carpenter transitions smoothly from Bach to his own transcriptions of the Indiana Jones theme.
5. James Rhodes
With an album called Bullets & Lullabies, the follow up to 2009's Razor Blades, Little Pills and Big Pianos, British pianist James Rhodes tries to provoke a little more than your average classical musician. But then most concert pianists don't flash the audience with a "Serge Rachmaninoff" tattoo on their forearms or openly speak about past mental breakdowns and drug addictions in profanity-laden asides in lulls in performances.
Weigh in: Who do you consider to be a fearless performer?
Hahn-Bin photo: (c) 2011 Kevin Yatarola