Ives's Music Lives On, and Many Feel His House Should, Too
Musicians and historians are searching for a benefactor to buy Charles Ives's former property in West Redding, CT, to rescue the home from the wrecking ball.
The shingle house, which sits on 18 acres of wooded land, was where Ives composed the Concord Sonata, Fourth Symphony and the song "In Flanders Fields," among other landmarks of early 20th century music.
The five-bedroom house and neighboring barn, which was built for Ives and his wife Harmony in 1912, and has been in the composer's family since his death in 1954, was put up for sale in September for $1.5 million. While it was once surrounded by verdant rolling hills, it now sits in an increasingly affluent enclave of so-called McMansions. Last week, fears were voiced online that the property would be sold to a developer that would tear it down and build something grander in its place.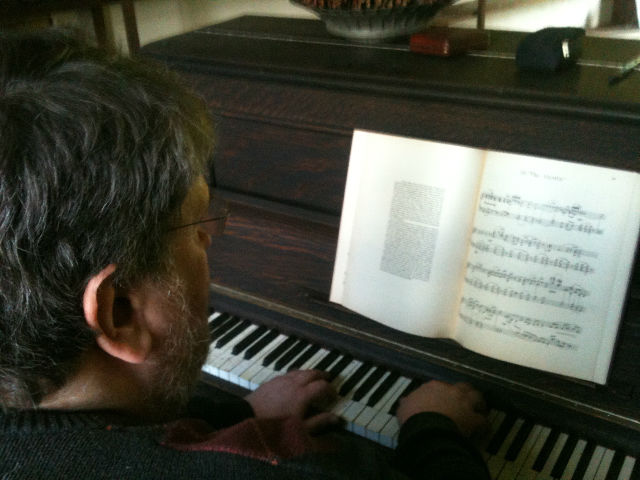 The alarm bells were sounded by the English cellist Zoë Martlew and the composer Oliver Knussen (right), who were granted a tour of the house by James Sinclair, the executive editor for the Charles Ives Society. Martlew's account of the visit was published on the blog Slipped Disc, authored by Norman Lebrecht. It was followed by a "Save the Charles Ives House" Facebook page and an online petition.
"The thing that was heartbreaking was to go into his composing room," said Martlew in a phone interview from the Tanglewood Festival. "It looks like it's been untouched. His correspondence is just lying there. Pictures, photos, programs, it's all as was. His presence is palpable there. It's heartbreaking to think that this house could possibly be swept up by someone who doesn't have a connection to the composer."
The house is owned by Charles Ives Tyler, the composer's adopted daughter's son, who lives in Florida. Associates with knowledge of the sale describe him as an unhurried seller who recently underwent a divorce and is now reorganizing his assets (attempts to reach him were unsuccessful). Sinclair said that while the house could be demolished if it were sold to a disinterested buyer, "it's extremely unlikely because that's not what Charlie wants and it's not what we're working towards," he said referring to the composer's grandson. "A lot of people have awakened to the worst possible case and have said, 'what can we do?'"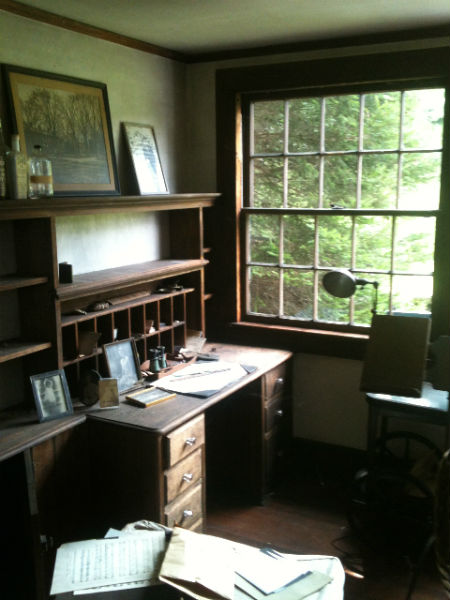 Sinclair said he visited the house last August at the invitation of Tyler to box up the composer's books, which are now being stored in the dining room. He noted that the Ives Society was created to assemble critical editions of Ives's work but "getting involved in saving a house is not in the charter," and not something he can manage.
On Monday, several interested parties are expected to meet in West Redding to discuss the house's future, including Sinclair, officials from the West Redding city government, and a representative from the American Academy of Arts and Letters, which manages Ives's estate. A lawyer who represents the estates of Leonard Bernstein and Aaron Copland will also be present (Copland's former house in Cortlandt Manor, NY has been designated a National Historic Landmark and is run by the nonprofit Copland House, Inc.).
Sinclair noted that several options are being considered, including a partial purchase by the town of West Redding, which has its eyes on trails that surround the property. Some notable musicians have also expressed interest, though Sinclair declined to cite specific names. So far, he said that area residents – including the singer Meat Loaf and the film director Barry Levinson – have been silent on the matter.
Also slated to attend Monday's meeting is Robert Eshbach, a professor of music at the University of New Hampshire, who founded the "Save the Charles Ives House" Facebook page, which now has over 200 followers. "At this point it's to raise awareness," said Eshbach of the page. "Among the things about it is some very distinguished people have gotten in touch with me and offered their help and advice. People come out of the woodwork. It's a great facilitator for putting together a plan."
Photos by Zoë Martlew