This week on the New Canon, we get up close and personal with Cornelius Dufallo's "Journaling," our current Q2 Music Album of the Week.
Journaling encompasses Dufallo's work as a violinist and composer and offers a microcosm of contemporary musicians who wear a number of hats (Dufallo has played with ETHEL, the Flux Quartet, and Ne(x)tworks) and collaborate with kindred spirits (here Joan Jeanrenaud, John Luther Adams, and Vijay Iyer) to create the next generation of repertoire.
We intersperse Dufallo's Journaling entries with some music from another multitalented musician, Israeli-born pianist and conductor David Greilsammer. Greilsammer takes programming to the next level with inventive and atypical concerts (a 2010 Lincoln Center recital featured an uninterrupted, non-chronological and pretty ecstatic blend of solo works by John Adams, Monteverdi, Ligeti, Janacek, Scarlatti and others). His signature style continues on his new disc, "Baroque Conversations" (pictured above), which fuses the likes of Rameau and Morton Feldman. Off that album, we hear Helmut Lachenmann's Wiegenmusik (Cradle Music) and a new work by Matan Porat called Whaam!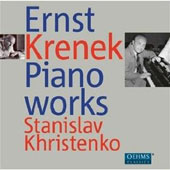 Also on piano, we hear Ukrainian pianist Stanislav Khristenko tear through Ernst Krenek's Sonata No. 2, which bears a striking similarity to Krenek's best-known work, the Weimar-era opera Johnny Spielt Auf. Khristenko's new collection of Krenek's works offers a full-throttle look at the composer's piano literature, much like the latest in the ongoing survey of Poul Ruders's music, which we also return to this week with the composer's brief, Siebelius-influenced piece Tundra.
Finally, the Warsaw Philharmonic under Antoni Wit offers an increasing number of Krzysztof Penderecki albums. In this case, Penderecki's compatriots team up with Philadelphia Orchestra principal Jennifer Montone for the composer's horn concerto, Winterreise. The vastness of the piece, like Ruders's Tundra, casts an epic chill, one that's echoed in our last featured album this week of Jun Märkl leading the National Orchestra of Lyon in Messiaen's Et exspecto resurrectionem mortuorum. Messiaen's piece written to commemorate the victims of both World Wars I and II bears some additional resemblance to Penderecki's post-war works, such as the Threnody for the Victims of Hiroshima.