Marvin Hamlisch Loved Music And People Loved Him
"What I did for love." It seems obvious, but Marvin Hamlisch really did love what he did. And people loved him, lining up in front of Temple Emanu-el on Manhattan's Upper East Side to get into his funeral. Some were fans wanting to pay their respects; others had worked with him.  For an entire group of women "of a certain age," Marvin Hamlisch was the music counselor they once worshipped at Camp Geneva in the Poconos.
Kelly Bishop created the role of Sheila in the Broadway show A Chorus Line, for which Hamlisch won a Tony for Best Original Score. Bishop remembered Hamlisch was not only great to work with, but also took great care of the cast. A whole raft of them got sick just before the show went into previews, and Bishop said Hamlisch got them all doctor's appointments, and "stopped around each one of our apartments and brought us humidifiers, and Vick's VapoRub, and aspirin ... which is amazing."  
An entire group of 20-something actors who toured Japan with A Chorus Line last year showed up to pay their respects. Cast member Kieron Cindric explained, "For anyone who has performed, for anyone who has gone through any type of harrowing, or challenging process, I think that Marvin Hamlisch's music really resonates, and particularly that of A Chorus Line.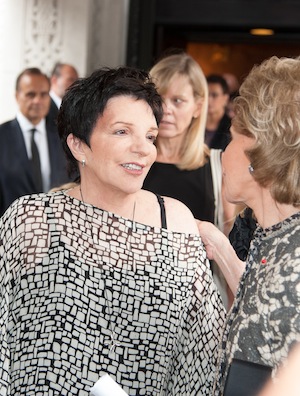 Speakers at the funeral included former President Bill Clinton, who noted how rare it was to encounter, "a genius who was good-hearted, humble, and hilarious." Eulogies were illuminated by Hamlisch's personality: his zest for life, his dedication to arts education; his countless performances for charitable causes, his mentoring of young composers and performers; and, most especially, his down-to-earth nature. As Leonard Lauder put it, "No handlers, no palace guards – he was always just Marvin."    
Show business luminaries like Liza Minelli, Bernadette Peters, Leslie Uggams, Robert Klein, and Tony Roberts attended; others, like Sheldon Harnick, Jonathan Tunick, and Lucie Arnaz sang in a volunteer choir, recruited last week. (The e-mail read, in part, "It was Marvin's wish to have a huuuuuuuge chorus sing at his funeral.") The choir filled two-thirds of the side pews in the synagogue, performing an arrangement of The Way We Were, with the congregation joining in on What I Did for Love.
The final speaker was Hamlisch's widow Terre, who shared the sad news that an announcement would have gone out this week naming Hamlisch music director of the Philly Pops Orchestra. She talked about spending 26 years of joy with "the people's composer," who believed that "music is the universal language that brings people together." The 2,000 fans of Marvin Hamlisch who turned out for his funeral clearly agreed.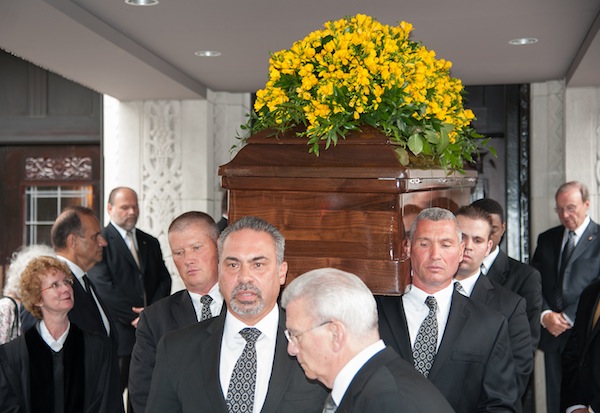 Above: Liza Minnelli arrives the funeral service for Marvin Hamlisch at Temple Emanu-El on Aug. 14. Pall bearers carry the coffin during the funeral service. (Dave Kotinsky/Getty Images)