This week on the New Canon, we give a listen to new recordings from Magnus Lindberg, Per Nørgård, Dmitri Kabalevsky, Bent Lorentzen, and — on our current album of the week — Viktor Ullmann.
Ullmann's is a fascinating, albeit tragic, bit of music history: The Austrian-born, Czech-naturalized (and Jewish) pianist and composer wrote the majority of his piano sonatas while interred at Theresienstadt. Amazingly, many of the works survived before Ullmann's life was cut short at Auschwitz. Intrepid pianist Jeanne Golan has committed herself to promoting the works of Ullmann, and brings them to new light in a two-disc album for Steinway & Sons that shows the composer's development (from the first sonata which bears the whiffs of his Pierrot Lunaire obsession to the later works that explore knottier textures and note clusters) through the microcosm of his seven sonatas.
Two works from Danish composers are heard this week, courtesy of two new releases on local label Dacapo. We'll hear from Per Nørgård in a new album (pictured above) courtesy of the top-drawer Danish contemporary ensemble Athelas Sinfonietta Copenhagen. In an all-Nørgård recording dominated by his fairy tale cantata Will-O'-The-Wisps in Town, we'll sample a taste of the album's companion piece, Out of the Cradle Endlessly Rocking. The fairy tale elements suit Norgard's music well. Like Lorentzen, Nørgård revels in orchestral voices, and creates mythic soundscapes that take a vise-grip on the imagination.
We'll also hear the world premiere recording of a song cycle by Bent Lorentzen, who grew up steeped in the music of Wagner and takes that composer's lush juxtaposition of spirit and body to another level with an almost fetishistic love of sound. However, Lorentzen believes in an artistic dialogue between performer and audience and you hear that in works like Erotic Hymns, a song cycle for bass and organ.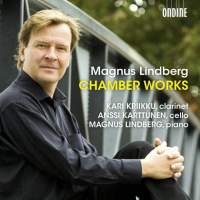 Also out of Scandinavia this week comes a two-disc recording of Magnus Lindberg's chamber works. While Lindberg is well regarded for his orchestral works, especially in recent years with the New York Philharmonic, he can capture epic lines even in pieces for two or three players. Here, his chamber works come from a period in the 2000s when Lindberg moved past his greatly radical tradition into more voluptuous melodies. Hearing these works from a new Lindberg era stripped down to their bones is a remarkable listen; hearing Lindberg himself on the piano is an added treat.
St. Petersburg-born composer Dmitri Kabalevsky, like Ullmann, boasts a deft touch with the piano, one that was encouraged in Stalinist Russia when the composer aligned himself with the politburo. Questionable though his politics may be, he did carry on a Mussorgsky-esque brand of Russian romanticism with boundless orchestrations and dexterous solo lines, an example of which shines through in this recent interpretation of his Piano Concerto No. 4.