This week on the New Canon, we take an in-depth look at new recordings from Esa-Pekka Salonen, Vivian Fung, and Philip Glass. It's Glass's The Passion of Ramakrishna that's our current Album of the Week as we enter a weeklong festival of the composer: Music of Constant Change.
When Esa-Pekka Salonen was writing his violin concerto, he was nearing the end of what became almost a two-decade run as the Los Angeles Philharmonic's music director. He was also approaching his 50th birthday. At such a crossroads (and a crossroads of crossroads at that), Salonen's violin concerto became one of his most exquisitely personal works. It represents, in the composer's own words, a "private narrative, a kind of summary of my experiences as a musician and a human being at the watershed age of 50." It's also, however, a tribute and portrait of violinist Leila Josefowicz, for whom the work is written. The eloquence and expressivity of this work, which ends on a note of unfinished nostalgia, makes for a seasonally-appropriate tonal shift from summer to autumn.
While one of Philip Glass's historical performances—Einstein on the Beach—returns to BAM this month, a new oratorio from the composer shows that he has, even at 75, no intentions of slowing down. Thematically, The Passion of Ramakrishna has a lot in common with Satyagraha, as it charts the life of 19th-century mystic Sri Ramakrishna who, like Gandhi, played a pivotal role in modern Indian history. There's a spiritual plane to the choral-heavy music, accentuated by the occasional solo from a cast of singers including soprano Janice Chandler-Eteme and baritone Christopheren Nomura.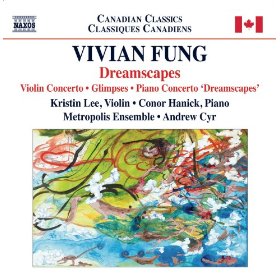 Two concertos dominate Dreamscapes, Vivian Fung's new album on Naxos's Canadian Classics series, and both demonstrate Fung's prepossessing predilection for cross-cultural conversations. Her own Violin Concerto was written with a symbiosis similar to that of Salonen and Josefowicz's, responding to Fung's time spent in Bali with violinist Kristin Lee (the violin often resembles the Balinese gamelan). The Metropolis Ensemble, under Andrew Cyr, gave Fung's Violin Concerto its world premiere last year and returns here for the recording, which also features Fung's Piano Concerto, "Dreamscapes." The study of contrasts is apt for an instrument that can juggle two musical lines at once, and here that honor falls to Q2 Music's own Conor Hanick.