Notes from the Beach with Einstein's Helga Davis
About a week ago I got on the subway at 23rd Street and Eighth Avenue and saw it — the advertisement for Einstein on the Beach which will be part of the Brooklyn Academy of Music's Next Wave Festival. I recognize the photograph from "Knee Play No. 3," the two characters punch at single light forms with their fingers. It's an image that repeats itself later on in the "Spaceship" scene. There it was, on the left, the back of my head! I giggle, and then, I cry.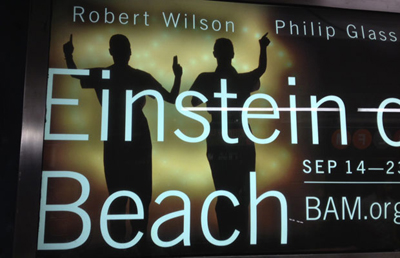 Next week, from September 4-9, I'll be back at Q2 Music hosting a new hour-long show called "Notes from the Beach" that will feature sounds and stories from this magnificent production. I'll also be doing a special pairing, like Glass and Wilson themselves, of Bach and Shostakovich preludes and fugues that i'm sure you'll love. The week's culminating event will take place in The Greene Space on Saturday, September 8 at 3 pm when Philip Glass, members of the Philip Glass Ensemble and the Einstein chorus perform excerpts from the show and talk shop with WQXR's Terrance McKnight.
It has been an incredible nine months. Read more about our Philip Glass festival, be part of our upcoming live videocast, and tune in each day at 11 am to listen to the show. If you miss it, you can catch the morning's show repeated at 9 pm.
See you at the Beach!
On-demand audio of each show will be available for the two weeks following the first airing. 
Show #1: September 4, 2012
Show #2: September 5, 2012
Show #3: September 6, 2012
Show #4: September 7, 2012
Show #5: September 8, 2012
Show #6: September 9, 2012