Charles Ives Fans Seek to Buy His Endangered House
A coalition of Charles Ives supporters is making plans to purchase the composer's longtime home in West Redding, CT and preserve it as a retreat for composers, musicians and scholars.
Fans of the iconic American composer raised cries of alarm on the Internet last month that the house would be sold and demolished. 
Now, the Charles Ives Society, a consortium of scholars and editors that manages the composer's scores, says it will take the lead in raising the $1.5 million needed to buy the house. The 18-plus-acre property, which was built for Ives and his wife Harmony in 1912, includes the house, a cottage and a barn.
The composer's adopted daughter's son, Charles Ives Tyler, who put the house up for sale last year, told the Wall Street Journal that he welcomes the effort.
But the pledges to save the house may only be the first step in a process that will involve many potentially vexing matters, including getting it re-zoned, having it removed from the local property-tax rolls, and securing its placement on the National Register of Historic Places (thus qualifying it for certain tax incentives). Adding to the challenges is an economically and politically toxic environment in which many small arts groups are struggling.
"People, in general, relish a big, compelling idea like saving a house or an historic theater, but there's the danger of the 'edifice complex,'" said Michael Boriskin, artistic and executive director of the Copland House, the home in Cortlandt Manor, NY where Aaron Copland lived and worked for the last 30 years of his life (1960-1990). "We've seen all too often how organizations raise many millions of dollars to acquire, renovate or construct buildings, only to collapse when a small fraction of that amount couldn't be found for day-to-day operations."
Indeed, just 15 minutes north of the Redding house is the Ives Birthplace in Danbury, which houses a small museum of Ives memorabilia and archival material. It is run by the Danbury Museum and Historical Society, a financially-strapped organization that put its two permanent staff members on "an indefinite furlough" last year. The birthplace house, which has moved twice from its original location, "has been scandalously neglected by municipal officials and the general community," said Boriskin.
There are other hurdles. The Ives house is on a quiet residential lane, where public concerts and other activities may irk neighbors wary of an invasion of privacy. It is not readily accessible to major highways or main rail lines. There will also be heavy additional costs for renovations, repurposing, code compliances and other matters.
In organizing its purchase bid, the Ives Society has been consulting with former Philadelphia Orchestra president Joseph Kluger, now a principal with the arts consulting firm Wolf Brown, and James Kendrick, a lawyer who represents the estates of Leonard Bernstein and Aaron Copland.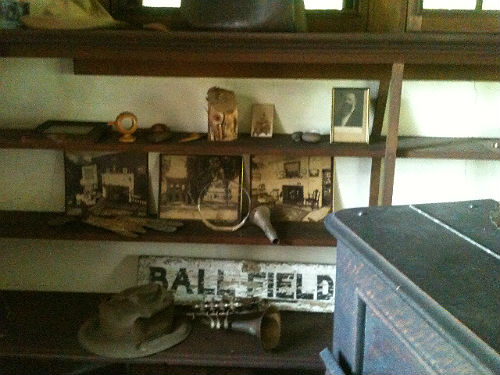 The Copland House suggests an obvious model. In 1996, a group of local townspeople began a grassroots effort to save and restore the house, which now hosts a series of public programs including concerts, a resident ensemble and recordings. It also has a fellowship program in which several emerging or mid-career composers are selected to live and work in Copland's former digs each year.
But Boriskin cautions that the Copland House was fortunate to have opened in a more favorable financial and political climate. 
"All I'd say now is that they need to take a real measure of the possibilities and also the limitations of their location and the region, as well as the cultural and community ecosystem of which they'd become a part," said Boriskin. "Even though Copland House has worked very hard on expanding audiences hereabouts, there's a limit as to the kinds and number of programs that can succeed within a general area like the one in which we both find ourselves."
Robert Eshbach, a professor of music at the University of New Hampshire, who started a "Save the Charles Ives House" Facebook page, is hopeful. "There's a lot of interest in this house from very prominent people in saving it," he said. "It's a real treasure, this place. It's beautiful, it's historic, and parts of it are just like Ives got up and went for a walk."
Weigh in: what would you like to see happen to the Ives House? Please leave your comments below:
Photo: Interior of Ives House, shown with the composer's hat, his father's cornet and a photo of Brahms (Zoë Martlew)