Lisa Bielawa on Early Days with the Philip Glass Ensemble
Philip likes to say that I was "just a chick-let" when I first began touring with the Glass Ensemble. I was pretty much just out of college, and my couch-surfing lifestyle was evidence that I had not yet figured out how I would make a living, nor even exactly what I considered myself to be – a composer? A singer? Something else entirely? In retrospect, these uncertainties seemed to cause little anxiety for me – I was waiting for life to show me what was next.
Philip and PGE Music Director Michael Riesman took a chance on me. I was vocally very young, and completely green as a touring professional. But over the course of the next couple of years, as I absorbed the iconic repertoire pieces – "Music in Twelve Parts," "Einstein on the Beach" – I embraced my new role in the Vocalist chair of the Glass Ensemble with all the discipline of an athletic practice. The sheer impossibility of my role makes it always fresh as a challenge. Over the years I have developed a whole host of extremely specific vocal techniques to increase stamina and clarity, and to trick listeners into thinking that I never breathe. I find the concentration and physical practice of this repertoire profoundly rewarding. This challenge has accompanied a commensurate movement towards greater concentration, stamina and clarity in other aspects of my life, as I have grown up in this chair.
Here's a photo of Philip, me and Richard Peck backstage at Royal Festival Hall in London, before Music in 12 Parts in 1992 - my very first tour, just before the 1992 Einstein on the Beach tour.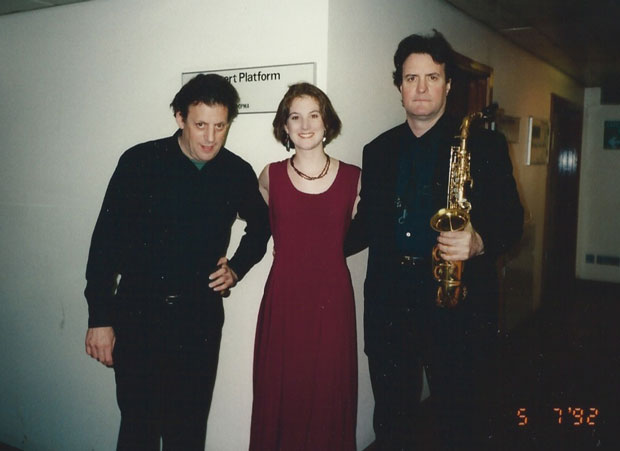 People often ask me, since I have been the vocalist in the Philip Glass Ensemble for over 20 years now, how it is that my own compositional work is not more 'influenced' by his. Although I do think that, if one knows what to listen for, the 'influence' is certainly there (I will leave this exercise to the experts), I also know that the real answer lies deeper: Philip's 'work' is more than just the texture of the sounds he creates, his signature arpeggios and harmonic pacing; it is a whole way of making work in the world, an entrepreneurialism that is unstinting in its faithfulness to the work itself.
Largely ignored by the major cultural institutions in the early years of his own group, Philip developed a kind of family institution around the work – based on the principles of loyalty and independence. His creative life would form a microcosm around it, one that could survive somehow (bumpy at first, then thriving) outside of the usual structures and institutions that most composers look to for support. He created employment for his peers. And he moved steadily forward, independently, exercising loyalty to those who came with him, cherishing the loyalty he received in return.
Now, of course, many of these institutions are coming to him, under the leadership of a new generation that recognizes his path as one of the most vital examples in our field of a successful creative life. I have spent the last 20 years in the front seat, watching him in his daily routine – balancing the public and private aspects of his work and its demands, growing new projects, making new relationships and always moving forward to find new vitality. As I have grown into my own professional life as a composer, he has watched with a proud and avuncular eye.
I sense that he identifies with some of my artistic fascinations more than others, but no matter what we are both working on (sometimes making schedules so that both of us get time at the available piano backstage), I know that he recognizes that I value these same principles of independence and loyalty in my relationship to my work. These are the family values that I have been learning, as I have grown up on stage with him, all over the world, for the entirety of my adult life.
In the end, Philip's greatest influence on me has little to do with notes, harmonies, textures and dramaturgy – although his impact on these things in the field at large is undeniable. It can be found in the way I aspire to make work, through relationships with people, always honoring independence and loyalty, creating fulfilling opportunities (and employment) for my collaborators. My journey in Philip's sphere is a story of a serendipitous, bounteous cross-generational friendship that goes way beyond influence.