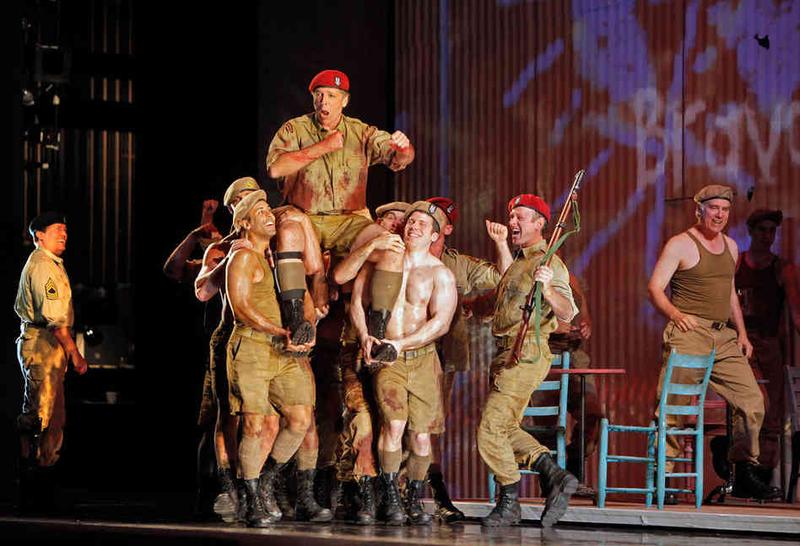 San Francisco Opera commissioned New York composer Christopher Theofanidis to write an opera based on the true story of Rick Rescorla, a former soldier who gave up his life saving thousands in the World Trade Center attacks on Sept. 11, 2001. "When somebody says we want your first full-scale opera to take place in Vietnam and the World Trade Center you get a little concerned about how to handle that task," Theofanidis said at a press launch for the production.
With librettist Donna Di Novelli, Theofanidis decided to keep the opera very character-focused. "All three of these people have profoundly strong characters," he noted. "You have to do it with a light touch. You have to know when to be light about it and when to show the emotional intensity that's there. Throughout the opera there's a Rossini-esque quality to things that are quite heavy."
Theofanidis is known for writing music out of fairly familiar harmonic and rhythmic building blocks, yet making it sound bracing and fresh. This premiere production, recorded last year, stars baritone Thomas Hampson, soprano Melody Moore and tenor William Burden.
Heart of a Soldier (World Premiere)
LIBRETTO:   Donna Di Novelli
MUSIC:   Christopher Theofanidis
CAST:

Rick Rescorla   Thomas Hampson
Daniel J. Hill   William Burden
Susan Rescorla  Melody Moore
Juliet, Barbara   Nadine Sierra
Cyril    Henry Phipps
Imam    Mohannad Mchallah
Tom, Ted   Michael Sumuel
Lolita, Bridesmaid  Susannah Biller
Pat, Ann   Sara Gartland
Kathy, Bridesmaid  Maya Lahyani
Omaha, Robert  Ta'u Pupu'a
Dexter, Dex   Daniel Snyder
Joseph, Joe   Trevor Scheunemann
Sam, Wesley   Wayne Tigges
Buddy    Koa, The Golden Retriever 
CONDUCTOR:  Patrick Summers
STAGE DIRECTOR:  Francesca Zambello
SAN FRANCISCO OPERA ORCHESTRA & CHORUS  
CHORUS DIRECTOR: Ian Robertson
APPROX. LENGTH: 2 hours 25 minutes