It Takes Two to Make a Thing Go Right
Saturday, September 15, 2012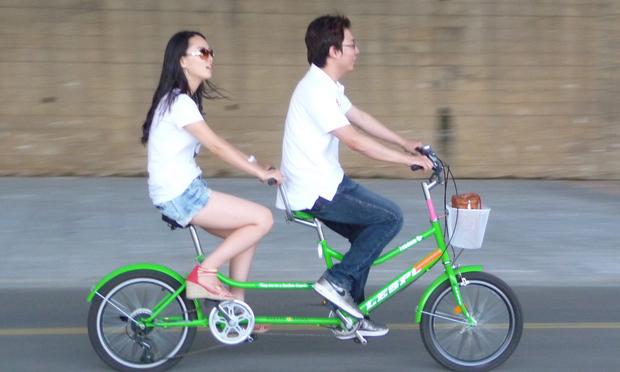 (sexify bicycles/flickr)
Musical duets were popularized by the Mozart family. Since that time piano duets became standard fare during the 19th century, particularly for piano teachers and their students. Playing in a duet or an ensemble requires a different skill set that performing as a soloist — and it doubles the chances of a performance going badly.
In that regard a famous musician once quipped that he played solo repertoire because he chose to be responsible for his own mistakes.
This show is about the depth and range of duets.  We hear uncommon parings of instruments and little-known compositions.
Franz Schubert had a very musical family and he'd sometimes write duets for himself and his students. We hear his Fantasie for Piano Duet, played by Christoph Eschenbach and Justus Frantz. Another composition that requires only two players is a piece called throne built for the past. It's a collaboration between Caleb Burhans and Grey McMurray on electric guitar and violin. Others included on the show are Two Pieces for Cello and Piano by Shostakovich, with Piers Lane and Alexander Baillie playing cello. 
Compromise is the operative word when it comes to making music with other people, especially when it comes to pairings of dissimilar instruments. We hear a duet featuring guitarist Sharon Isbin and violinist Mark O'Connor called Strings & Threads Suite.
It's the process of collaborating, compromising and listening to someone else's ideas that is instructive. There's always a give and take.
Program:
Eugene J. Bozza: Improvisitation (Saxophone Solo)
Paquito D'Rivera, saxophone
Chesy
Franz Schubert: Fantasie for Piano Duet in f minor, D. 940
Christoph Eschenbach, piano
Justus Frantz, piano
Angel/EMI
itsnotyouitsme: throne built for the past
itsnotyouitsme
Caleb Burhams, electric violin, voice
Grey McMurrary, electric guitar
New Amsterdam
Dmitri Shostakovich: Two Pieces for Cello and Piano from Second Ballet
Alexander Baillie, cello
Piers Lane, piano
Unicorn
John Cage: She is Asleep (1943): Duo
Arline Carmen, contralto
John Cage, piano
Wergo
Mark O'Connor: Strings & Threads Suite
Sharon Isbin, guitar
Mark O'Connor, violin
CBS/Sony
Nikolay Medtner: Three Nocturnes, Op. 16
Laurence Kayaleh, violin
Paul Stewart, piano
Naxos
Steve Reich: Know What Is Above You
Anonymous 4
Thad Wheeler, percussion
Jim Preiss, percussion
WNYC commissions
Niels-Henning Orsted Pedersen
Mulgrew Miller, piano
Niels-Henning Orsted Perdersen, bass
Bang & Olufsen
Johannes Brahms: Clarinet Sonata in f minor, op. 120/1
David Shifrin, clarinet
Carol Rosenberger, piano
Delos
Arvo Part: "Spiegel im Spiegel" (Mirror in the Mirror)
Dietmar Schwalke, cello
Alexander Malter, piano
ECM
The WQXR e-newsletter. Show highlights, links to music news, on-demand concerts, events from The Greene Space and more.