This week on the New Canon, we hear new recordings from composers Kenji Bunch and Valgeir Sigurdsson, along with cellist Mariel Roberts.
Oregon-born composer Kenji Bunch is no stranger to these airwaves, but his music constantly takes the listener by surprise for its depth of vision and melody (unsurprisingly, the work that inspired him to become a composer was Shostakovich's prismatic and vehement Symphony No. 5). On "Boiling Point," an all-Bunch disc recorded by the Alias Chamber Ensemble, we get some key Kenji works that highlight his ability to paint aural portraits of things both tangible and theoretical. Drift is an "eventual lullaby" that meditates on loss, spurred by the affliction that many composers and creatives face of losing an idea because they don't have the time to write it down (or it comes just as they are falling asleep).
Conversely, 26.2 captures the sights and sounds that Bunch and his wife encountered while running the New York marathon, from dawn on the Verrazano to the Hasidic neighborhoods of Brooklyn to the runner's wall to the glorious finish line. They are sonic Van Goghs, bursting with color and brushstrokes that draw the listener in.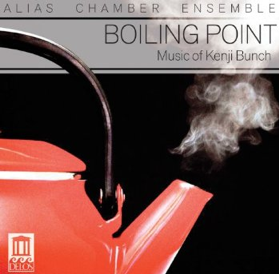 Composer Andy Akiho's work Three Shades, Foreshadows, was itself inspired by artwork in the form of Rodin's sculpture The Three Shades. As Akiho explains, he wanted to create a similar effect in his music to that of Rodin's sculpture, which offers multiple-yet-simultaneous perspectives on a single image. In the composer's words, the work blurs "any distinction between the live performer and the three digital playback parts." This comes off of cellist Mariel Roberts's Nonextraneous Sounds, our current album of the week, which shows a cellist with a clearly defined, artfully crafted vision and voice that plays on perception and style without sacrificing substance.
Decidedly more free form is Valgeir Sigurdsson's Architecture of Loss, originally written to accompany a ballet of the same title by Stephen Petronio. Performed in varied capacities by Sigurdsson and his Bedroom Community mates in Nico Muhly, Shazad Ismaily and Q2 Music's own Nadia Sirota, the whole of the album rises like water, with tidal ebbs and flows, the occasional gripping wave and a constant flow. It engages the listener in their own sort of dance, with the ear bending to hear the quieter moments and reeling from points of unabashed lyricism.