This week on the New Canon, we revisit our taste of Valgeir Sigurdsson's "Architecture of Loss." Sampled on last week's program, it's our current Album of the Week and we'll hear it in rotation with new music from Jonny Greenwood and Kaija Saariaho.
I mentioned last week that Sigurdsson's "Architecture of Loss" has a dancelike partnership between music and listener. Aptly enough, the music was originally crafted to accompany an eponymous ballet by Stephen Petronio, one that recently wrapped up a Nordic tour after its world premiere here in New York. As the title would indicate, the work deals heavily in disintegration, offset by periods of creation for added context. While one could argue that silence is a type of noise, Sigurdsson's ability to vocalize the gradual decrease of noise is a poetic one, one that hasn't been absent on previous recordings. Here, the multimedia aspect makes the work all the more intriguing, especially when taken into consideration the creator's own theory that the work "is envisioned as an organically evolving arena of elements that collide and shift into complex entanglements, build in intensity and structure, then break down and evaporate into thin air."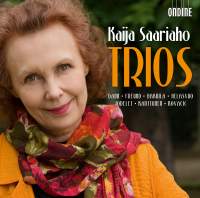 Kaija Saariaho's music doesn't scrimp on its own mysterious elements, often shrouding pieces in layers of folkloric ambiguity; a pre-dawn haze that gradually lightens over the course of a work. It seems challenging to incorporate so many layers into a work for three players, but her newest album — Trios — shows that, even with less than a handful of musicians, Saariaho has no problem creating a haunting landscape. There's also an emotional depth, a romanticism that comes out of Saariaho's sensibilities as a Finnish expat living in France. Such a heart beats wildly once you defrost the external layers of pieces like Cendres ("Ashes") or Je sens un deuxieme coeur ("I Feel a Second Heart"). There's the ethereal, the spiritual, in Saariaho's music; but there also burns a red-hot core.
Radiohead frontman Jonny Greenwood worked with Paul Thomas Anderson, crafting an indelible soundtrack to the milkshake-drinking, oil-soaked There Will Be Blood, as probing a psychological portrait as any in dealing with greed, the desire to possess the tangible, and how that affects our relationships with the intangible. In many ways, Anderson's newest film The Master (which, like Blood, also looks to be some captivating Oscar bait), deals in similar scopes. Telling the story of a cult leader and his right-hand man in the years following World War II, Anderson paints another picture of midcentury America. What has often been seen as a sunny time of peace and prosperity also had another layer occupied in part by soldiers returned from war grappling with unexpressed emotions. Greenwood's score is much like Anderson's title character, Philip Seymour Hoffman: Moments of impenetrable charisma dominate the score, but underneath lies a complex web of neuroses and afflictions that come through if the light hits Greenwood's prismatic score just so.