Early-Music Field Embraces 'Fifty Shades of Grey' Spinoffs
The appearance last week of "Fifty Shades of Grey: The Classical Album" at the top of the Billboard classical chart and at no. 22 on the all-genre Billboard 200 chart has found a notably receptive audience: performers and scholars of early music. 
The compilation CD of 15 classical works cited in the best-selling "50 Shades" trilogy of novels by E. L. James was released on Sept. 11 by EMI and contains, among other pieces, Thomas Tallis's Spem in alium, a complex motet for 40 voices composed around 1570.
Even before the release of the album, an earlier recording of Spem in alium by the Tallis Scholars had topped the British classical charts, after readers of the so-called "mommy porn" series began to seek it out. A handful of other records were released this summer in an effort to capitalize on the "Grey" phenomenon. But what especially encourages early-music devotees is that it counters decades of 19th- and early 20th-century favorites – by Wagner, Mahler, Tchaikovsky – as the chief signifiers of romance and seduction in pop culture.
"The Tallis motet is the Ravel's Bolero for the hook-up generation," said Gene Murrow, the executive director of the Gotham Early Music Scene, a presenting and advocacy organization. He noted that in an earlier era, Ravel's Bolero was used to seduce audiences for the film "10," starring Bo Derek, but early music has increasingly served that purpose (the 1990's chant phenomenon may be partly responsible).
"I think it's very important. I'm a big believer that whatever gateway you can open to any genre of music brings listeners in who might not have discovered it." (Gotham will present a program devoted to the "Art & Ecstasy of the Chaconne" on Oct. 4.)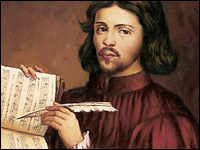 Maria Coldwell, a musicologist and the executive director of the organization Early Music America, said she's encouraged by the interest. "A lot of people who would otherwise not hear Spem in Alium will hear it through this new recording, and that's a good thing," she said in an e-mail. She added that a similar phenomenon occurred in 2006 when Sting released "Songs from the Labyrinth," a collection of Dowland lute songs. "How many of these casual listeners/fans actually get converted into early music devotees is an open question (probably not many)."
While not as ubiquitous as the Pachebel Canon, Spem in alium has been heard increasingly in mainstream concert halls. It was presented in New York last fall at Lincoln Center's White Light Festival and the Tudor Choir, a Seattle ensemble, has a new recording of the piece due out on Oct. 27, although it was planned before the novels' success.
Geoffrey Williams, a countertenor with the vocal ensemble New York Polyphony, noted that the Tallis motet, while powerful, is essentially a novelty piece. "Sure, Spem in alium is relatively unique for its 40-voice makeup and the mostly unknown impetus for its composition," he said. "It isn't especially an anomaly amongst early music enthusiasts -- anymore than Palestrina's Missa Papae Marcelli or Bach's Passions might be to the classical concertgoer. 
"What it does provide is an open door to inquiring readers and hopefully future audience members to explore other equally sublime repertoire in the roughly 1,000 years' worth of what we generally categorize as 'early music.'"
Not everyone is as encouraged. Music critic J.D. Considine wrote in the Globe and Mail that while the album avoided "the hackneyed signifiers of romance" like Tchaikovsky's Romeo and Juliet, "the album leans nonetheless on the overfamiliar and clichéd."
But Monica Huggett, the Baroque violinist and artist in residence at Juilliard's historical performance program, offers praise for Tallis's newfound popularity -- even if she hadn't heard of its appearance in "50 Shades" until recently. "If this book makes housewives hear the glory of Thomas Tallis' music, so much the better," she said.