'Dog Days' Brings a Post-Apocalyptic Era to New Jersey
"I think all theater happens in the last ten minutes of civilization," says Robert Woodruff, director of Dog Days, in the trailer for composer David T. Little and librettist Royce Vavrek's post-apocalyptic opera.
It's hard to argue with Woodruff: When played right, the finale of Götterdämmerung, which yields the end of Valhalla, is an aural and visual spectacular. The moments in which Faust (take your pick: Berlioz, Gounod, or any other in the canon) or Don Giovanni are dragged down to hell—while signaling the end of only a microcosm of civilization—are likewise often the most thrilling parts of the opera.
In fact, some of the greatest works in opera deal with the end of some form of civilization or another: Tosca attempts to topple a regime with one memorable stab and a glorious leap; Verdi's political, Risorgimento-fueled works often call into question what will happen to society after the curtain comes down, and composers like Strauss and Shostakovich—writing in times that they themselves believed to be the end of the world as we know it—likewise lent some apocalyptic edges to their works for the stage.
All of this combined with Little's commendable resume, his symbiotic musical relationship with the human voice, and an acute eye and ear for conflict (to the point where his affable, even cuddly, real-life persona makes you worry as to what goes on in his head), makes one wonder—as Dog Days approaches its world premiere this weekend at New Jersey's Peak Performances—if opera fans decades down the road will be comparing and debating recordings of Little's operas with the same fervency used in weighing the merits of Callas's Lucia versus Sutherland's.
Though, if Little and Vavrek's world is to be believed, we may not even remember what recordings are come 2050.
Dog Days takes its name and plot from a short story by Judy Budnitz, one that starts off with the scene-setting sentence: "The man in the dog suit whines outside the door." Budnitz's elegiac tone is reminiscent of Steinbeck's Depression, Dust-Bowl–era prose. And what we soon realize is that we're in a society circa World War III. Given the cataclysmic turn of events, precipitated by human nature and activity, one man decides to renounce his part in the human race and live out the rest of his days as a dog.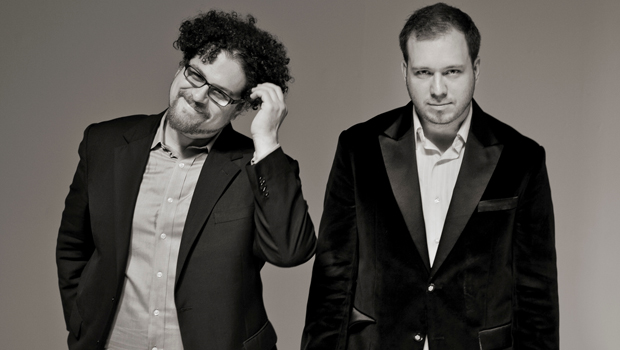 Composer David T. Little and librettist Royce Vavrek. Photo: Merri Cyr

As the creation of operas goes in the 21st century, Little e-mailed the text to Vavrek after being approached by soprano Dawn Upshaw in 2004 to create a short dramatic work for her 2009 Carnegie Hall workshop with composer Osvaldo Golijov (the following year, Little's other opera written with Vavrek, Vinkensport, or The Finch Opera, was heard at the Graduate Vocal Arts program at Bard Conservatory, also at Upshaw's invitation).
"I read it immediately, and about ten minutes later I sent him an e-mail saying, 'Yes! Let's do it!'" Vavrek recounted. The work has been presented in several incarnations prior to its premiere proper, including a workshop at New York City Opera's VOX series in 2010 where it was produced and championed by Beth Morrison, the first lady of apocalyptic opera. Morrison is also active in this incarnation of the work, producing it in conjunction with Peak Performances (and, further keeping things all in the family, Little's classical band Newspeak supplies the bulk of the orchestral accompaniment under Brooklyn Philharmonic music director Alan Pierson).
The attraction for all involved with the project seems to be, as Little said in the trailer, the theme of "[w]hat it means to be human and what it means to be part of a society and how we as individuals behave to each other inside of that collective." Unlike many operas built around the theme of "It's the end of the world as we know it," the relationships forged in this opera—mainly that of Lisa, the short story's narrator and the teenage daughter of the family portrayed in both works, and Prince, the man-dog—is purely platonic. The real romance is in the destruction of the world, and forging ahead with life in such conditions, while broadening what Woodruff considers to be the "narrowness of what we believe behavior is, of what possibility is."
Little adds that it all begs the question, "What happens when those rules of society are taken away, how long can we maintain the sense of what it means to be human, how quickly will we actually revert to being more animal-like, and what are the rules of that world?"
None of the answers to these questions, as we learn through the course of Dog Days, are terribly sunny. But they make for one hell of an opera.