Green-Wood Cemetery Restores Composer's Vandalized Tomb
Green-Wood Cemetery in Brooklyn is preparing to unveil a new statue that will sit atop the tomb of the 19th-century composer and piano virtuoso Louis Moreau Gottschalk.
The bronze figure is to be a replica of the "Angel of Music," a statue that had been mysteriously missing from the monument for over 50 years. It will be unveiled in a ceremony on Oct. 13, completing a project that is 14 years and almost $100,000 in the making.
"We are honoring a wonderful musician and composer who had great influence on many different genres of music but who has sadly been somewhat forgotten today," said Richard J. Moylan, the president of Green-Wood Cemetery, New York's largest, in an e-mail. 
Gottschalk was a New Orleans native who wrote forward-looking compositions like Bamboula, La Savane and The Banjo that combined Creole, Spanish, West Indian and Cuban sounds. As a performer, his fame rivaled that of Franz Liszt, and he toured extensively, staying one step ahead of revolutions and cholera epidemics. Yet he eventually began to break down under the strain. During a massive performance of his piece Morte!! in Rio de Janiero in 1869, he was stricken by what is believed to be malaria and collapsed. He died three weeks later at age 40.
The composer's family moved his remains to Green-Wood Cemetery in 1870 and held several benefit concerts to raise money for a suitable monument. The resulting "Angel of Music" statue was five feet tall and made of marble. In the statue's left hand was a tablet bearing the titles of six of Gottschalk's popular hits while its right hand was extended in a gesture suggestive of an orchestra conductor.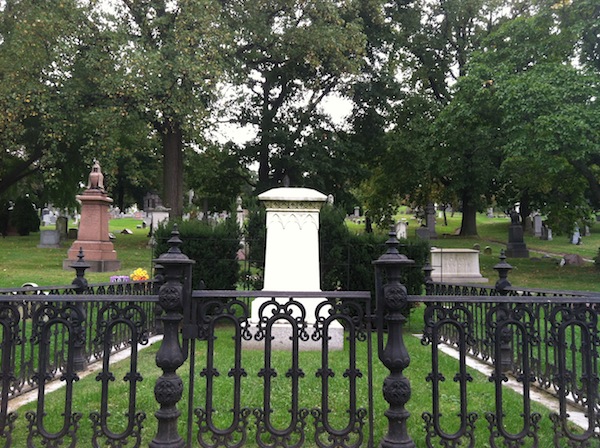 The statue stood on a grassy hillside facing out over New York Harbor until one day, it disappeared from its white pedestal.
Modern records gave no indication of its whereabouts; cemetery officials assumed it was toppled by a broken tree branch or bad storm sometime in the 1950s. "For a number of years we didn't know what happened to the original," said Jeff Richmond, Green-Wood's historian in a phone interview. "We just knew it wasn't there." (Richmond details the history of the statue in a series of blog posts.)
In 2010, volunteers for the cemetery were rummaging through a box of old files when they discovered some papers and photographs related to the statue. It included a memo from July 29, 1959 indicating that vandals had knocked the angel off its base, shattering it into pieces. The cemetery had a policy stipulating that any broken monument should be buried in the lot surrounding the grave, and when funds became available, it would be dug up and repaired. For whatever reason, that didn't happen. 
So it was on to plan B: Moylan had already begun raising funds to commission a replacement statue. In 2009, the Green-Wood Historic Fund, together with the National Sculpture Society, asked five artists to design and submit models for a new statue "in the spirit of the original." A panel of judges was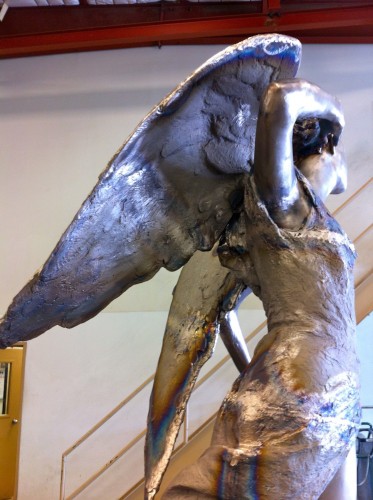 assembled which selected the New York sculptors Jill Burkee and Giancarlo Biagi. Their bronze angel was cast earlier this year at a foundry in Loveland, Colorado (left is a photo of the casting, before the final application of color; photo courtesy of Green-Wood Historic Fund).
The Gottschalk site has been spruced up in other ways. An antique wrought iron fence was installed around the site to replace the missing original. New granite stairs were installed and topiary shrubs planted. On a recent visit, the weathered lettering on the marble pedestal was still barely legible, but the marble was a glistening white. The tomb is marked on maps of the cemetery and sits not far from the grave of another noted composer: Leonard Bernstein.
Richmond, the cemetery historian, said the unveiling ceremony will feature remarks by Gottschalk biographer S. Frederick Starr, and a performance by pianist John Davis, who has recorded Gottschalk's piano music. Supplying the piano will be Steinway & Sons, which owns the largest mausoleum in Green-Wood Cemetery.

Below: listen to Gottschalk's best-known piano work, the Creole-inspired Bamboula (1848):