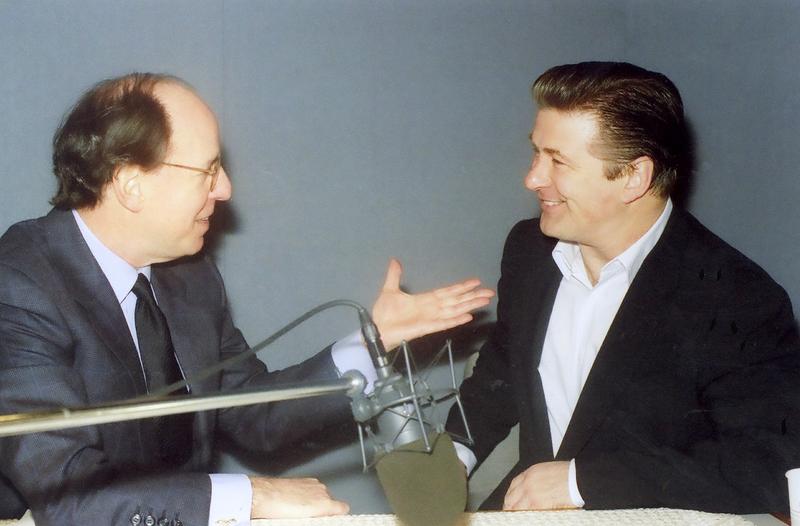 Mad About Music, hosted by Gilbert Kaplan, returns to WQXR with a two-hour special celebrating the 10th anniversary of the program.
This week's show features remarkable stories from 40 high-profile guests ranging from government officials to actors and business and media leaders, as well as guests from fashion, literature, medicine, sports and even the FBI.
Guest List:
Alan Alda – Actor, Director, Screenwriter
Alec Baldwin – Actor
Ehud Barak – Prime Minister of Israel
Lionel Barber – Editor of the Financial Times
Mercedes Bass - Philanthropist
Pierre Boulez – Composer, Conductor, Pianist
Tom Brokaw –Television Journalist
Fernando H. Cardoso – President of Brazil
Jimmy Carter – President of the United States
Glenn Dicterow – Violinist, Concertmaster of the New York Philharmonic
Edward Egan – Archbishop of New York
Renée Fleming – Opera Singer
William Friedkin – Director, Producer, Screenwriter
Valery Gergiev – Music Director of the Mariinsky Theatre
Alan Gilbert – Music Director of the New York Philharmonic
Ruth Bader Ginsburg – Supreme Court Justice
Katharine Graham – Publisher, The Washington Post
Edward Heath – Prime Minister of the United Kingdom
Mariss Jansons – Conductor
Peter Jennings – News Anchor
Paul Keating – Prime Minister of Australia
Bill Keller – Executive Editor of The New York Times
Mervyn King – Governor of the Bank of England 
Norman Lebrecht – Author, Journalist
Glenn Lowry – Director of Museum of Modern Art
Michael McCaskey – Chairman of the Chicago Bears
Zubin Mehta – Music Director of the Israel Philharmonic
Isaac Mizrahi – Fashion Designer
Philippe de Montebello – Director of the Metropolitan Museum of Art
Mike Nichols – Director, Writer, Producer
Martin Rees – Astronomer and Professor of Astrophysics, Cambridge University
Condoleezza Rice – Secretary of State
Antonin Scalia – Supreme Court Justice
Helmut Schmidt – Chancellor of West Germany
Stephen Schwarzman – CEO, Blackstone Group
Thomas Sculco – Chief Surgeon, The Hospital for Special Surgery
Leonard Slatkin – Music Director of the Detroit Symphony
Patrick Stewart - Actor
Howard Stringer – Chairman of Sony
Ruth Westheimer – Sex therapist
Robert Wittman – FBI Special Agent
James Wolfensohn – President of the World Bank
Playlist:
Sigmund Romberg: The Student Prince, "The Drinking Song." Philharmonia Orchestra. John Owen Edwards. Jay Master Works Edition CDJAY2 1252.
Richard Strauss: Der Rosenkavalier,  Act III, Final Trio. Philharmonia Orchestra and Chorus. Herbert von Karajan. Christa Ludwig, Elisabeth Schwarzkopf, Teresa Stich-Randall. EMI Classics 5 67609 2.
Igor Stravinsky: Le Sacre du printemps. The London Philharmonic. Kent Nagano. Virgin Classics VCK 791511.
George Gershwin: Rhapsody in Blue. Philadelphia Orchestra. Eugene Ormandy. Oscar Levant, piano. CBS MK 42514.
Giacomo Puccini: Tosca, "Visse d'arte." La Scala Orchestra and Chorus. Victor de Sabata. Maria Callas. Musical Heritage Society 524973H.
Sergei Rachmaninoff: Prelude in G major, Op. 32 No. 5. Vladimir Horowitz, piano. Deutsche Grammophon 419 499-2.
Leonard Bernstein: Candide, Overture. New York Philharmonic. Leonard Bernstein. Sony Classical SMK 63085.
Frédéric Chopin: Polonaise No. 3 in A major, "Military". Arthur Rubinstein, piano. RCA 09026-63048-2.
A. Young and M. Young: "Thunderstruck". AC/DC. Columbia 9699-80213-2.
Frédéric Chopin: Barcarole in F sharp, Op. 60. Claudio Arrau, piano. Philips 464 694-2.
Johann Sebastian Bach: The Well-Tempered Clavier, Book 1. Prelude in C major. Ralph Kirkpatrick, clavichord. Deutsche Grammophon / Archiv Produktion 289 463 601.
Bee Gees: "Stayin' Alive." Bee Gees. Reprise R2 162748.
Fritz Kreisler: Caprice viennois. Fritz Kreisler, violin. Carl Lamson, piano. RCA 5910.
Traditional American Folk Song: "Shenandoah." Mormon Tabernacle Choir. Orchestra at Temple Square. Mack Wilberg. MTC 6313.
Carlos Gardel: "Por una Cabeza." The Tango Project. "Scent of a Woman." MCA Records MCAD10759.
Gustav Mahler: Symphony No. 9. Third movement. Vienna Philharmonic. Bruno Walter. EMI Classics 7 63029 2.
Franz Schubert: Sonata in A, D. 959. Andantino. Alfred Brendel, piano. Philips 438703.