When Singers Seem to Matter Less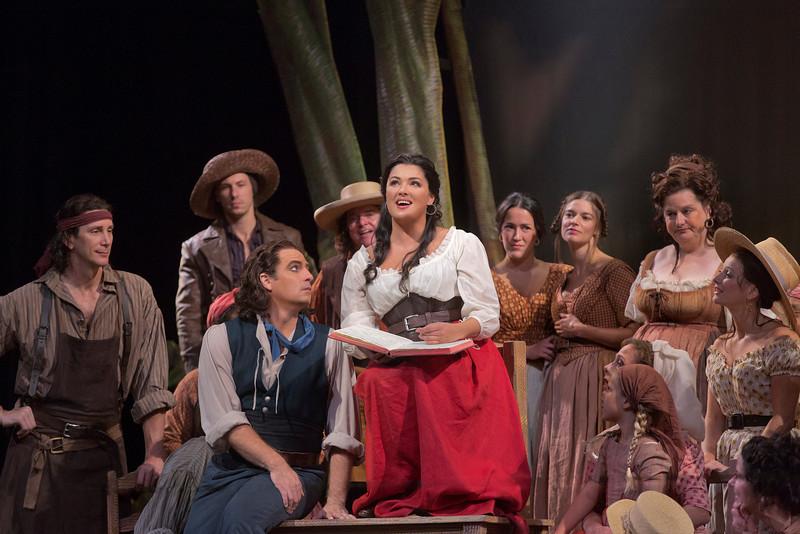 Why do we go to the opera? Yes, we love the theatrical components—the scenery, lighting, costumes and even the choreography—and connect with some of the stories, while finding others irrelevant. But I think it is fair to say that we go to the opera primarily for the music made by the orchestra and chorus and, above all, by the singers.
You might be scratching your head, thinking that I am telling you something that is so obvious that it does not bear mentioning. And yet, in our times, singers often seem like objects that are just a part of a larger whole, seemingly interchangeable and much more desirable if they fit into a costume that is more tall than wide.
It is hardly news that the appearance of singers has been given more emphasis in the past couple of decades, especially with the increased amount of HD (high definition) transmissions from major opera companies to cinemas around the world. I suppose an argument could be made that, if you have two singers of equal skill, a company might select the one that is more "HD-ready," as some opera singers call it. 
To which I would respond, who says that Mimí or Carmen is supposed to be pretty? Since when do we only fall in love or have an unquenchable sexual chemistry with someone who might fit a conventional notion of beauty? We respond to another person in a fevered and distracted way when that person has it (and you know what it is). If you doubt what I am saying, stand on a street corner for a quarter of an hour and look at all the couples passing by. Some may seem to make an odd pair and yet something intense brought them together.
In bringing up this issue, I am not even dealing with the question of weight, as that topic has been much discussed everywhere. And lest anyone think that it is unrealistic for a fat person to love or be loved, again look around and you will notice happy couples of mixed sizes. 
I was a good friend of the singer and actress Nell Carter. She was very short and, for much of her life, obese. She was also incredibly talented, funny, exceedingly well-read and fully engaged with the world. And she loved opera. Her husband was quite tall, of average weight and European. They certainly had their issues, and ultimately divorced after many years together, but both professed—even after the divorce—to have an incredible sexual desire for one another. In part, they liked each other's looks but, more to the point, there was chemistry. You could feel it even if you did not know who they were.
When Nell and I attended opera performances, she focused most on the voices and how the singers sang. Needless to say, but it does occasionally need to be stated, one can have a great voice and not be a good singer. Or one can have a not-so-great voice and be a wonderful singer. And then there are those rare artists who have gorgeous voices and are great singers. Nell also noticed which singers had musical and emotional chemistry with one another. As often as not, they were not "HD-ready" but were undeniably exciting because they had it. This is what made opera appealing to her. All the theatrical components were nice pluses, but not central to what engaged her about opera.
We are not talking here just about a sexual current but a deep human current that is unmistakable when you encounter it. José Carreras cut a dashing figure on the stage, but audiences also responded to his lyrical and soulful engagement with music and character. He had a gorgeous voice but could also really sing. Watch:
Another singer who had it from the very beginning, and still does more than ever, is Bryn Terfel. He combines superb singing with incisive and specific acting, remarkable naturalism and the ability to develop chemistry with anyone he shares a stage with. Here he is, young and fresh-faced, at the Cardiff Singer of the World competition in 1989. Compare this with his Leporello in 1997 and his recent Wotan at the Met, where even an eye patch and a steep set did not inhibit his impact. You can note the threads throughout these performances: presence, immediacy, and the connection of voice, word, music and physicality.
While there are some singers who still are engaged by opera companies and presented as stars whom audiences flock to see, there are fewer of these all the time. If you look like Anna Netrebko but can also sing and act like Anna Netrebko, then audiences and opera managers will beat a path to your door. But she is a rara avis.
There are quite a few excellent singers who have something to say, artistically and emotionally, but they are not being cultivated or developed. In their place, we get quite a few who have nice voices and comely appearances but are dull and unmusical on the stage. Many excellent ones fall through the cracks, don't get much work and begin to absorb the sense of being less desirable, which then enters their sense of self. It takes not only talent but courage and self-esteem to be an opera singer.
When Marketing Misses the Singers
I am raising these points because I have detected an unmistakable trend that is more than worrisome if you love opera: Singers seem to matter less. While some opera companies, such as the Lyric Opera of Chicago, still make a point in their advertising of emphasizing who is singing, many other major companies seem to be listing casts and rosters in fine print. The only ones featured are either the superstars or the pretty ones.
It is understandable, if we are discussing a regional, mid-sized company in the United States or Europe, that stars might not be in the casts. But I still think these companies should put all the names forth in bold face. Even if we do not know the singers, we learn their names and perhaps take them to our hearts. I remember, more than 20 years ago, I was in Boston and heard a young soprano who was new to me. She was a complete knockout vocally and temperamentally, with plenty of it. Her name was Deborah Voigt. I don't know if the artist I encountered back then would be able to make her way in the profession if she were just starting today.
What happens too often nowadays is that opera companies plan seasons by selecting repertory and stage directors but only choose singers late in the game. While in the past you would strive to have the best singers on your roster that your budget allows, even that is not a given now. How do I know this?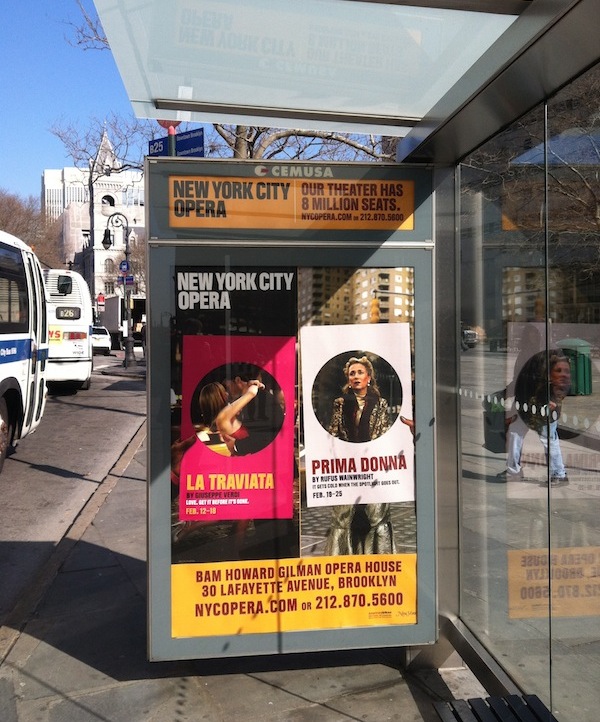 Not too long ago, I received the brochure for the 2012-2013 season of the New York City Opera. They will do Thomas Ades's Powder Her Face and Britten's The Turn of the Screw at the Brooklyn Academy of Music in February and Rossini's Moses in Egypt (Moise in Egitto) and Offenbach's La Perichole at New York's City Center in April. This is a very appealing offering and my appetite was whetted to know more. 
I read every word of the sixteen-page brochure and then had to read it again. To my great shock and disbelief, I realized that there was not a single mention of a singer! No casting, no discussion that City Opera is engaging singers who are exciting and interesting and just right for their roles. I recalled that I had written last spring about City Opera's announcement of its new season and that George Steel, its general manager and artistic director, had bristled at a question of mine about what he looks for when he matches a stage director with an opera.
I am second to no one in my desire to see the New York City Opera live and flourish. It is a real treasure, not only for its history (much of which it seems unable to afford to keep) but for the promise it represents. But a great part of this company's heritage and character is the discovery, nurturing and presentation of young singers who have it.
A very short list includes Carreras, Plácido Domingo, Catherine Malfitano, Samuel Ramey, Beverly Sills, Norman Treigle, Carol Vaness and Frederica von Stade. If today's New York City Opera does not make singers at least as much a part of its mission and identity as it does the works it presents and the theatrical elements it deploys, then its audiences may come to experience opera as a pretty but empty shell without a heart or a pulse.
Photo: NYC Opera's 2011-12 season advertising campaign emphasized opera titles over singers' names.