This week on The New Canon, we hear new recordings of music by composers Morgan Hayes and Imogen Holst, as well a selection of world premiere recordings of works for solo cellist Anthony Arnone.
Dissecting the dense work of Morgan Hayes reveals multiple layers of influence that might be missed at first glance. His Port Rhombus, for example, takes a track by electronic artist Squarepusher and uses its opening tune as a recurring melody to create an intricate homage to the "melancholy of the original." Hayes sights the impact of his teacher, Michael Finnissy, on the style of his piano suite Three Distressed Surfaces. Inspired by the "mercurial" aspect of his Finnissy's compositional style, the pieces teeter between the worlds of composed and improvisational music.
For many composers, there is no escaping the influence of cultural heritage.  Most embrace their roots as a launching point, using sounds and melodies from their childhood to evoke images of their native countries. On cellist Anthony Amone's new album "Beckoning," Serra Hwang and Huang Ruo both delve into their past experience to share with the listener who they are, and more importantly, where they've been.  Hwang's Beckoning augments solo cello with Korean drums to evoke memories of her childhood in Seoul, Korea.  Ruo's Four Fragments offers a more abstract journey through his past; he invites the listener to think of the music as "reflections from my memory, from my living and traveling through time and space."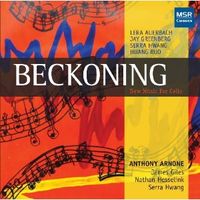 We also hear selections from our album of the week. The daughter of Gustav Holst, Imogen Holst worked as a conductor, composer, as well as an arranger and assistant to Benjamin Britten. On "Imogen Holst: Choral Works," Graham Ross and the Choir of Clare College offer a selection of world premiere recordings, including a cross-section of Holst's original compositions as well as an reworking of Britten's Rejoice in the Lamb.