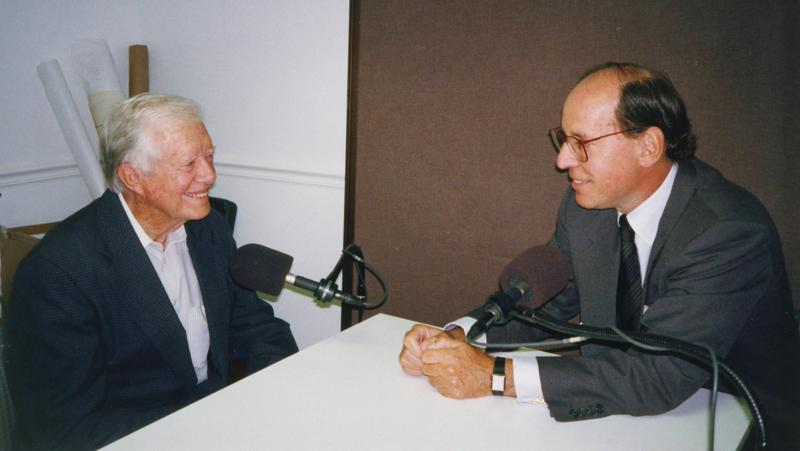 Former President Jimmy Carter embraced classical music and made it a prominent feature of White House. In conversations with the host Gilbert Kaplan, Carter revealed that:
— Recordings were played non-stop in the White House.
— He considered it a coup to have persuaded legendary pianist Vladimir Horowitz to perform at the White House.
— That his knowledge of Wagner's Tristan und Isolde helped him land a key job in the Navy.
— The only instrument he ever learned to play was the ukulele (and that his wife Rosalynn, "was the best hula dancer among all the Navy wives").
— And what has now become a legendary tale of the romantic power of Sigmund Romberg's operetta The Student Prince.
This episode is the first of four shows with political personalities leading up to the election.
Playlist:
Sigmund Romberg: The Student Prince, Overture. Philharmonia Orchestra. John Owen Edwards. Jay Master Works Edition CDJAY2 1252.
Sergei Rachmaninoff: Piano Concerto No. 2, first movement. Chicago Symphony Orchestra. Fritz Reiner. Arthur Rubinstein, piano. RCA 63035.
Giacomo Puccini: La Rondine, "Doretta's Dream." Mirella Freni. EMI Records 65163.
Glenn Miller:  "Moonlight Serenade." The Secret Broadcasts. RCAVictor 52290.
Francisco Tárrega: Recuerdos de la Alhambra. Andrés Segovia, guitar. MCA Classics MCAD-42069.
Richard Wagner: Tristan und Isolde, "Liebestod." Berlin Philharmonic. Herbert von Karajan. Helga Dernesch, soprano. Musical Heritage 544623T.