Mirella Freni: La Prudentissima
Former president Jimmy Carter, in a 2004 interview with Gilbert Kaplan on WNYC, was asked about the music he listens to. In the interview, which re-airs this Sunday on WQXR, Carter replied:
"I would say that my favorite recording of all is [...] a CD called Aria: A Passion for Opera. I listen to it over and over again. Some of the recordings [on it] to me are not very superb. Maria Callas has a recording on the same CD that I think...she's off key. But the best one, I think, is Mirella Freni singing La Rondine from Puccini...That is to me overwhelming. No matter what I'm doing with music in the background, when that particular recording comes on I just have to stop and do nothing but listen."
For almost her entire life, when Mirella Freni sang, all people could do was stop and listen.
In a recent post about singers who have vocal crises and the importance of knowing how and when to say "no" for one's own benefit, I wrote that I would focus on the career of Freni to discuss how smart planning, patience and the ability to say "no" can be wiser than doing too much, too soon.
If Maria Callas was "La Divina" and Joan Sutherland "La Stupenda," Mirella Freni, whose career went from the age of 19 to 70 and could have continued because her vocal estate was so good, was known as "La Prudentissima," the singer whose caution and prudence about how she picked and prepared her roles, enabled her to enjoy such a long and immensely popular career. She was not unduly cautious or unstinting on the stage and audiences loved her. She had a special magic that was a product of a superb technique and the ability to find within herself the keys to each character and then perform it with directness and simplicity.
Mirella Freni and Luciano Pavarotti were both born in Modena in 1935. Their mothers worked in the same factory and both babies had the same wet nurse. As Freni once said to me in an interview, "You can see who got all the milk!" Both singers would eventually study with Ettore Campogalliani, who had taught Renata Tebaldi and whose later students included Ferruccio Furlanetto.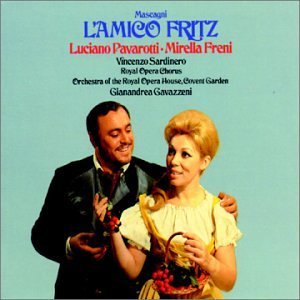 All of these artists maintained their core gifts over long careers and Furlanetto is still thrilling audiences with his artistry. I wish I could have interviewed Campogalliani, whom I met in 1978 when I did not yet know enough about opera to ask informed questions. I would have asked how he taught and what he imparted to his students. I know of few, if any, singing teachers whose students were not only so luminous but seemed to combine great technique with expressivity. Freni, Pavarotti and Furlanetto all share a forward placement of the words. Their diction is so clear that they could have been stage actors but, with their amazing singing, they infused their words with a range of colors and emotions.
In preparing this article, I used notes from an interview I conducted with Freni in 2004 as well as a talk she gave in Pisa in the same year. They will help explain her approach as well as what she learned.
"I have always thought that the interpretation of a musical text is a particular form of creation, one not equivalent to the work of a composer—a great artist who, from nothing, can make emotions and feelings emerge simply by bringing together musical notes. It is true, though, that this same music can be performed in multiple ways, with different colorings, each able to strike one or another chord of emotion or thought. In this resides the creative work of the performer: to give life to those little black dots written on the score, comprehensible only to musicians, and to make them reach the ear or, better still, to the heart and mind of whoever listens, independent of differences of culture, language or class."
To most listeners, Freni's is a gorgeous voice. In her view though, that is only part of what a singer needs.
"A beautiful voice is but one element, and I would dare say not the most important one, that the singer can use to define herself as a true artist. If you think about Maria Callas, who I think was the greatest soprano of the 20th Century, she had a 'particular' voice but she managed to arouse incredible emotions in her listeners. A richness of humanity is, I think, almost more important then the voice. How can  one speak in believable ways of love, death, betrayal, honor, friendship, of all those sentiments that are a permanent part of opera, if we don't really know them or have lived them?"
How did you work to develop your interpretations of your roles?
"An opera singer forms a certain idea of her character and tries to penetrate that character, to wear her clothes, to think about how she would respond in real life in the same situation. But, above all, how would she feel psychologically? The singer works from a narrowly subjective point of view. It is necessary to investigate these impressions in the music, making sure that the idea one has created in a character has some reality in the music, in its expressive components and above all in its colors and dynamic indications in the score. If, for example, the word piano appears, it was not put there by accident. There is a precise reason that piano is there, one that must be singled out, understood and then inserted into the overall psychological portrait of that character."
Your performances were always so fresh and immediate. Each time I saw you as Mimí, perhaps your signature role, it was distinct.
"Everything must be expressed with the maximum amount of naturalness and spontaneity, which never gets old. Spontaneity is always current, it always communicates. Above all, it allows someone to be herself, to be able to express herself with her own voice, her own talent and according to her own sensibility. It is pointless to try to copy performances by other singers, no matter how great they are. Instead, one must find within herself the values of the character and sing them as if you were telling a personal story, as if that character were your own. Only this way can you be convincing."
You have been called "La Prudentissima" because of your discipline in selecting roles.                                                                            
"When I was young, I sang instinctively. With the passing of years and, above all, after a misstep (fortunately, the only one) in La Traviata at La Scala, I found myself at a career turning point. On a wave of general success, achieved in a short period of time, I had accepted too soon a role for which I was not mature enough and which did not, at that moment, respond to my vocal potential. This was a lesson that made me study more to master a more solid technique and, especially, it made me realize that I had to completely know my own instrument.
"The voice has no visible keys or chords with which one can have a tangible rapport. It is you, with your intelligence and sensitivity, who governs your musculature, distributing the breath, supporting the sound and projecting it forth. In so doing, you become an instrument of your own creation. At the end of this process I was able to know what I could and could not do, and how to completely rule my voice, which has permitted me to evolve my career, to portray in a most accomplished way the characters I was assigned.
"It is not, however, easy to resist offers from theaters such as La Scala or the Metropolitan, those temples of opera, or from important conductors. How often was I pressed by Herbert von Karajan to perform Il Trovatore or Tosca or Madama Butterfly on the stage! I resisted those offers because I always preferred to give maximum respect to my voice, and for the time it required to evolve, rather than find personal satisfaction or economic gain."
Freni never sang a complete Madama Butterfly live, although she did it on film. She made a famous exception to her prudenza on March 24, 1991 at a gala honoring the 25th anniversaries of her Met debut as well as those of her husband Nicolai Ghiaurov and the splendid tenor Alfredo Kraus. To conclude the evening, she sang the third act of Madama Butterfly with Plácido Domingo as Pinkerton and Wendy White as Suzuki. Anyone who was there will never forget it and the ovations. Earlier that night, when the 56-year old Freni gloriously sang the Jewel Song from Faust, an audience member yelled "25 more years!" The soprano burst out laughing and the crowded cheered.
In the same season, at another Met gala, she sang "Io son l'umile ancella" from Cilea's Adriana Lecouvreur, the iconic aria about a performer who serves the genius of the creators of art.