Green-Wood Cemetery Unveils New Gottschalk Statue
In his 19th-century heyday, the flamboyant piano virtuoso Louis Moreau Gottschalk performed for hundreds of fans in massive concerts around the world. On Saturday, 142 years after his death, about a hundred people turned out for the unveiling of a new statue at his grave in Green-Wood Cemetery in Brooklyn.
The bronze statue, designed by the sculptors Giancarlo Biagi and Jill Burkee, is loosely based on an original marble sculpture that stood atop the white pedestal for nearly a century, until vandals reportedly destroyed it in 1959.
The New Orleans-born Gottschalk was buried in Green-Wood ten months after he died in Brazil, allegedly after collapsing onstage while performing one of his own pieces, called Morte! After a grand parade and funeral in Rio de Janeiro, his remains were brought to New York and a funeral was held at St. Steven's Church on W. 28th St in Manhattan. A vocal octet sang at the burial.
The new statue, called "Angel of Music," is made of bronze, a material chosen for its durability as well as its subtle, even lyrical qualities, the sculptors said in an interview. "We started thinking about the wings and the delicacy of the hands and the expression," said Biagi, who lives in New York and Italy. "We decided to go with bronze rather than marble because those delicate hands would be lost otherwise."
The statue's left hand gestures to the soil, a reference to the folk influences on Gottschalk's work, including Creole tunes (the composer's mother was born in Haiti). The right hand is cupped in a listening gesture.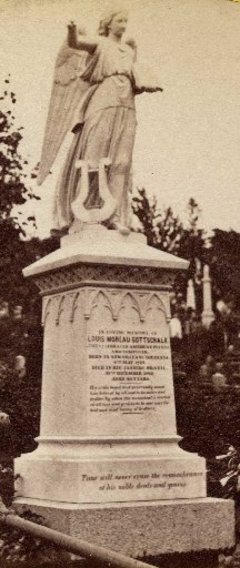 As LaGuardia-bound airplanes droned overhead, historian S. Frederick Starr spoke about Gottschalk's short but freewheeling career as one of America's first celebrity touring artists. "He was a zealous concert-giver," said Starr. "He benefited from the train system that was just coming into being as he arrived back from his studies in Paris. There's no town in America, certainly in the Midwest or Northeast that he didn't visit as a performer."
At one point in 1862, Gottschalk performed in 85 different cities in just four and a half months. He even won a bet with a friend that he could perform in three different towns in one day. His notoriety ultimately proved his downfall; he got caught up in a scandal in San Francisco and was forced to shift his touring career to South America. While in Brazil it's believed he contracted the malaria that eventually led to his death at age 40.
Speakers on Saturday, who also included Richard J. Moylan, Green-Wood's president, and the pianist John Davis, made much of the fact that Gottschalk soaked up popular influences, preceding Scott Joplin and Charles Ives. Although he studied in Paris and got to know Liszt and Berlioz, he found inspiration in the folk styles he heard in his native New Orleans, in Central and South America, and in Cuba. This permeated his piano works as well as his symphonic pieces and even a lost opera.
"For us it was a total surprise to find his music," said Biagi, the sculptor. "It's very fresh and innovative. The more you listen to it the more you get."
Right: The original "Angel of Music" statue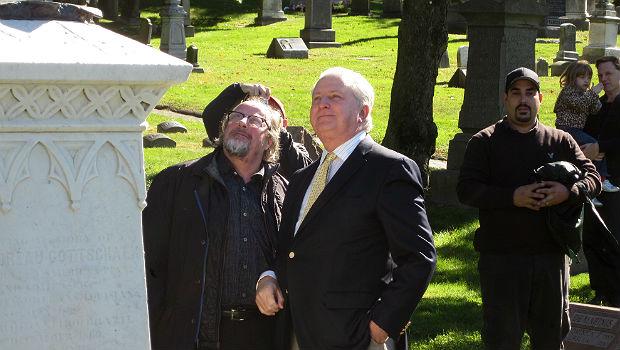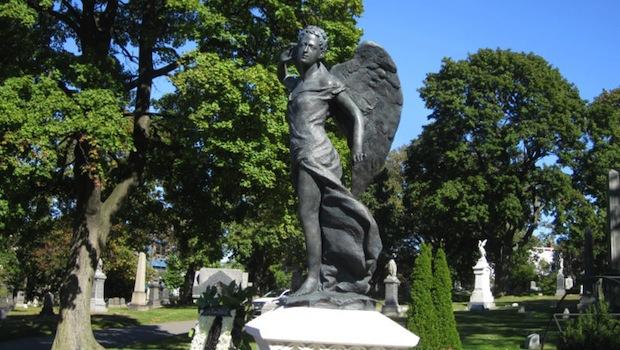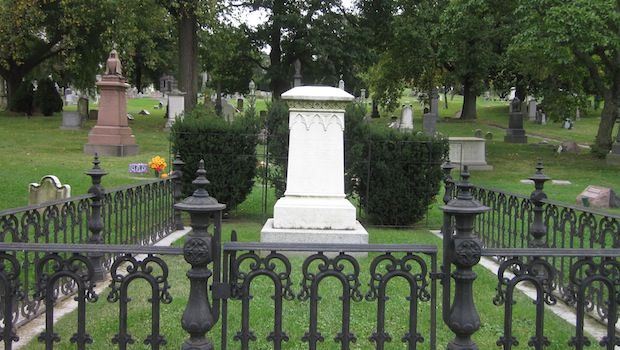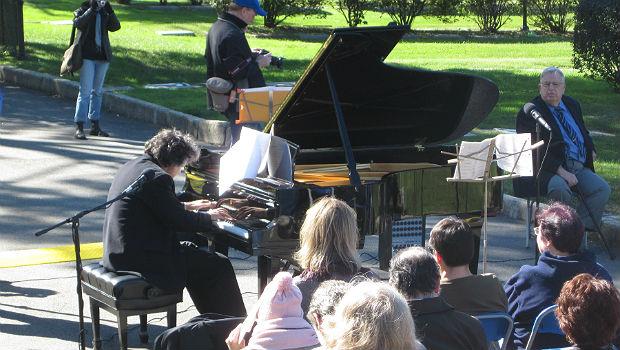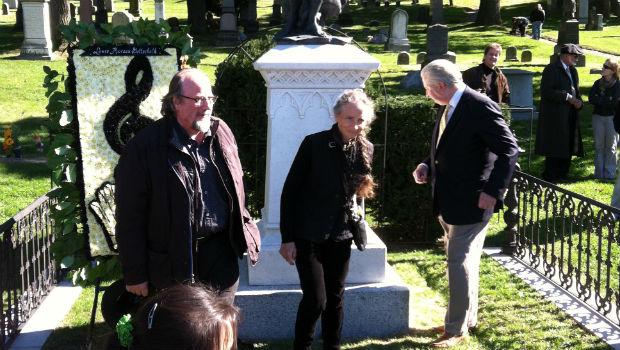 of