Top Five Uses of Sex to Sell Classical Music
Sex sells, even when it comes to classical music and opera. But an advertising campaign for the English National Opera's production of Don Giovanni showing an opened condom wrapper has caused stir in London. Are the posters obscene, or just provocative? We found five other steamy campaigns that both titillated and offended audiences.
1. The Bond Babes
Four years after St. John's scandalized audiences, the British-Australian string quartet Bond, the "Spice Girls" of chamber music formed (the ensemble proudly bears the title on their official Web site). Brought together by record producer Mel Bush, the four winsome women won more attention initially for their skimpy outfits (or lack thereof) than their playing. The group was even banned initially from the classical charts because their amped up sound was considered too close to pop. These obstacles didn't stop the foursome, which has sold more than four million albums worldwide.

2. ENO's Ad Campaigns
The English National Opera's Don Giovanni posters aren't the first time the company has courted controversy over its NSFW advertising. In 1989, the British press attacked the company for a series of ads that showed a bare-chested man and a lascivious opera singer: "A smouldering brunette, clad in a see-through black thingy," Robert Morrison wrote in The Times in an article titled, "Is this hard sell or soft porn? Opera poster campaigns."
3. Lara St. John's Bach Cover
From an early age, Canadian violinist Lara St. John showed a preternatural talent for the instrument. But her virtuosity was just one of her qualities on display in her 1996 CD debut, Bach Works for Solo Violin. St. John reportedly posed naked for the cover with her violin strategically placed in front of her breasts. The image was hotly debated among the classical music press, which criticized St. John of using her body to sell her music (the 1990s produced other examples of female violin prodigies who were marketed for their sex appeal, including Vanessa-Mae).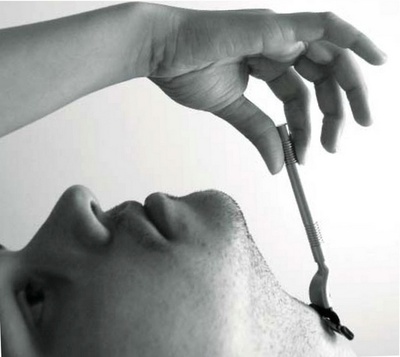 4. Singapore Lyric Opera's Racy Barber
In 2007, the Singapore Lyric Opera camped up Rossini's already campy Barber of Seville in a production titled Hey, Figaro (tagline: "A tale of lust, greed and hairstyling"). The promotional material attracted as much attention as the direction in straight-laced Singapore. Posters depicted a woman's hand leading a razor across the neck of a reclining man, as well as a fellow shaving a bare leg. "We started coming up with these rather eye-catching publicity images last year with the Marriage of Figaro," general manager Ng Siew Eng told a reporter for the local Today newspaper. "It's been working for us."

5. Offenbach's La belle Hélène
Perhaps no composer titillated his public more than Jacques Offenbach. In the 1860s, his operetta La belle Hélène sparked controversy with its satire of licentious 19th-century Parisian society (thinly veiled under the guise of ancient Troy) Offenbach's reputation proceeded him. Upon an 1876 visit to the United States, the New York Times welcomed him with an editorial, calling one work worthy of a "Phallic festival."
Weigh in: What do you think of the use of sexual imagery to sell classical music?