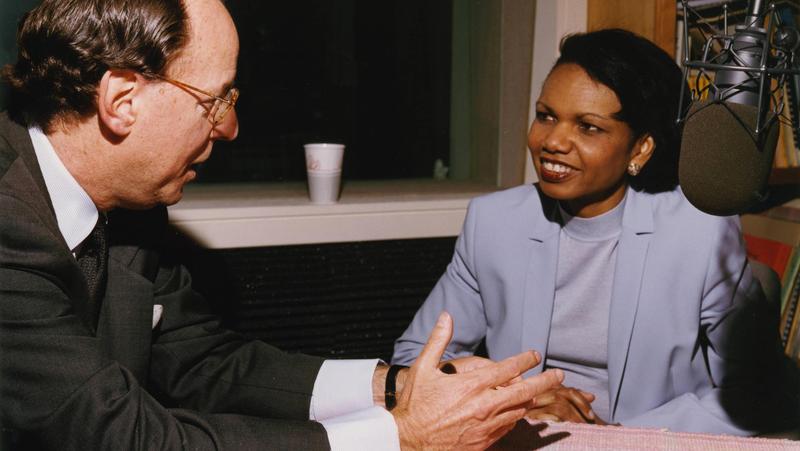 A child prodigy, former Secretary of State Condoleezza Rice could read music before she could read and could have been a concert pianist. But she opted instead for geopolitics, as she revealed to host Gilbert Kaplan:
— She gave up a career as a pianist realizing she wouldn't be good enough. She understood that she was "going to end up playing piano bar or Nordstrom's but not Carnegie Hall."
— Arthur Rubinstein is her favorite pianist
— Brahms is her favorite composer: "Passionate without being sentimental."
— Prefers music written in minor keys: "I think they're richer."
— Although President George W. Bush doesn't like classical music, he always encouraged her to find time to play piano. He knew "it was a very centering experience for me."
— Her musical selections included works by Mozart, Beethoven and Brahms.
This episode is the second of four shows with political personalities leading up to the election.
Playlist:
Wolfgang Amadeus Mozart: Concerto No. 20, K.466, final movement. RCA Victor Symphony. Alfred Wallenstein. Arthur Rubinstein, piano. RCA Victor Gold Seal 7967-2-RG.
Ludwig van Beethoven: Christ on the Mount of Olives [excerpt]. Gächinger Kantorei Stuttgart & Bach-Collegium Stuttgart. Helmuth Rilling. Maria Venuti, soprano; Keith Lewis, tenor; Michel Brodard, bass. Musical Heritage Society 5261121.
Johannes Brahms: Variations on a Theme by Joseph Haydn for Two Pianos, Op. 56b [excerpt]. Sir Georg Solti and Murray Perahia, pianos. CBS Records Masterworks MK 42625.
Ludwig van Beethoven: Symphony No. 7. Second movement. Chicago Symphony. Sir Georg Solti. London Records 430 400 2.
Johannes Brahms: Piano Quintet. Scherzo. John Browning, piano; Krista Bennion Feeney, violin I; Mayuki Fukuhara, violin II; Louise Schulman, viola; Daire FitzGerald, violoncello. Music Masters Classics 67161-2.