Zubin Mehta's Boisterous, Lifelong Journey in Israel
More than most major orchestras, the Israel Philharmonic Orchestra is a voice of cultural diplomacy and a recurring lightning rod in the sphere of global politics. When the organization toured the U.S. in February 2011, Pro-Palestinian demonstrators turned out on the sidewalks around Carnegie Hall, carrying signs and distributing fliers challenging government policies. Zubin Mehta, the orchestra's music director, accepts this as a consequence of living in a democracy.
But Mehta takes exception with one incident last year, when a group of protesters loudly disrupted an Israel performance at the BBC Proms in London. "It was very unfortunate," he said. "People should have their say if they have demonstrations outside. But to disturb a concert is completely out of the precepts of decorum and the people who demonstrated in the concert did not go away convincing anybody about their cause."
Mehta has experienced a lot with the Israel Philharmonic, where he holds the title of music director for life. The Bombay, India native made his Israel debut in 1961, when he was just 24. A music directorship came in 1977. In an interview at the Plaza Hotel, he described the collectively-run ensemble as like a boisterous, opinionated family.
"Every day and every week there are discussions, quarrels, opinions," he said. "We are, in that sense, a loosely formed family with all its tribulations. Every day, members are involved with what's going on financially. They have lots to say; they criticize their own elected body of musicians continuously, without understanding really what's going on, etc. So there's frustration all the time but there's also a family making music."
"It's almost like having a hundred other conductors on the stage with him," said Suzanne Ponsot, executive director of the American Friends of the Israel Philharmonic Orchestra. "They maybe worry about the finances or the programming or helping to hire new musicians." But she said her experience with the orchestra is "definitely not quarrelsome."
Mehta and the Israel Philharmonic will return to Carnegie Hall Thursday for a program of Mendelssohn's Piano Concerto (with soloist Yuja Wang), Arnold Schoenberg's Kol Nidre and the New York premiere of Israeli composer Noam Sheriff's Mechaye Hametim. The concert, part of a four-city US tour, comes just a week after the Mehta received a Presidential Medal of Distinction from Israel's president, Shimon Peres.
The conductor believes the medal was an outgrowth of a 45-year friendship with Peres, and a reflection of Israel and India's friendly diplomacy. "It's not my musical contribution to Israel that is influencing him altogether," said Mehta. "It's also our friendship. Our friendship has to do with India."
Jet-Setter Builds Loyalty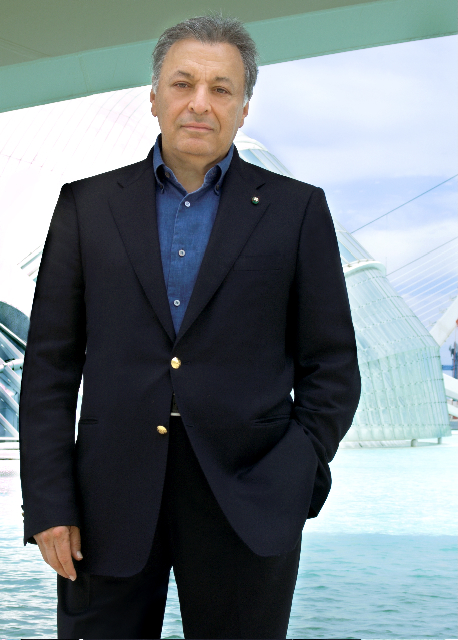 Early in his career, Mehta was the embodiment of the jet-set maestro, appearing with orchestras on multiple continents and living out of a suitcase. But he has also been identified for his long directorships. He spent 16 years as the music director of the Los Angeles Philharmonic (1962-1978) and 13 years with the New York Philharmonic (1979-1991), among other posts. Yet he clearly expresses an affinity for Israeli society in all its complexities.
In 2009, Mehta started Mifneh (Hebrew for "turning point"), a music education program for Israel's Arab citizens. "I believe people who can sit and listen to music and then sit and play music together can also live together," he said. Mehta has brought the Israel Philharmonic to perform for Arab audiences in Nazareth and Lebanon and has won several humanitarian honors including the United Nations Lifetime Achievement Peace and Tolerance Award.
"My dream is to have an Arab-Israeli playing in the Israel Philharmonic in the near future and it will happen," he said.
Change doesn't always come easily. In 1981, Mehta attempted to conduct the music of Richard Wagner, Hitler's favorite composer, producing shouted protests and fistfights in the audience. Mehta had warned the audience ahead of time, but the question of further testing the old taboo was effectively laid to rest for the time being. "Maybe in 1981, when I tried it, it was too early but we will try it again," he said.
Also in the early 1980s, Mehta brought the New York Philharmonic to Harlem's Abyssinian Baptist Church for a series of annual concerts. "The headline in the newspaper the next morning was 'The Philharmonic Finally Takes the A Train,'" he recalled of the first concert. "It was just wonderful. And the public there came dressed like it's the opening night of the Met. They were so elegant and so proud to be there. I was very happy to do those concerts."
At 75, Mehta says he vacations more than he used to, even as he bemoans the state of air travel. But he also dismisses suggestions of retirement. In March, the Israel Philharmonic will return to its home, the newly-renovated Mann Auditorium in Tel Avi (to be renamed the Charles R. Bronfman Auditorium). And Mehta is conducting more opera. "I'm conducting lots of opera. Opera takes time."
Photo: © Victor Cucart
Below: Zubin Mehta on working with the Israel Philharmonic:


Zubin Mehta discusses the cancellation of a planned Wagner concert earlier this year in Israel: