A Mostly Crowdsourced Post-Hurricane Mixtape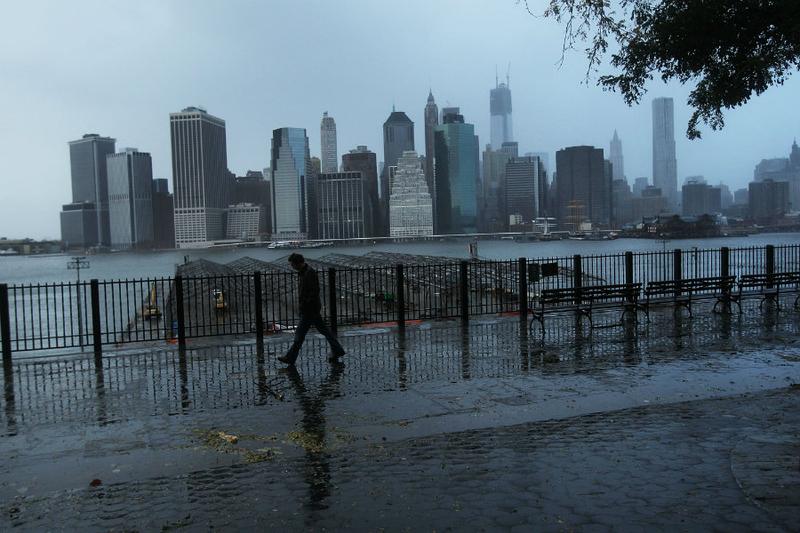 Today at 3 pm, Q2 Music turns over the airwaves to music suggested on our Twitter and Facebook pages as examples of pieces appropriate to the immediate aftermath of Hurricane Sandy, or which profoundly reference or memorialize climatalogical disasters. Thanks to everyone who sent in their suggestions. 
Taking inspiration from Nature's ravages and charms is nothing new to composers of contemporary classical music; an imposing legacy of pieces from Vivaldi's Four Seasons to Benjamin Britten's Peter Grimes that wrestle to depict the raw power inherent to seasonal change. Today, however, composers avail themselves of an expanded palette of options to reference climatalogical phenomena, including everything from found sounds to weather reports.
Complementing listener suggestions this afternoon will be Serbian-born, New York-based composer Aleksandra Vrebalov's ...hold me, neighbor, in this storm... off the Kronos Quartet's 2009 CD, "Floodplain" — an album which unites music from regions whose cultures have been both nourished and threatened by catastrophic flooding.
We also feature John Cage's 1947 ballet score, The Seasons, which the composer writes in his catalogue was his "attempt to express the traditional Indian view of the seasons as quiescence (winter), creation (spring), preservation (summer), and destruction (fall)" and selections from Alaska's John Luther Adams, Ingram Marshall and Michael Gordon whose Weather for string orchestra and electronics takes inspiration from the "chaotic scheme of weather patterns."
Here are some suggestions from listeners:
@q2music Turangalîla-Symphonie, both powerful and huge.

— Edwin Huizinga (@edwinhuizinga) October 30, 2012
In C - always spellbinding, regardless of instrumentation - Thank you, @q2music

— saucemaker (@saucemaker2) October 30, 2012
@q2music Spiegel im Spiegel, by Arvo Part, please, to soothe and enhearten.

— Terre Britton (@TerreBritton) October 30, 2012
@q2music Silvestrov's Bagatelles and Zwei Dialoge have been good storm listening for us

— peterabh (@peterabh) October 30, 2012
@q2music In Vain by G.F. Haas totally sounds like the aftermath of a watery storm. Not exactly comforting, though... youtube.com/watch?v=9PtJH6…

— Charlotte Mundy (@csmundy) October 30, 2012
@q2music : @hearnedogg (Ted Hearne)'s Katrina Ballads. Powerful piece.

— Thom Pease (@audioarchivist) October 30, 2012