Sandy Washes Classical Label Out of New Offices
Superstorm Sandy has badly hobbled New Amsterdam – a nonprofit label home to a young generation of composers and performers – destroying much of its CD inventory and equipment.
More than four feet of water flooded the label's office and studio facility, located in a one-story brick warehouse building in Red Hook, Brooklyn, two blocks from New York Harbor.
The damaged property includes some 3,000 CDs – roughly two-thirds of the company's stock. Also ruined were financial documents, amplifiers, carpets, a pair of vintage synthesizers, vinyl records, two couches and other furniture. Some items were moved to a second-floor loft before the hurricane struck on Sunday, but other things, including a Steinway grand piano, would not fit up a spiral staircase.
"We finally had it all fixed up and it just got destroyed," said William Brittelle, a composer and co-founder of New Amsterdam, who said his company moved into the space in June. Staff spent much of the summer converting and cleaning out the space so that it could double as a rehearsal and performance venue for the label's artists. "It's really frustrating because it was in such a state of devastation."
New Amsterdam did not have insurance, and the primary owners of the building, Jabus Building Corp., a construction company specializing in Brownstones, also didn't have flood insurance.
"It's getting worse as we survey the damage," said Britelle, noting that the water left a rank residue. "Doors and vanities under the sink are warping. We had to stop working because there's gas in the water mixed with paint thinner and a spilled bottle of bleach."
Brittelle founded New Amsterdam in 2008 with two composer colleagues, Sarah Kirkland Snider and Judd Greenstein, all graduates of the Yale School of Music. Their goal was to provide an outlet for young composers, ensembles and performers to make their first recording. The label has gone on to release albums by "indie-classical" groups like Now Ensemble, Tin Hat, yMusic and Darcy James Argue's Secret Society, as well as composers like Missy Mazzoli and Corey Dargel. Many have received enthusiastic reviews, including a recent Album of the Week nod from Q2 Music.
The label's office is a world away from the glittering midtown high-rises where major record conglomerates operate. When the three owners returned to this low-lying neighborhood they found a boat had been tossed onto the cobblestone street outside and power lines were strewn about. Several buses were floating in standing water.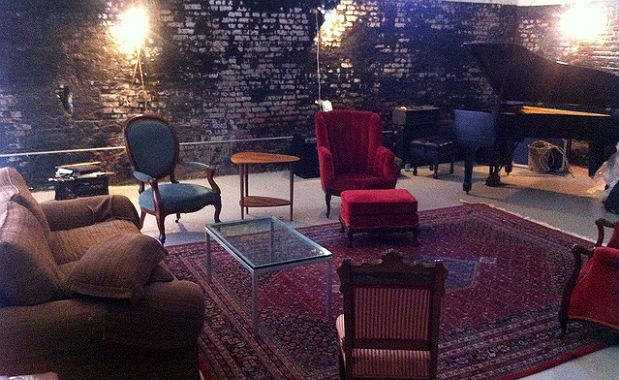 Above: The interior of New Amsterdam's offices before the superstorm.
Britelle didn't place a dollar figure on the company's losses but noted that he's already discarded 20 large bags of CDs. "From a retail standpoint that's a lot of money," he said. Artists retain ownership rights of New Amsterdam's recordings and receive 80 percent of the revenues. "We have to be able to figure out how to replace the CD stock," Britelle added. "The artists shouldn't be responsible."
In a phone interview, Debbie Buscarello, a co-owner of Jabus Building Corp., which shares the warehouse, acknowledged the label "got pretty washed out," adding that her company may have lost most of its own equipment, including Bobcats, jackhammers, hand tools and chainsaws, most of which were stored in an adjacent yard. "We were thinking inches of water, not feet," she said of her preparations.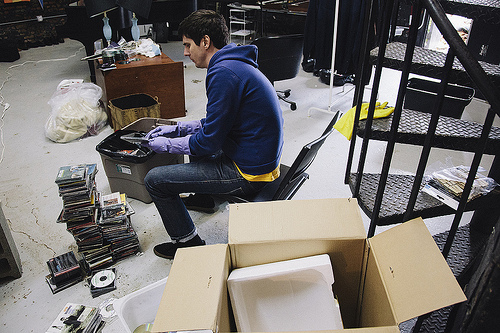 Jabus is in the process of trying to apply for low-interest loans from the City of New York as well as FEMA assistance, although Buscarello said she feels daunted by the red tape for business applications.
Meanwhile, New Amsterdam is asking for donations on its website and is spreading the news of its troubles through social media. "We don't have resources for this kind of thing," said Britelle. "We basically went all in on the space and got nonprofit status a little over a year ago."
Ironically, one of New Amsterdam's bigger critical successes has been Katrina Ballads, Ted Hearne's song cycle about the after-effects of Hurricane Katrina.
Right: Sorting through damaged CDs at New Amsterdam Records offices (New Amsterdam)